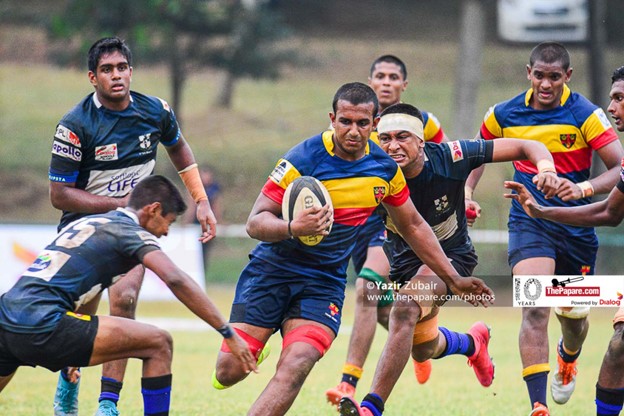 The Sri Lanka Schools Rugby Football Association (SLSRFA) has unveiled the proposed calendar for year 2022 which will go on till October featuring close to twenty competitions across all age groups and divisions. SLSRFA is confident in having a year full of rugby provided the health regulations of the country allow the same.
Schools Rugby for the year 2022 kicked off ushering in fifteen brand new teams with an Under 14 development sevens tournament in Ruwanwella and will see twenty more teams featuring in the second edition that is set to be held in Kandy on the 12th of March.
Top Division action will return with an all Island Under 14 10-a-side competition which is scheduled to be held on the 23rd & 24th of April in Colombo.
Arguably Sri Lanka's most followed sporting tournament, the Under 19 A Division Schools Rugby League is scheduled to commence in June and will be played across a span of two months. The Schools league will be followed by the knockout competition scheduled to be worked out from the 6th to the 20th of August. Focus will then shift to the shorter format of the game with Under 19 A Division Sevens set to be held in September.
In a drive to popularize the game of rugby amongst female population of the schools in the country, SLSRFA has proposed five tournaments that will feature girls across all age groups. Under 14 Sevens for girls will be conducted in May with an Under 19 competition scheduled to be held in September and will be followed by an Under 16 sevens competition in the same month. October will feature both Under 18 and Under 12 tournaments.
Proposed Schools Rugby Calendar for 2022
| | | |
| --- | --- | --- |
| EVENT | MONTH | Date |
| U-14 DIV III Development 7s Tournament Boys (Western / Southern / Sabaragamuwa) | February | 20 |
| U-14 DIV III Development 7s Tournament Boys (Central / Uva / Wayamba) | March | 12 |
| U-14 DIV 1 10 a side Tournament Boys | April | 23/24 |
| U-12 Provincial 7 a side Tournament Boys | April | 30 |
| U-14 DIV II 10 a side Tournament Boys | May | 07/08 |
| U-14 7 a side Tournament Girls | May | 21/22 |
| U-19 League Tournament Boys | June/ July | 20-24 |
| U – 16 DIV 1 10a side Tournament Boys | July | 30-31 |
| U-19 Knock-Out Tournament Boys | August | 06-20 |
| U-16 DIV II 10 a side Tournament Boys | August | 27-28 |
| U-19 7 a Side Tournament Girls | September | 03-04 |
| U-16 7 a side Tournament Girls | September | 10-11 |
| U-19 DIV  1 7 a side Tournament Boys | September | 17-18 |
| U-19 DIV 11 7 a side Tournament Boys | September | 24-25 |
| U- 18 7 a side Tournament Girls | October | 01-02 |
| U-18 DIV 1 7 a side Tournament Boys | October | 07-08 |
| U-18 DIV II 7 a side Tournament Boys | October | 15-06 |
| U-12 7 a side Tournament Girls | October | 29-30 |