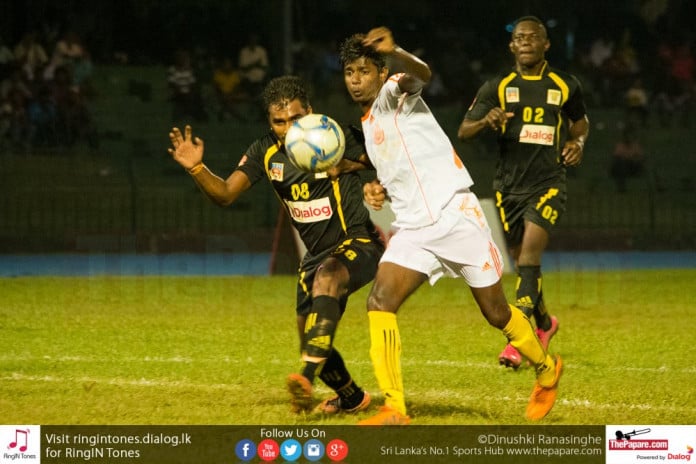 The newly crowned Dialog Champions League Champions were given a rude shock by Saunders SC, with a crushing 5-1 win in the semifinal of the Mayor's Cup at the Sugathadasa Stadium.

Sajith Dharmapala gave the victors the lead early on with a penalty and Traore Mohamed pounced on a defensive mistake to score the second after Vikum Kumarasiri was sent off for a second bookable foul mid-way through.
Danushka Madushanka pulled a goal back for Colombo but the comeback was averted as Traore, Dilan Kausalya and Indreewa Udara scored in the dying stages of the match.
The match was billed as the Kings, Saunders against the pretenders to the throne, Colombo FC, who are the double champions for the year 2015. Colombo had a scare against Super Sun in the quarter final to win 4-3 after leading 4-0 early in the second half. For Saunders it was workmen like 4-2 win against Blue Star to make it to the semifinal.
Saunders were awarded a penalty in the 7th minute when Kumarasiri fouled Suntharaj Niresh. Kumarasiri was booked while Niresh who broke his hand while falling down was substituted. Sajith Dharmapala powered home to give the lead.
Kumarasiri was reckless and unsettled and he was soon sent off inside the first 20 minutes when he lunged in with a two footed high tackle which caught Sanoj Sameera's leg.
Traore Mohamed got on the score card in the 31st minute when Ramees failed to clear the ball and Traore running into the box nutmegged past Mohamed Rizni and goalkeeper Mohamed Imran to slot it into an empty goal.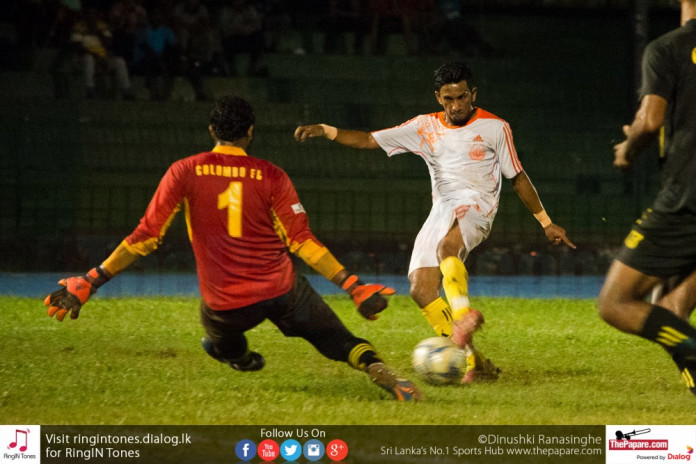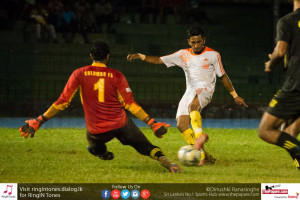 From the start of the second half Colombo FC even with ten men had good possession of the ball and put pressure on Saunders by creating chances.
Colombo threatened with set pieces and almost scored from a Rawme Mohideen free-kick when Saunders goalkeeper Rasik Rishad over ran the ball but managed to put it out for a corner.
Minutes later the Sri Lanka U19 captain Danushka Madushanka got a golden chance when a Bodrie Dimitri cross found him unmarked at the far post but failed to connect it with his U19 goalkeeper Rishad rushing on.
However Madushanka made amends when Rishad spilled a routine collection from a cross right into his path and poked it home making it 2-1 in the 54th minute.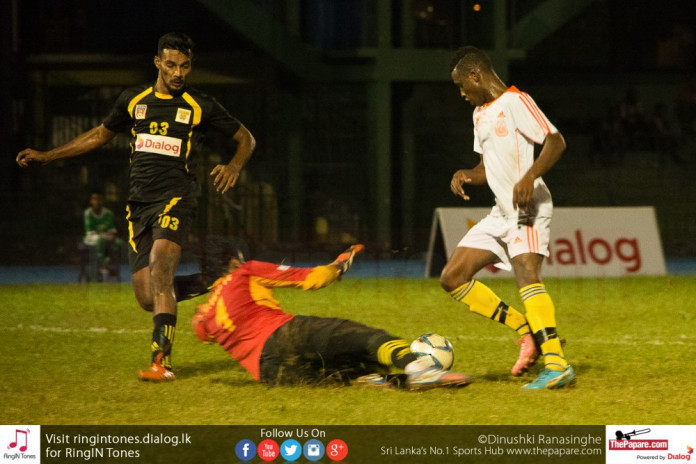 Saunders were under pressure with Colombo FC played admirable well with a man down, but another defensive mistake let Chrishantha Abeysekara find Dilan Kausalya who skipped past Ramees and Imran to score the third.
With four minutes left Traore scored his second and fourth in just two matches for Saunders, when he clipped the ball over Imran from 20 yards out.
The substitute Indreew Udara added the finishing touches two minutes later when he got on the end of a Kausalya cross to volley home the fifth.
What they had to say;
Mohamed Roomy, coach of Colombo FC;
"Players are tired because they've been playing two major tournaments at a stretch; cannot ask for them to give 100% but the red card made it all difficult. We played well in the second half before that third goal by them but we missed a couple of chances."
Mohamed Imran, coach of Saunders SC;
"After we didn't qualify for Super 8's we did not give up, practiced hard and now we are scoring goals which we didn't in the Champions League group stage. After a long time Saunders are coming into a final so big chance for us to build on this."