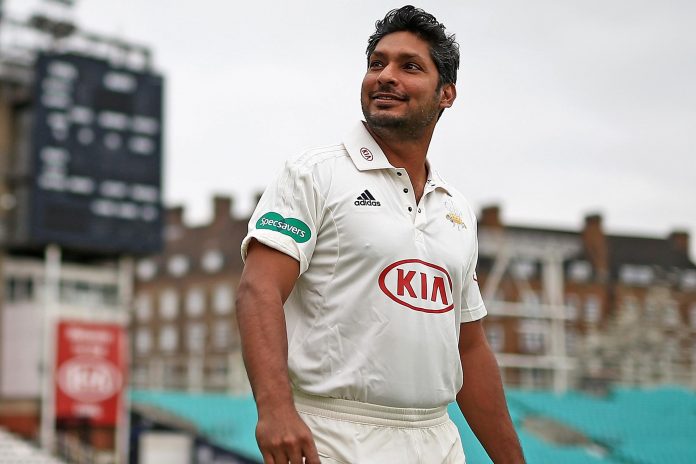 Former Sri Lanka captain Kumar Sangakkara has been rated the best overseas player of Surrey in a poll conducted by BBC. International stars have graced English cricket for decades and Sir Viv Richards had the unique distinction of being named as the best overseas player of both Somerset and Glamorgan.
Sir Viv formed a deadly combination with Sir Ian Botham and Joel Garner for Somerset and towards the tail end of his career parted ways after differences with captain Peter Roebuck and joined Glamorgan. Such is Sir Viv's popularity at Somerset that he received 90% of the votes. He joined the county in 1974 and left in 1986.
Kumar Sangakkara's term as president of MCC to be extended
Sangakkara was rated as Surrey's best player ahead of former Pakistan captain Inthikab Alam, Shaqlain Mushtaq and Sylvester Clarke.
Sanga hit 14 centuries in just 33 matches in three seasons for Surrey (2015-17), totalling 3,400 first-class runs at 62.96. That and his 1,941 limited-over runs are dwarfed by his record for Sri Lanka, for whom he made more than 28,000 runs across all formats. His happy, smiling countenance and quality of batsmanship left a marvellous impression at The Oval. Sanga polled a total of 40% of the votes.
Kent's star signing Aravinda de Silva was shortlisted in the list of Kent's greatest players alongside Asif Iqbal and Carl Hooper but lost the fight to former Pakistan captain.
Aravinda had just one season at Canterbury, but what a season that was. He made 473 runs, including two tons, as Kent won the 1995 Sunday League, hit a Lord's century in the Benson & Hedges Cup final defeat by Lancashire and struck six tons in his 1,661 runs from 15 Championship matches.
Galle beats Lord's in 'Cricket Ground World Cup' poll
The winners for each county are listed below.
Derbyshire: Michael Holding (51%), Durham: David Boon (33%), Essex: Ken McEwan (36%), Glamorgan: Sir Viv Richards (38%), Gloucestershire: Mike Procter (56%), Hampshire: Malcolm Marshall (47%), Kent: Asif Iqbal (56%), Lancashire: Sir Clive Lloyd (66%), Leicestershire: Brian Davison (56%), Middlesex: Desmond Haynes (52%), Northamptonshire: Sir Curtly Ambrose (47%), Nottinghamshire: Sir Richard Hadlee (43%), Somerset: Sir Viv Richards (90%), Surrey: Kumar Sangakkara (40%), Sussex: Imran Khan (63%), Warwickshire: Allan Donald (42%), Worcestershire: Glenn Turner (73%) Yorkshire: Darren Lehmann (69%).