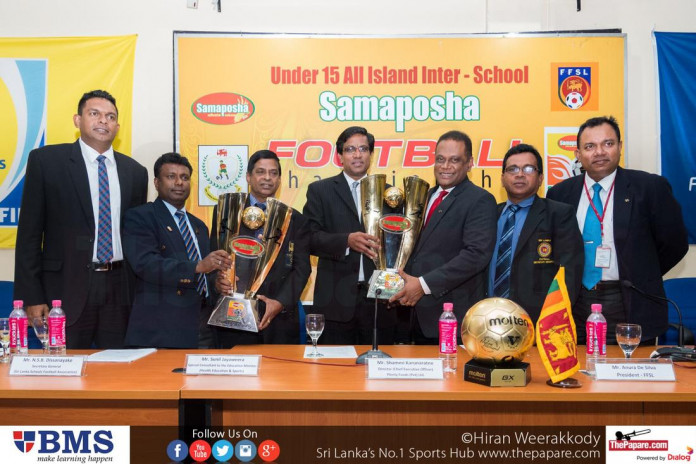 Samaposha powers Under 15 Inter-School Football Tournament for the eighth consecutive year.
Samaposha, manufactured by Plenty Foods (Pvt) Ltd, a fully owned subsidiary of Ceylon Biscuits Ltd (CBL), has finalised all arrangements to hold the Under 15 Inter-School Football Tournament for the eighth consecutive year.
Organized in collaboration with the Football Federation of Sri Lanka and the Schools' Football Association, the 'Samaposha Under-15 Inter School Football Championship 2016' will kick off this weekend.
500 boys' teams and 150 girls' teams, representing Schools Island wide, totalling over 12,000 students, will participate in this year's tournament. 32 centers will host the tournament encompassing all districts in the country.
Photo Album – Samapsoha U15 Inter School Football Championship 2016
The final round is scheduled to be played from the 28th – 31st October and is to be held in Polonnaruwa with 32 boys' teams and 24 girls' teams participating as district champions.
The Best Player (Boys'), Best Player (Girls') and also the Best Goalkeeper of the tournament awards will be distributed on the final day of the tournament.
Commenting on the Tournament, Anura de Silva, President Football Federation of Sri Lanka said,
"The Under-15 Inter-school championship for football is recognised among students as decidedly the most competitive but friendly tournaments held. A great deal of effort and camaraderie is seen in this tournament and gives us an opportunity to identify the talented players.
Also this Tournament is an ideal opportunity to be used as a platform to increase the keenness and enthusiasm among students for this sport. Towards this effort we are extremely grateful to Samaposha who has come forward and who has continuously sponsored this annual Tournament over the years."
"Samaposha has been contributing and working towards the development of School Football for over eight years. It is an honour to witness boys and girls who have played in this School Tournament have now become recognised National Football players," de Silva added.
Shammi Karunaratne, Director/CEO of Plenty Foods (Pvt) Ltd expressed the company's commitment in uplifting school football. He said,
"Energy is not the only thing that matters in sport, but also key aspects such as skills, having the necessary endurance, self-belief and discipline towards a sport is also important. To achieve all these factors it is paramount to have proper nutrition.
He further stated that "Samaposha is a brand made to international standards using nutritious local grains, which can provide the nutritional requirement of energetic sports like Football. We have come to the forefront in supporting this tournament with the objective of generating world class players for our nation.
In the previous year's Samaposha Under-15 Inter School Football Tournament, Zahira College, Colombo beat Kinniya Central College, Trincomalee to clinch the boys' title, whilst Mahajana College, Jaffna emerged champions in the girls' category beating Kavisigamuwa Central College, Kurunegala.