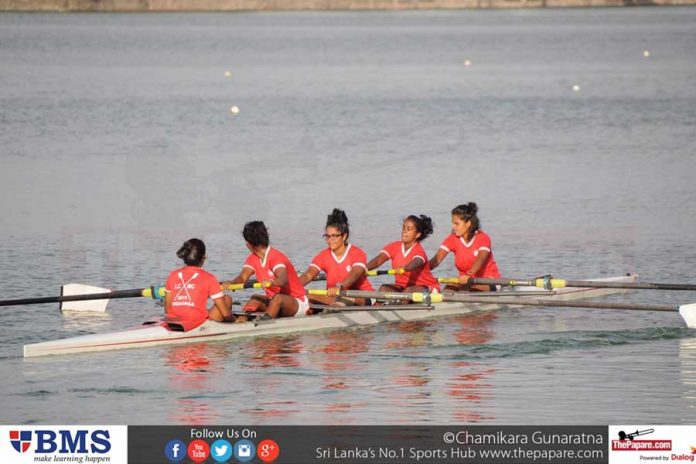 Royal College and Ladies' College were adjudged overall winners of the Men's and Women's categories respectively at the 30th Ranfer Sprints held at the Colombo Rowing Club today. 
Royal College won the men's category 36-23 while securing wins in sculls and the all-important Fours event. Colombo Rowing Club only managed to win the scull and both Pair events. 
Ladies' College bagged both Pair events and the Fours event in the women's category, securing a massive 48-11 win against Colombo Rowing Club. The oarswomen from CRC only managed to salvage victory in the scull events. 
The dominant oarsmen from Royal College edged past the CRC crew despite being at a disadvantage in terms of points with a solitary win in one scull event. However, the team comprised of Jehan Hapugalle (B), Maliq Hassan (2), Sajaad Ajmal (3), Mayukha Gamage(S) and Chaniru Hewamanna (Cox) showed true spirit to win the all-important Fours to secure the Men's category win. 
Ladies' College despite being down right from the start, stormed all the other races. The fours team which comprised of Anelka Karunaratne (B), Arshia Silva (2), Thimaya Dassanayake (3), Kavisha Dassanayake (S) and Janindri Fernando (cox) were resilient enough to bag a massive win and secure the Women's championship. 
The chief guest was Ms. Robina Sparks High Commissioner of South Africa while Guest of Honor Mr.Rohan Fernando and Mr. Nirmal Ranasinghe the chairman of Principal Sponsor Ranfer Teas also graced this occasion.