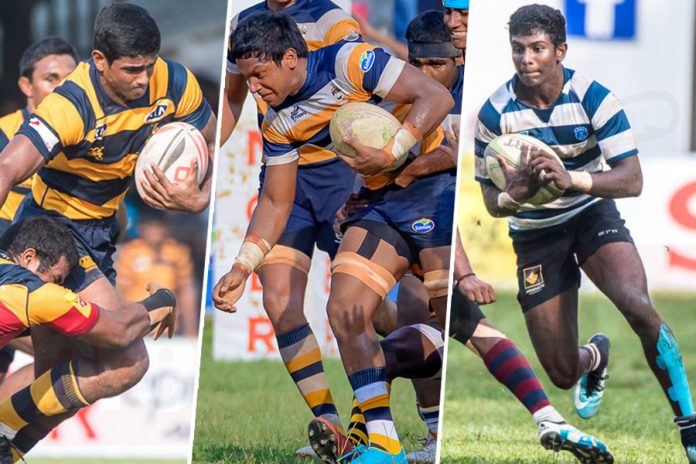 The first half of the season has come and gone. The championship is really beginning to take shape in terms of who is still very much in the running, as well as the teams that really have their work cut out for them.  But first, let's take a look at how one of the most anticipated games panned out.
The 74th edition of the Bradby Shield kicked off last weekend at the Royal Sports Complex. In my pre-match write up, I had predicted that the Reid Avenue boys would run out victors by a margin of fifteen points or more. I still was of the hope that Trinity would click on the day, and really take it to the Royalists. And for the first quarter of the game, it looked very much like Trinity were a team on a mission, with the ball going out wide to test the Royal outside backs. The positional change of moving skipper Avishka Shiek to the 'thirteen' channel, with Sakalasooriya playing at Fly Half seemed like it would pay dividends. But Royal remained resolute in defense, and the Lions just kept turning over the ball at crucial times.
Read More: Sri Lanka Rugby was built around the Bradby Shield – Asanga Seneviratne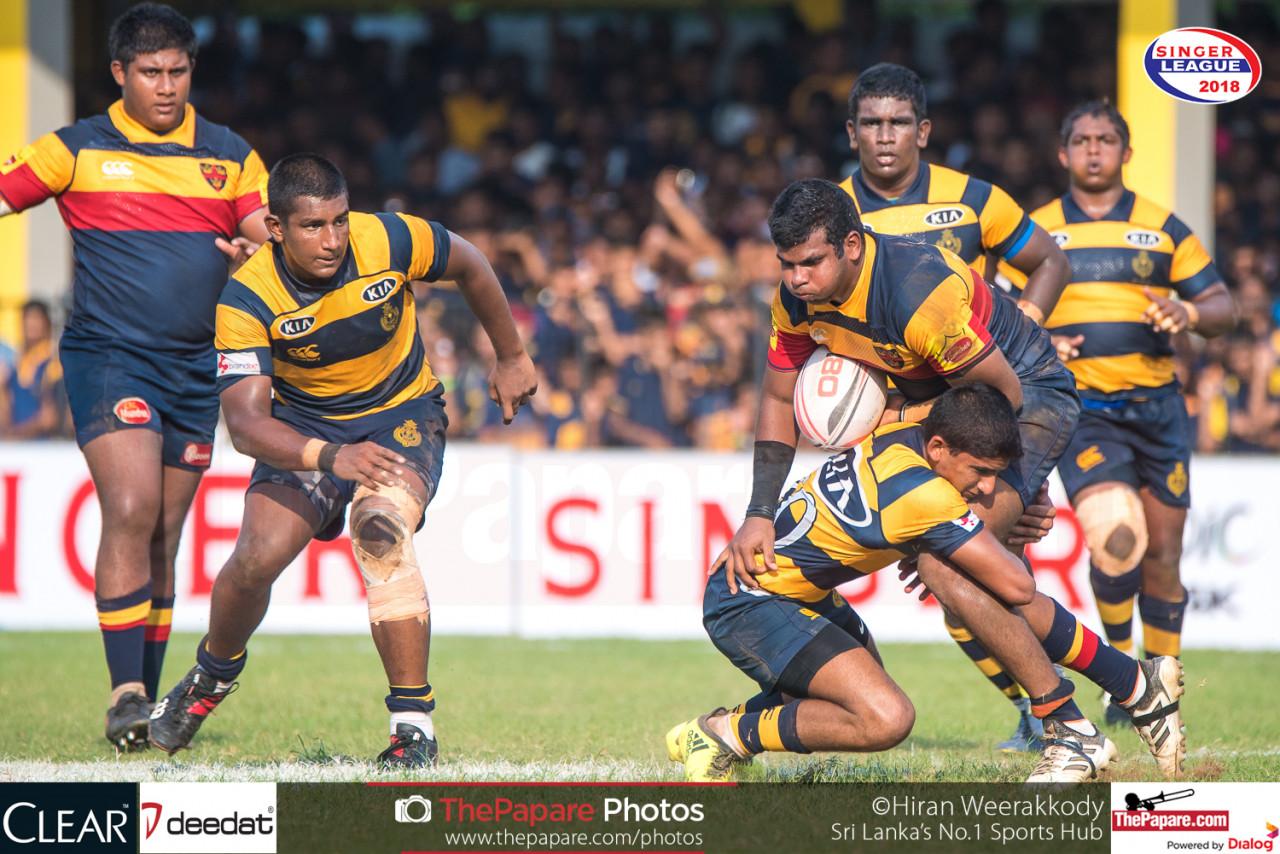 When you're playing against a superior side, you must be able to make every chance count. Unfortunately, Sakalasooriya just couldn't strike the ball cleanly enough off the tee. That took the pressure off the Royalists, who kept on prodding on at close quarters with their marauding forwards. Trinity had enough possession in that first half, but were far too predictable whenever they launched an attack. Passing the ball directly to a forward standing flat, just doesn't work at this level – especially when you're up against the leading sides.
The Trinity forwards tried and tried, but were virtually tackled to a stand-still. And then when they did send it out wide, there was no mystery – no change of direction, no decoy runners, just simply up-and-down the line kind of stuff. When there's no overlap, rarely are your wingers going to be able to get round the defense – unless of course you have the likes of Bryan Habana playing for you. And when you have small-ish wingers in the mold of a Ranarajah, you're certainly not going to run over your opposite number. How many times did the Trinity 'threes' get bundled into touch? All that possession in the first half, and they had absolutely nothing to show for it on the scoreboard, whilst the Royalists had managed to cross the chalk three times.
Come the second half, the Royalist turned it on in style. Their forwards were outstanding again – in the loose, and at the set pieces.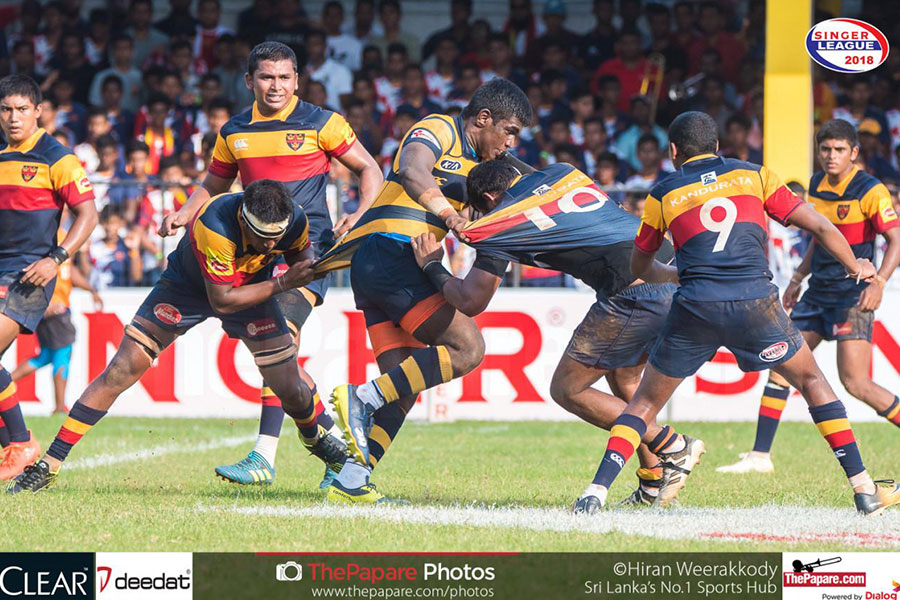 Himantha Hirushan, and Maleesha Madumewanwere a thorn in the Trinity flesh throughout the game. They just kept picking and going, making ground yard by yard. And then when it eventually did go out wide, Janidu Dilshan was just licking his lips all evening. In the lead up to this game, he had been used quite sparingly in previous games. He looked fresh, and at full flight, Trinity just couldn't live with him. 
Come the last quarter, the floodgates began to open, and Trinity's hopes of wrestling back the Bradby began to increasingly fade into the sunset. When the score was at 24-7, I thought that Trinity might be able to claw back and score once again. That would have reduced the deficit, and given them at least something to aim at come the second leg. But Royal were in no mood to rest on their laurels.
39-7 is what it finished. The Bradby contest effectively done and dusted, and some anxious old boys of Zulker Hameed's recording setting Bradby team of 2002 breathing a lot easier.
In my estimation, Royal is still very much the team to beat, and clear favourites to retain the schools' crown they won last year.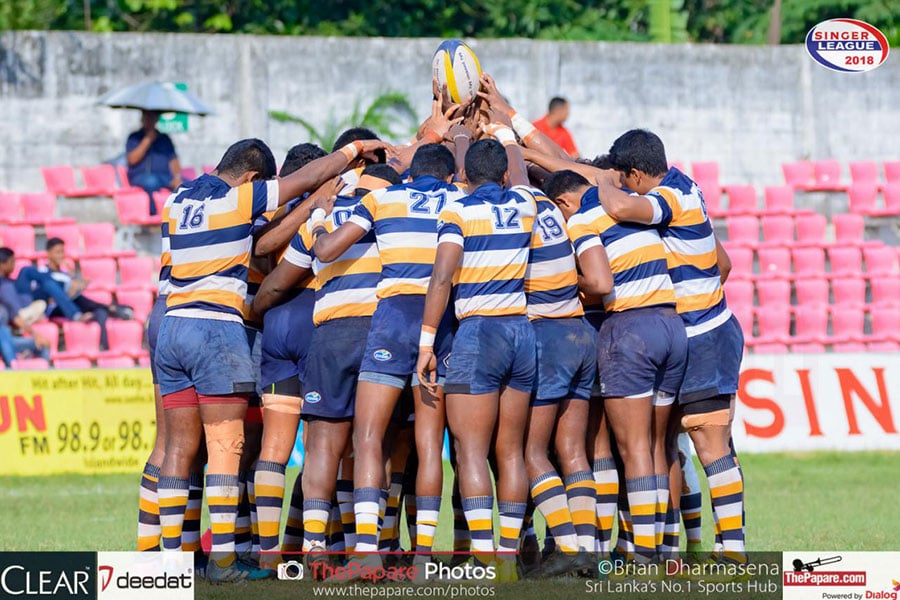 St. Peter's may have something to say about that through. They are the only other unbeaten team, brushing aside Wesley and Isipathana in taking top spot in group B. They are a well-rounded side, with a strong set of forwards, and nippy three-quarter line. Rukshan Madushanka, Sandesh De Mel, and scrum half Jason Karunarathna have been in fine form with the ball in hand. It's such a shame that they had to lose Raveen Fernando very early in the season. I can only imagine what he would have added to this side. But injuries do happen. From what I've seen so far, the Petes do take a while to break into their stride. They will face much stiffer competition in the second round. Unlike in the first, all four teams that they will come up against will have the competency to beat them. Mind you – they play Trinity in Kandy as well. So, they will have to make sure they put in a complete performance over the full 70 minutes. The Joe-Pete, and Royal-Peters games promise to be epic. You may want to mark those dates down.
Let's consider how the other remaining teams n the 'Cup' are shaping up.
The boys from Darley Road were given the scare of their lives by a very spirited Kingswood outfit. St. Joseph's put in a titanic effort before coming up short against the Royalists, and you wonder if that game took a lot out of them. This was a potential banana skin for the Joes, and they nearly slipped up.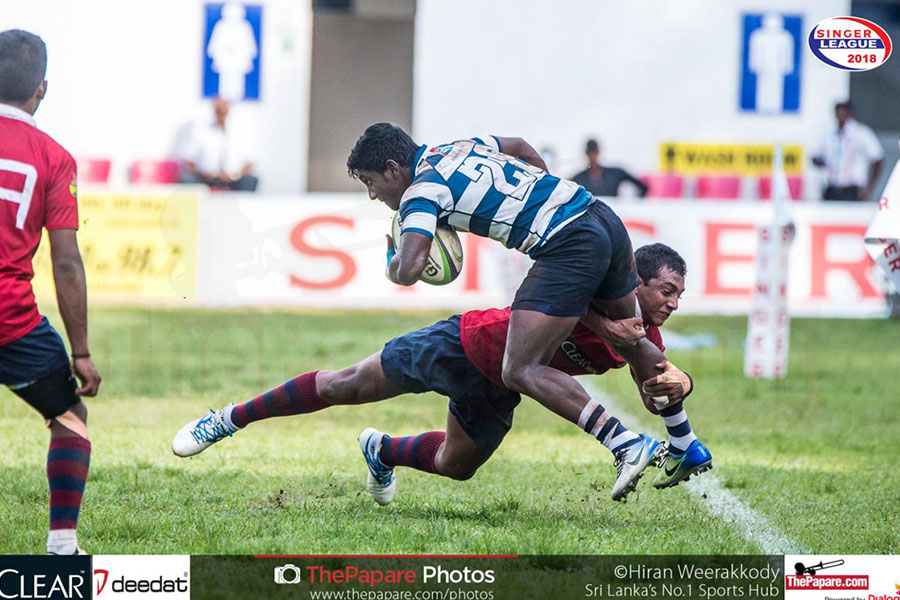 They have Keshan Kavinda to thank. He had a brilliant game and stepped up to the mark in the absence of play-maker Gemunu Chethiya who was a marked man all evening. The blue and whites are still very much in the running for the championship, and they will feel that they have the firepower out wide to beat every other team in the tournament. I'm still not very convinced with their line-out work, which I feel is their biggest weakness. But I'm sure they must be hard at work rectifying all their shortcomings. They remain one of the more entertaining sides to watch.
Kingswood College have made it clear that they're not just in the top division to survive this year. They very much have aspirations to finish up as higher up the table as possible. The boys from Randles Hill are the giant killers for the 2018 season. They have already accounted for Trinity, and nearly had St. Joseph's in the bag as well.  They have no star players like they did in the sides of yesteryear – Fazil Marija , Jeewa Galgamuwa, and Nalaka Weerakkody to name a few. But they play hard, and with a free-flowing spirit. I feel they just might cause a few more upsets come the second round – especially in the games they play at home. Let's keep a close eye on them.
Last year it was Harith Bandara orchestrating play for the 'Green Machine'. His shirt has now passed on to young Chamath Kalhara, who has been in scintillating form. After that near defeat to DSSC in the opening round, Isipathana seem to have found their feet. Led by Manilka Ruberu, they continue to punch well above their weight, and have thus far, lost only to St. Peter's. The real test for this team is now at hand – when they play against stronger and more physical sides, week in and week out. They have a solid first fifteen. But the depth of their squad will be really tested in the coming weeks. Wesley really tested them in those early exchanges. But they were able to keep them at bay, and come the second half, were just able to hold on to see out the win. That's the hallmark of a side that is used to winning. You just find a way to pull off a win.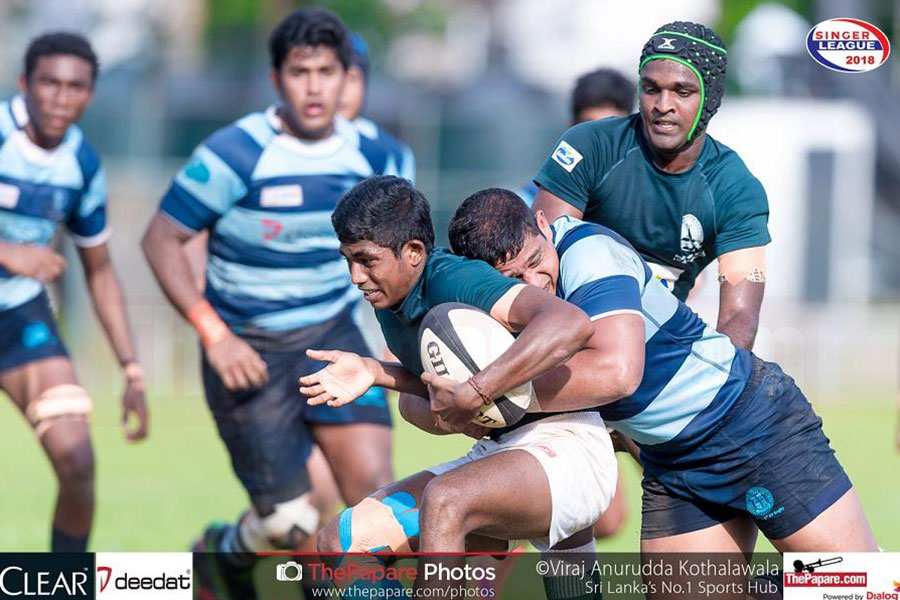 Wesley College will be really kicking themselves for letting that game against Isipathana slip away. They should've scored early in the game, and gave away two extremely soft tries, when Kalhara dummied his way right through the defense line. Their defense – especially around the ruck, and maul area has been abysmal. Last year, they were very good with ball in hand, but had one of the worst defensive records in the league. Unfortunately, seems like they're continuing down the same vein this year. They are so good when in motion – especially the likes of Murshid Zubair, and skipper Sabar. At this level, if you can't defend, you won't win too many games. I'm sure the Double Blues can't wait to get back on the park and put things right. But it doesn't get any easier from here.
Zahira College must be congratulated for making the cut. Though you have to spare a thought for poor D.S. Senanayake College who have played so well, but just not managed to get over the line in most the top division games they played. This league can be cruel sometimes. But take nothing away from the Maradana School, who play with their heart on their sleeve in every game. You get the feeling that bit by bit, their beginning to develop a strong rugby culture. And that is far more important than the short term scoreboard results. A few difficult days lay ahead for Amjad Fawmy and his team. But whatever happens, rest assured, they will be much better for the experience.
As always, you can catch all the action live on www.thepapare.com