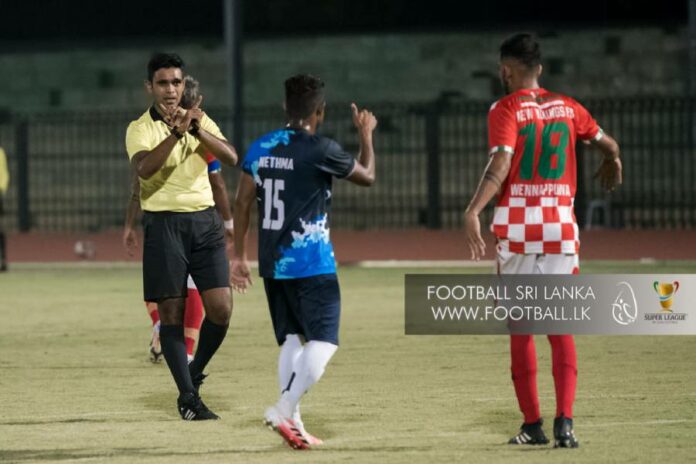 In a bizarre turn of events Referee Irshad Farook forgot to give a red card after giving a 2nd yellow and almost missed another red card, only to correct his mistake a few minutes later.
The incident occurred in the Blue Eagles v New Youngs match in the Super League Pre-Season 2021, with both incidents coming within a space of 10 minutes of each other, bringing back memories from the 2006 World Cup where Referee Graham Poll cautioned Croatia's Josip Simunic three times before sending him off. 
Nethma Malshan of Blue Eagles got a delayed red card after receiving his 2nd yellow card while minutes earlier, Amith Kumara, also from Blue Eagles, got his 2nd yellow – but the Referee failed to produce the red card.
With Blue Eagles leading 1-0 through a D.K. Duminda penalty in the 55th minute, Nethma Malshan received his first yellow card in the 59th minute. Thereafter Amith Kumara got his yellow card in the 73rd minute, which gave away a penalty to New Youngs. The penalty was converted by Tharindu Danushka, making it 1-1.
Amith Kumara was shown his 2nd yellow card in the 80th minute for an aerial foul while going for a header against Lakshan Dananjaya. However, the Referee failed to realize that this was Kumara's 2nd yellow and play continued. 
Minutes later in the 84th minute both Dananjaya and Nethma Malshan received yellow cards after a scuffle in midfield. In this instance too, Referee Irshad failed to notice that this was Malshan's 2nd yellow card and play continued.  
Photo Albums;
Rather fortunately for Irshad, Assistant Referee Iran Udayakantha intervened a couple of minutes later to point out the error, prompting the eventual showing of the red card to Malshan and reducing Blue Eagles to 10-men for the rest of the match.
This was an embarrassing incident for the experienced Irshad Farook, who is among the top four Referees in the country. The errors were also not reflected on the official match report sent out to the media by the FFSL (Football Federation of Sri Lanka) Media Unit.
Grave mistakes such as these on the Football field are avoidable by communication between the Assistant Referees and the Fourth Official, even if the main Referee makes a mistake, which would have been possible if the referees were equipped with wireless communication devices.  
With Sri Lanka Football taking a step into semi-professional Football with the Super League, the governing body will need to invest in the referees too, providing them with the best available equipment and training to officiate the games to the best of their abilities. 
The Football Federation of Sri Lanka has thus far not provided an official statement on the incident. 
>>For More Football News Click Here<<