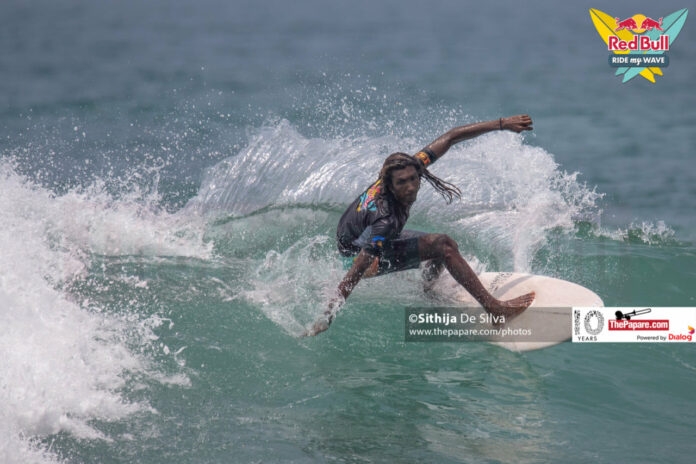 Red Bull Ride My Wave is a professional surfing competition managed and judged by the Association of Surfing Professionals in Sri Lanka. The event is open to both local and international surfers who will compete to be the King of the Wave.
Red Bull has been actively involved in surfing events for several years, hosting competitions
on every continent around the world. Red Bull Ride My Wave was launched with the aim
of fostering the sport, helping local tourism, and promoting the bond of surf culture with
its own twist. It also has provided a platform for enthusiastic female surfers as the event
hosts a women's surfing competition as well.
Participants are judged on their ability to perform radical controlled maneuvers in the
critical sections of a wave with speed, power, and flow. Innovative/Progressive surfing as
well as the Combination and Variety of Repertoire (of MAJOR maneuvers) were further
taken into consideration when rewarding points for a surfer's performance.
Indeed, Red Bull Ride My Wave has succeeded in helping create a thriving surfing culture
within Sri Lanka, attracting more potential surfing enthusiasts than ever before. Ultimate
objective of Red Bull Ride My Wave is to create a surfing culture in Sri Lanka. Inspire young
generation to take up the sport professionally and make it a lifestyle sport to any sport
enthusiasts around the island. Aligning with local tourism initiative Red Bull Ride My Wave
is the only surfing competition which allows both locals and foreigners to compete
together. Tourists who are on a long stay in Sri Lanka, took this great opportunity to
compete in the event along with local surfers.
This year Red Bull Ride My Wave hosted 18 heats with 69 male participants. Men's
qualifying round 2 had 9 heats with 34 participants. Round 3 comprised 6 heats with 18
participants, and 12 participants are qualified for round 4. Semifinals and finals will follow.
Women's first qualifier round had 3 heats with 12 participants who took part this year in
Red Bull Ride My Wave.
Red Bull Ride My Wave brings together surfing communities and enthusiasts across the
country on the Southern Coast, working to firmly establish surfing as a sport in Sri Lanka.