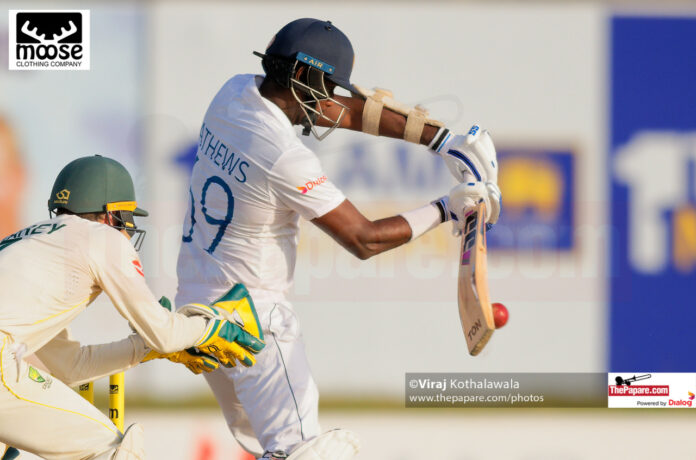 In four decades of Sri Lankan Test cricket, only five guys have gone onto feature in 100 Test matches.
A sixth will join that exclusive club when Angelo Mathews turns up for the second Test against Pakistan here in Galle. After 13 long years, playing across all continents, through ups and downs, Mathews has gone onto achieve something that only 71 others have achieved in the history of Test match cricket. This is pretty unique.
At times, cricket's circles can be vicious. Some of the legends of our game be it Arjuna Ranatunga, Aravinda de Silva or Marvan Atapattu have been quite open about their dreams of playing 100 Tests but faultered in the 90s. All three were given the cold shoulder during the twilight of their careers.
With him being sidelined from white ball cricket, you wondered what fate awaited Mathews. But the 199 and 145 in May this year in Bangladesh sealed his fate. Not that many deserving guys are knocking on the door to knock Mathews off. But 'fitness tests', 'youth policy' and 'future' are words that have sent chills down players spines, who are in the wrong side of their 30s. Mathews just turned 35 and on the eve of his 100th Test took a fresh guard and declared his desire of achieving the 10,000 Test runs mark.
Mathews has always been earmarked for greatness. He was one of the few guys who featured in two ICC Under-19 World Cups, captaining Sri Lanka in the 2006 edition when Colombo hosted the event. The class of 2006 included other stalwarts like Rohit Sharma, David Warner, Dean Elgar, Moeen Ali, Sarfraz Ahmed and Kieron Pollard. Compared to the others, Rohit, Warner and Mathews have held their own.
Mathews was 25 when he was handed the Sri Lankan captaincy. This was at a time when the team comprised many other established players and there were a few murmurs of being overlooked. But Mathews' style of leadership was soon embraced by the country.
In 2013, Sri Lanka won a T20 series in Australia under Mathews leadership and the following year they won a Test and ODI series in England. The Test series in particularly was hard fought. He notched up a hundred at Lord's in his first appearance at the Home of Cricket. In the next Test, he backed up his four wicket haul with a match winning 160, an effort that won him the Man of the Match award. Sri Lanka went onto create history winning their first Test series in England.
Mathews' greatest moment as captain was when he skippered the side to a 3-0 whitewash of Australia. On paper, Australia were a far superior side but together with Graeme Ford, Mathews drew up some brilliant strategies and Sri Lanka completely outplayed Steve Smith's side in 2016.
This was a team in transition with the big four – Sanga, Mahela, Dilshan and Tilan gone. The status quo needed to continue although there were a few hiccups. But less than a year after the cleansweep of the Aussies both Ford and Mathews quit their jobs. They were not sacked, but in Sri Lanka there are many ways to be shown the door.
Less than a year after stepping down as skipper, Mathews was urged to take up the leadership again. He took it reluctantly only to be sidelined six months later. This time he was sacked and was ridiculed in public. When Sri Lankan captains are outraged, they have an habit of calling people names, not wearing sponsors clothing or turning up late for official events. Mathews did none of that. He took everything on the chin.
Even in his media interaction leading up to the 100th Test, he didn't use it as an opportunity to settle scores. He spoke a lot of sense, looking at the larger picture and being thankful for all the opportunities he has got.
"Jimmy Anderson is my inspiration. At the age of 40, he still delivering and he wants to do it for a couple of more years. It's the drive that you have. This is not going to stop here and I still have few more years left. Age is just a number and I'll work on my fitness," the 35-year-old said in Galle.
The challenge for Mathews is to keep the focus. After the second Test in Galle against Pakistan, he has a long break from international cricket as Sri Lanka's next Test series is in March in New Zealand. That's seven long months.
Mathews has given us some superb memories over the years. He has played the game in the right spirit and hasn't gotten carried away with success. Younger players have much to learn from him.