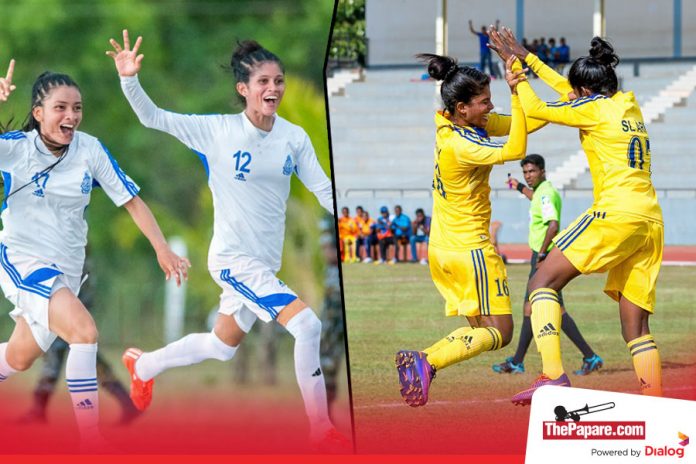 The Women's Premier League Division I Football Championship kicked-off on the 15th of October, with the final league matches set to be played on the 26th of October.
Last season saw Navy SC clinch the title after a hard-fought title between Army, Navy and Air Force Sports Clubs, with Navy finishing on top of the table with 12 points. Army SC and Air Force SC put on some impressive performances throughout last season, with Army having been poised to win until Air Force foiled their plans in their final match beating the Soldiers 3-2. This  allowed Navy to climb above Army on the final day by a single point to win the Championship for a second year in a row.
Navy SC defeated Police SC 2-0 in the 2016/17 Premier League Women's Division I to clinch the Championship for the 2nd straight…
Police SC will be hoping to put last season behind them as soon as possible after some dismal performances saw them finish dead last at the bottom of the table. Navy meanwhile will be looking to make it a hat-trick of League titles, while Army and Air Force will be looking for retribution after an agonizingly close title race last season.
The fixtures for this season are as follows
Date
Match
Time
Venue

15.10.2018

SL Air Force Vs SL Army

08.30 AM

SL Air Force

Grounds – Ekala

15.10.2018

SL Police Vs SL Navy

03.30 PM

17.10.2018

SL Navy Vs SL Army

08.30 AM

17.10.2018

SL Air Force Vs SL Police

03.30 PM

19.10.2018

SL Navy Vs SL Air Force

08.30 AM

19.10.2018

SL Army Vs SL Police

03.30 PM

22.10.2018

SL Navy Vs SL Police

08.30 AM

SL Navy Grounds

Welisara

22.10.2018

SL Air Force Vs SL Army

03.30 PM

24.10.2018

SL Army Vs SL Police

08.30 AM

24.10.2018

SL Navy Vs SL Air Force

03.30 PM

26.10.2018

SL Air Force Vs SL Police

08.30 AM

26.10.2018

SL Navy Vs SL Army

03.30 PM
>>For more Football News Click Here<<