The need of the hour for Sri Lanka Cricket is a fast-bowling all-rounder like Ben Stokes (England), Hardik Pandya (India), Jason Holder (West Indies), Chris Morris (South Africa) or Corey Anderson (New Zealand). Someone who could bat in the top seven and carry out the dual role of a specialist batsman and third seamer, delivering a few crucial seam-up overs in all three formats.
Fast-bowling all-rounders are rarity around the world and most of them are encouraged only to play limited-overs cricket.
Angelo Mathews, one of the best all-rounders in Sri Lanka has been prone to injuries in the recent past which has hampered his ability to bowl in Test cricket. Thisara Perera, one of the most destructive hitters from the island-nation has retired from Test cricket and has not delivered up to potential even in limited-overs cricket.
We at ThePapare.com probe some of the young candidates who could fit in and deliver as the fast-bowling all-rounder for Sri Lanka in all three formats.
Dasun Shanaka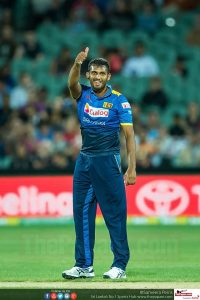 Shanaka has been renowned as one of the few batsmen in Sri Lanka who could clear the fence without breaking a sweat. The 26-year old was more of a fast-bowler who could bat a bit when playing for his alma mater Maris Stella College but since joining Sinhalese Sports Club, he has grown into a more formidable all-rounder.
Shanaka has represented Sri Lanka in all three formats, playing 13 T20IS, 9 ODIs and a single Test match but with less returns with both ball and bat. An agile fielder, Shanaka should be given a long run in all formats, starting with the limited-overs games.
He is a dominant performer in the domestic tournaments and should look to transform those local performances into match-winning contributions for the national team.

Lahiru Madushanka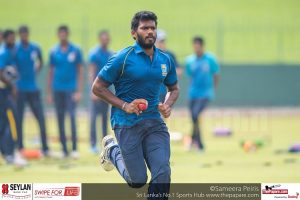 The 25-year old Madushanka is a proud product of St. Thomas College, Matale. Madushanka impressed with bat and ball in his time in the Sri Lanka U19 side scoring 235 runs and taking 12 wickets in a Quadrangular Tournament in India.
Madushanka's average with the bat was just above 30 and little less than 40 as a bowler in the last three domestic seasons for Bloomfield C & AC and CCC.
Earlier this year, Madushanka became the 179th player to represent Sri Lanka in ODI cricket, debuting against South Africa. He made an appearance against Zimbabwe during the recent ODI series but has not yet fulfilled expectations as a genuine all-rounder for Sri Lanka.
Chamika Karunaratne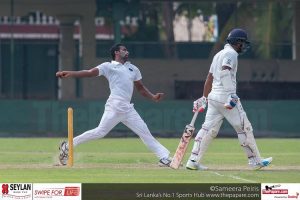 Former Royal College captain, the 21 year old was a 'Big Match' hero for his alma mater in 2013 and has represented Sri Lanka U19s, Sri Lanka U23s and Sri Lanka 'A' team in the past.
Currently in the 'A' team squad for the West Indies tour, Karunaratne has the perfect CV to fit into the role. He has played 12 first-class matches and 11 list A games scoring over 500 runs and taking close to 40 wickets.
Karunaratne plays his cricket at Tamil Union C & AC and has also proved his worth for BMS in the Red Bull Campus Cricket tournament.  A born athlete, he has also excelled in Javelin Throw and Badminton. If he is well groomed, Karunaratne can surely be a match-winner for Sri Lanka in all-three formats.
Janith Liyanage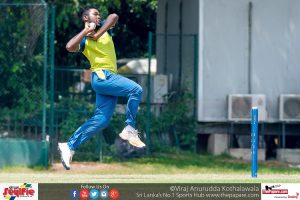 Former Peterite, Liyanage is an under-rated yet a highly talented all-round prospect for Sri Lanka. Currently representing Ragama CC, Liyanage has played 12 first-class games and 13 list A matches averaging 37 and 58 with the bat respectively.
Liyanage is a proper batsman who could bowl some useful overs with his right-arm seamers. He can pick up the odd wicket or two and can be fielded in all three formats of the game. The 22-year old Liyanage is yet to break into the 'A' team squad or development squad but keep an eye out for this talented youngster in the coming years.
Thikshila De Silva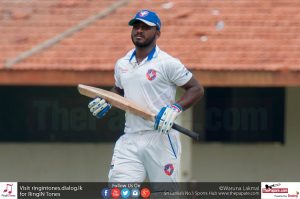 Fondly nicknamed 'Sankar' by his loved ones, an aggressive left-hander by nature, De Silva possess muscular forearms reminiscent of Sanath Jayasuriya. He represented Sri Lanka in the three-match T20I series earlier this year against South Africa but could not make a mark and was, later dropped.
De Silva is still a rookie in domestic cricket with only 20 games, averaging 25 with the bat and 28 with the ball. He generates more pace than people would expect but De Silva's main obstacle would be to improve the batting averages and make a name for himself as a genuine all-rounder.

Anuk Fernando

A promising young left-arm seamer from St. Sebastian's College, Moratuwa, Fernando was the pick of the bowlers for Sri Lanka in the 2014 Youth World Cup. Since then, he has represented Sri Lanka Board XI, Sri Lanka U23 and Sri Lanka 'A' in the recent past.

As a left-handed lower-middle order batsman, Fernando averages just above 20 but his strike-rate in limited-overs cricket stands above 150 and has picked up over 50 wickets with the ball.
He is no mug with the bat and a skiddy customer both with the old and new ball. Representing NCC and MAS Unichela in local cricket, Fernando has definite potential to be a useful all-rounder for Sri Lanka in the future.
Jehan Daniel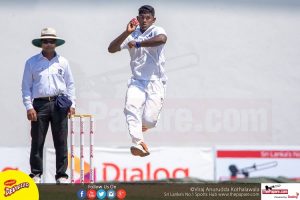 The youngest of the lot, Daniel, the present St. Joseph's College captain is touted to be the next Angelo Mathews. The 18-year old right-handed all-rounder represented Sri Lanka in the 2016 Youth World Cup and will also play a major role in next year's Youth World Cup in New Zealand.
Daniel is yet to play any first-class cricket but admirable performances in the coming few months for the Junior Lions should prompt the selectors to promote him to the next level within the next few years. Daniel has the ability to play the long innings under pressure as well as making quick blitz with the bat and should definitely be a useful asset with his seamers as well.