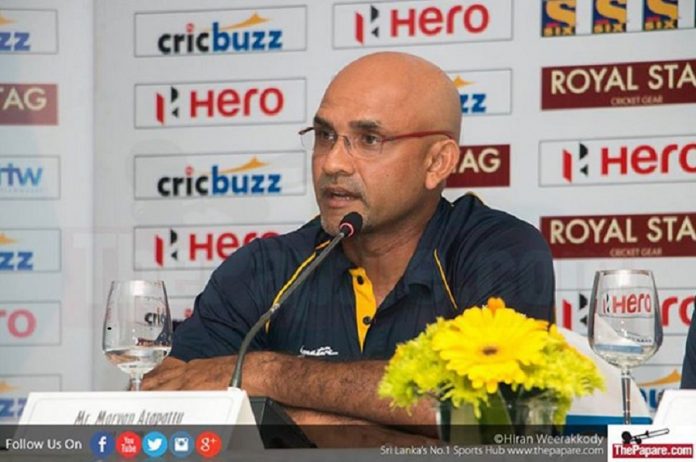 Former Test captain Marvan Atapattu in a superb 'Legends' interview with The Papare, that will be aired shortly, stressed on the prerequisites ahead of an event of the magnitude of the World Cup.
Atapattu stressed that preparation was a vital aspect ahead of the World Cup and the players should have been identified long before. He featured in four World Cups as a player and was heavily involved in planning for the last World Cup in Australia and New Zealand as he was the Head Coach of the team. As the saying goes, 'if you fail to prepare, you prepare to fail,' reminded Atapattu.
Marvan Atapattu loved those marathon vigils at the crease. He dinked, stonewalled with a straight blade, shouldered arms
Atapattu highlighted that in all tournaments where he had a say either as a senior player, ex-captain or Head Coach, preparation was given considerable value. The players who not only formed the nucleus of the side but majority of the squad had been identified well in advance, at least a year before the tournament. Then for the 12 months ahead of the World Cup, these players were given an extended run in the team. There were designated roles for each player and even those who failed to click had opportunities to play themselves back into form with a long rope being given to them.
As a result of such meticulous planning, Sri Lanka were able to reach the knockout stages of all World Cups since 1999. The mantra that had worked for them was simple. Identify the talents and persevere with them. If at all there was a change made just before the World Cup, it was mostly one or two.
Chairman of Selectors Ashantha De Mel in his media briefing to announce the World Cup squad held his own explaining so well why each selection was made. His arguments were sound and his reasoning were spectacular but there was very little that even De Mel, a proven Chief Selector over the years could do having been brought in less than six months ahead of the World Cup. De Mel would have had an opportunity to try out his methods had he got a longer tenure. That's why the national selection panel should get a minimum duration of two years or in the ideal case should rotate once in four years.
You may find a few guys to match Marvan Atapattu's cover drive, but finding a substitute for his
A longer tenure allows selectors to try out different combinations and players before settling on a final squad. Since the last World Cup, we have had four different selection committees and the thinking of these various panels has been vastly different. Not that one panel is better than the other or whatever. Every panel has had some brilliant ideas but it's been a problem of not being able to stick with some of them for a longer period of time.
One selection that has not been compromised on is that of Kusal Mendis. Picked to make his debut from obscurity by Kapila Wijegunawardene's panel months after the 2015 World Cup, Mendis has come up with some stunning match winning knocks over the years. Not that his form didn't suffer. He went through a bad patch and was axed for the tour of India in 2017. But largely, all selection panels have agreed that Mendis is one of the best things that happened to Sri Lankan cricket and backed him. Such continuity was necessary even with some of the other players who had been identified.
Hopefully, Mendis will emerge not only as a bright young talent but a player capable of winning matches in all conditions during this World Cup.
Like the selection of Mendis four years ago, De Mel's panel needs to be commended for picking Oshada Fernando despite little exposure in Sri Lanka's development squads or age group teams. His batting was a treat to watch in South Africa as he drove Dale Steyn and Kagiso Rabada fluently. He didn't have the fear factor that had been the undoing of several Sri Lankan batsmen of fame over the years, who had cut a sorry figure playing in South Africa, not the easiest place to bat for guys who had been brought up on tracks where the ball rises barely above the knee level. The likes of Mendis and Fernando, both Moratuwa boys, hopefully will go onto form the nucleus of the Sri Lankan side for many years to come.
Sri Lanka Cricket team's coach Marvan Atapattu has resigned from the post of head coach. His letter of resignation
Whether you agree or not on the selections, as Marvan pointed out, now that the squad has been chosen to play, it is the duty of all Sri Lankan fans to stand behind the team as Sri Lanka's World Cup campaign gets underway in the Scottish capital of Edinburgh.
Sri Lanka did tour Scotland at the back end of their tour of England in 2011. Of the two ODIs they were set to play in the beautiful city, five hours' train ride from London's Kingscross Station, one game was washed off while Sri Lanka won the other. The other occasion these teams met was during the last World Cup and Sri Lanka has maintained a clean sheet against Scotland so far.