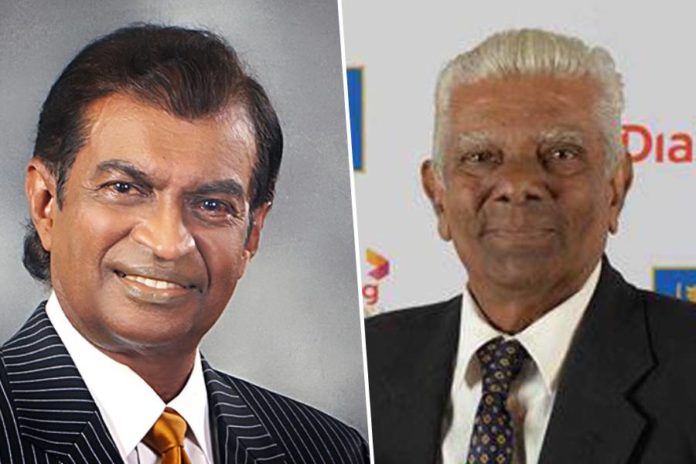 The Sabuddhi Sports Literature Awards Ceremony 2020, sponsored by Sri Lanka Telecom and Mobitel, will be held on 11th  December (Friday) 2020 at the Duncan White Auditorium of the Ministry of Sports, Colombo 7.
This is the first time that such an awards ceremony is held in Sri Lanka and two veteran sports journalists, Palitha Perera and Premasara Epasinghe, have been nominated by the Sabuddhi Literary Circle for the once-in-a-lifetime Sabuddhi Gold Award this year.
Sabuddhi Gold Award is presented to the two Sinhala language commentators in recognition of their great service to Sri Lanka's sports in general for over five decades, which resulted in the advancement and promotion of Sri Lankan cricket as well as sports literature in Sri Lanka.
Minister of Sports and Youth Affairs, Honourable Namal Rajapaksa will be the Chief Guest on the occasion.
Susanthika Jayasinghe will also receive the Sabuddhi Gold Award in this inaugural ceremony for her victory of the Silver Medal in women's 200 metres at the 2000 Olympics in Sydney, Australia.The Sabuddhi Sports Literature Awards Ceremony 2020 will also mark the 20th anniversary of Jayasinghe's historic triumph in Olympics.
The rest of the awards of the day will include the Best Sports Literary Writer of the Year, Best Academic Sports Book of the Year, and Sports Literature Book of the Year on Miscellaneous Subjects. Also the Daily and Weekly Newspapers in Sri Lanka that have contributed immensely for the upliftment of sports literature during year 2019 will also be awarded.
There will be awards on 10 different categories including Radio, Television and New Media (Digital). The Best Sports Magazine of the Year will also be awarded for their contribution to sustaining the country's sports literature.
Rohan Fernando, Chairman, Sri Lanka Telecom, the title sponsor of the awards, said sports are an essential component in the development of any country.
"Sport can be utilised to shape the hearts and minds of youth in particular lead them to society in a disciplined manner. Sri Lanka Telecom likes to work closely with the organisations that contribute to this end. Therefore, as 'the Chief Communicator of Sri Lanka', SLT is pleased to have this opportunity to participate in the Sabuddhi Awards Ceremony on Sports Literature 2020," Mr. Fernando added.