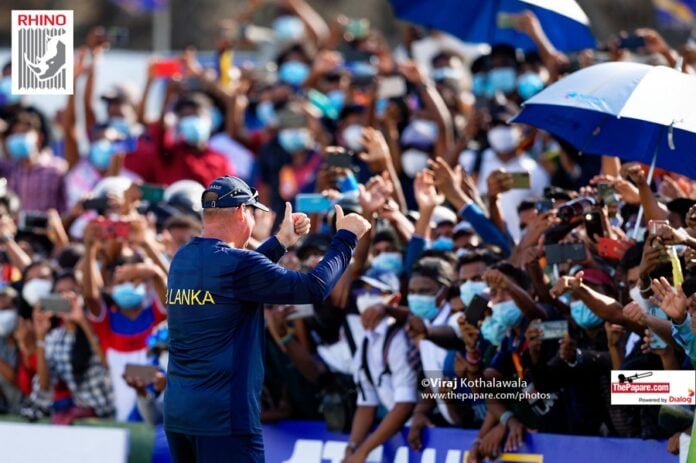 Given the reception that Mickey Arthur received last week in Galle, following his final game with the national cricket team, you got the feeling that if he contested the general elections, he would win it hands down.
It reminded you of then President Mahinda Rajapaksa's visit to the stadium in 2010 to witness Murali's last Test match. He had to just turn to the crowd and wave, the spectators went berserk. Galle knows how to celebrate their heroes. No one should read too much into the pinching of Grant Flower's sunglasses.
Coming back to the point, how good was Mickey Arthur? Should he have got an extension? Who's going to replace him? These are some of the interesting points to ponder.
In his last press conference, Mickey said that he is leaving the team in a far better place than he found it. Is that so? Let's take a look at some numbers. Well, of the 14 Tests that Sri Lanka played during Mickey's tenure, they won four Tests and lost five while five were drawn. Of the 17 ODIs he was in charge, Sri Lanka won seven and lost nine. It is in T-20 cricket that the team has been well below par as they have lost 14 and won only eight games since December 2019 when Mickey took over. Overall, it's not a bad record. But the numbers don't tell the full story.
Tom Moody probably is Sri Lanka's best coach statistically but he also had inherited a fairly formidable team from John Dyson. Moody was ruthless. None dared cross his path. He was offered an extension but instead preferred to return to his native Perth where he coached his Western Australia.
Arthur inherited a team that was in disarray. Sri Lanka's transition was incomplete and taking longer than people expected. Arthur went about things meticulously. Covid handicapped him. People might say that it was the same for all the teams but teams like Sri Lanka where the domestic structure is not as strong as some of the other countries, the Head Coach of the national cricket team is like the captain of Titanic; the risks at his hand are gigantic.
Mickey's first assignment was to Pakistan. The team was flying from Rawalpindi to Karachi casually dressed. Some wearing blue, some grey and some black. Mickey exploded at the next team meeting telling players to fall in line. His message was taken in good spirit.
There wasn't quite a 'homework gate' like during Mickey's time with Australia. But quite a few players were kicked out for not falling in line with the minimum fitness standards.
The notable casualty was Avishka Fernando. Sri Lanka returned home from South Africa early this year with a series of injuries and they were being transferred from bubble to bubble to prepare for the home series against England. Avishka was told to join the team hotel in Galle. He was set to make his Test debut with skipper Dimuth Karunaratne injured. However, when tested it was found that his skinfolds were extremely high and was sent back home.
Avishka bounced back fitter, stronger and hungrier. Prabath Jayasuriya too suffered the same fate. He was called up as the injury replacement for Lasith Embuldeniya and was going to play the Test series against Bangladesh in April. But he failed the skinfold test and became ineligible. That gave Praveen Jayawickrama a window and the rest as they say is history.
Mickey was quite a task master when it came to fitness. That saw even the seniors falling in line. Occasionally he took on a player or two in public. Bhanuka Rajapaksa for example. But despite doing
that, he was the first to applaud when BR put in the hard yards. Mickey's stance has brought the best out of BR.
Another aspect that Mickey impressed was paying a lot of attention to minute details. He was a pretty vocal advocate of showing excellence while running between the wickets. He seemed to believe that Sri Lankans did not fancy stealing the third run and kept insisting on that.
Mickey would also lose it when there were overthrows. Not backing up, carrying your gloves while running between the wickets were indications of sloppy cricket according to him.
Mickey's experience is his best strength. He's been now in the international circuit for a decade and half and not many coaches are fit to hold a candle to him when it comes to running the affairs of a cricket team.
Skipper Dimuth Karunaratne probably summed up Mickey best. He can be a taskmaster and at the same time a father figure. Someone who demands the best from his players but also understands the struggles of the players.
SLC needs to be thankful for him for being so flexible. First they fitted in Tom Moody with a role that was above Mickey and the Aussie was earning thrice as much as the Head Coach. Then they rushed in Mahela Jayawardene ahead of the T-20 World Cup and not many proven Head Coaches take these things lying down.
Mickey was humble. He saw the larger picture. If there was room for Sri Lanka to improve, Mickey would have even agreed to even having Usman Khawaja in the dressing room.
You already know that in Mickey you have someone who is flexible and has met every need of yours. So why not go along with him is the question you need to ask.
Also look at Trevor Bayliss. He was the only Sri Lanka coach to get an extension. He built up the team in the first two years and made them ruthless in the next two. Sri Lanka won everywhere in Bayliss' last two years and that included getting to back to back finals in two ICC events.
Mickey could have done something similar with Sri Lanka.
The Cricket Committee has done some very good work since taking over early this year. Their choice for Chairman of Selectors though left much to be desired. Here's hoping that their choice for next Head Coach won't be something similar.
*Disclaimer: The views and opinions expressed in this article are those of the author's and do not necessarily reflect the official policy or position of ThePapare.com.