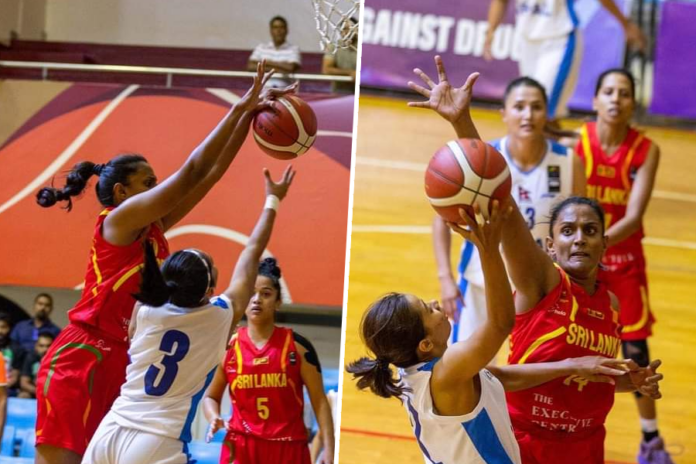 Sri Lanka team took on Nepal on the second day of the SABA Women's Championship 2022. It was a disappointing day for the Lankan ladies as they were outdone by the last edition's runners-up Nepal, 55-49.
Sri Lanka started the game with one-star player down due to her ankle injury from the first game. Keyasha Siriwaradana stepped into the spot of Benika Thalagala, while the starting lineup included Nirma Sasanthi, Anjalee Ekanayake, Lubna Morseth and Taniya Perera.
Sri Lanka did have the first possession of the game but failed to convert it into points. Skipper Ekanayake attempted the first shot in the game but failed to swish it through the nets. 50 seconds into the first quarter Pratikshya Magar drew first blood with a massive shot behind the ark. Sri Lanka struggled to open their books till the 4th minute of the first quarter.
Since Sri Lanka's offensive strategy was mainly focused on the Center, the Nepalis deployed the most tactical defense to block Sri Lanka's offenses. Sasanthi Samarasinghe and Keyasha Siriwaradana struggled to gain possession as a result of the pressure. There were notable basic mistakes by the Lankans in the first quarter including two traveling violations from Siriwardana, Center players missing out both defensive and offensive rebounds and Ekanayake's shot selections.
In the 2nd quarter, there were a few new faces on the court, Hazeena Abdul made the first point in the second quarter. The Nepalis continued their intensive defense and 3-pointers. Sri Lanka did opt for shots all throughout the first two quarters but they fell short.
In the second half of the match, Sri Lanka did find their pace by the 4th minute of the 3rd quarter, being quick with both their defense and offense and managed to cut off the deficit to 5 points. Coach Prasanna used Benika Thalagala in the third quarter, and she did her part in making a much needed 3 pointer, however her penetrations were not strong enough to make it count for Sri Lanka.
In the last quarter Sri Lanka did have ample chances to get into the lead. In the 4th minute of the last quarter Sri Lanka did try to turn the tables with their full-court trap defense but Nepalis overcame the barrier very easily using their speed.
Taniya Perera and Epciba Washington Clay were the top performers of the day. The duo contributed massively for Sri Lankas' score card demonstrating their abilities in penetrations and in defense.