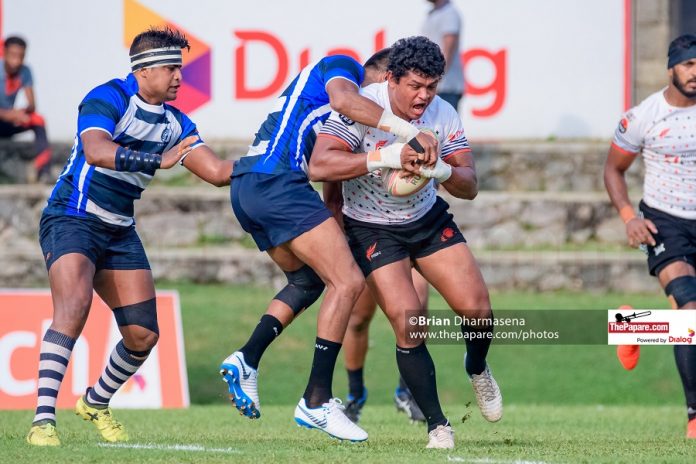 CH & FC held their nerve against a Navy outfit that came all guns blazing at them in the second half to record a thrilling 34 points to 26 victory at Welisara this evening. Having led by 27 points to 05 at the breather, the winners collected their points from 4 Tries, 4 Conversions, 1 Penalty and a Drop Goal while the sailors responded through 4 Tries (including a penalty try) and 2 conversions.
When these two teams took on each other at this same venue last season it proved to be a rather sour experience for the visitors where they dominated a majority portion of that game but only to be outdone by a superb late rally by the hosts. At one stage during the second half in today's clash it seemed that CH would once again fall prey to a second half rally by the sailors but this time they were better equipped in terms of squad depth and came ready for the challenge which they overcamr at the end.
The game got off to a rousing start and both teams made several inroads into their opponent's half but only to give away possession at crucial moments by conceding penalties. CH & FC in particular looked the better side to have settled into the game and that momentum helped them to register the first try of the game in the 12th minute through their second rower Sajith Saranga. The CH & FC forwards were involved in several 'pick and goes' close to the try line before Saranga managed to ground the ball over the whitewash. Full back Samuel Maduwantha added the extras with little difficulty for his team to lead by 7 points.  (Navy 00 – CH 07)
Thilina Weerasinghe had the chance to reduce that lead five minutes later but his penalty kick at goal only managed to hit the posts and go out of bounds. Instead it was his opposition counterpart, Samuel Maduwantha that got his name back again on the score sheet with a trademark penalty  kick from 45 meters out in the 17th minute and five minutes later he was up to it again putting over a stunning 35 meter drop goal from a difficult angle. (Navy 00 – CH 13)
Photos : Navy SC vs CH & FC – Dialog Rugby League 2018/19
Navy looked to rely on their nimble footed backs but just when it looked Navy would get their name in the score sheet CH & FC scored yet again off a turnover inside their own "22". Nivanka Prasad collecting a loose ball powered his way through a few feeble tackles before passing the ball out to Sudarshana Muthuthanthri who was lurking on the flanks. The ball changed hands between Hirantha Perera and Sudam Sooriyarachchi before Hirantha Perera when tackled close to the try line found the hands of Muthuthanthri who trotted down under the posts. A possible try of the season contender. Maduwantha added the easy extras and things looked gloomy for the sailors. (Navy 00 – CH 20)
Navy did manage to plug the holes that were sinking their ship momentarily and pulled a try back through Winger Chathura Senevirathne. Despite playing out of position as winger for this game, Senevirathne showed tremendous speed and then used his stepping skills when required, to outfox the CH Defense and score a brilliant try. Thilina Weerasinghe however was once again unsuccessful with his kick smacking against the posts yet again and the possible five points that was missed by Weerasinghe did prove to be costly as Navy scored their 3rd try of the evening through Hooker Prasath Madushanka off a rolling maul. Maduwantha was once again on target with a spectacular conversion to give his team a 22 point lead at the break.
HALF TIME: NAVY SC 05 – CH & FC 27
Playing at home the Sailors knew they needed to be the team that got off the blocks faster in the second half if they were to keep their hopes of salvaging anything from this game. They did just that and managed to score a try in the 48th minute through lock forward Nirosh Udayanga. Weerasinghe finally got his kicking angles correct adding the extras. Navy were now using their forwards to make inroads to their opponent's s half and their ploy started to pay off. Tight head prop Kasun De Silva got into the act barging over from close range and right under the posts in the 59th minute for a converted try. (Navy 19 – CH 27)
>>Photos : Navy SC vs CH & FC – Dialog Rugby League 2018/19<<
Navy looked to be in the ascendancy going into this game confident of a comeback but the boys from Maitland Crescent had other ideas. Center Hirantha Perera took a few defenders by himself before popping a lovely offload to ever-present Sudam sooriyarachchi who ran around the Navy defense and touched down under the posts. Maduwantha added the easy extras and it looked like the try would give CH the cushioning they needed on the scoreboard. (Navy 19 – CH 34).
But barely a minute passed by before Navy scored yet again. This time it was their replacement Winger Saliya Handapangoda who made a thundering run cutting the CH defense to shreds. Handapangoda was deemed to have been tackled high by CH & FC's replacement half back Avishka Lee while grounding the ball over the line which resulted in the Lee being sent to the sin bin and Navy awarded a Penalty Try. (Navy 26 – CH 34).
With just around 15 minutes left Navy would round off a remarkable comeback with the wind behind their sails. But CH to their credit rallied around Sudarshana Muthuthanthri and Yoshitha Rajapakshe who were outstanding in open play as well as their defensive work. CH were reduced to 13 men with five minutes to go when Samuel Maduwantha was sent to sin bin for a blatant high tackle on Saliya Handapangoda. But despite the disadvantage CH & FC held on as referee Aaqil Jamaldeen brought an intense and exciting game of rugby to a close.
FULL TIME: NAVY SC 26 – CH & FC 34
Referee:

Aaqil Jamaldeen

Thepapare.com player of the match:

Sudarshana Muthuthanthri (CH & FC)
Breakdown: NAVY SC  26 (05) – 3 Tries, 1 Penalty Try, 2 Conversion
Tries Scored by – Nirosh Udayanga, Kasun De Silva, Chathura Senevirathne
Conversions – Thilina weerasinghe (2)

Breakdown: CH & FC  34 (27) – 4 Tries, 4Conversions, 1 Drop Goal, 1 Penalty
Tries Scored by – Sajith Saranga, Sudarshana Muthuthanthri, Prasath Madushanka, Sudam Sooriyarachchi
Conversions – Samuel Maduwantha (4)
Penalty – Samuel Maduwantha (1)
Drop Goals- Samuel Maduwantha (1)

Yellow Cards – Avishka Lee, Samuel Maduwantha