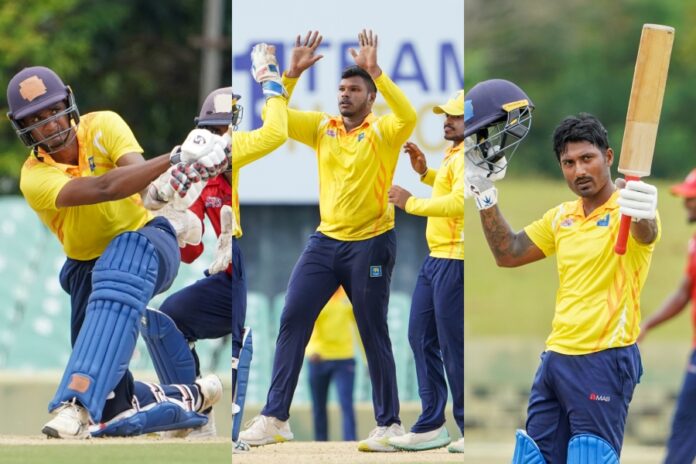 Team Kandy clinched a thriller against Team Galle, while the Colombo-Jaffna game was called off due to rain in the National Super League 50-Over Tournament 2023, worked off today at Pallekele and Dambulla.
The 7th match of the tournament, played between Team Colombo and Team Jaffna, was called off due to rain at Pallekele International Cricket Stadium.
Having won the toss, Team Colombo opted to bat first but could not impress with the willow in hand as they were struggling at 211/9 in the 47th over when the rain halted the play. The match had to be called off as the persistent rain didn't allow the authorities to resume the game.
Team Kandy defeated Team Galle by 8 runs in the 8th match of the tournament, played today at Dambulla International Cricket Stadium.
After been put into bat first, Team Kandy showcased an excellent display with the bat, posting a commanding total of 293 runs in the allotted 50 overs. Lahiru Udara was the hero with the bat for the Kandy lads as he stroked a brilliant century.
Ahan Wickramasinghe also played a vital hand with a 71-run knock for Team Kandy. The off-spinner Akila Dananjaya, who grabbed 3 scalps for 41 runs, was the pick of the bowlers for Team Galle.
In reply, Team Galle almost matched with the Kandy batting effort, coming very close to snatch the win, but the Kandy bowlers held their nerves to clinch a thrilling 8-run win at the end.
Pathum Kumara (66) and Sohan De Livera (52) tried their best with fine half-centuries to get their side over the line. However, a collective bowling effort of Team Kandy led by Movin Subasinghe, Ashian Daniel and Pulina Tharanga, who picked up 3 wickets each, managed to resist them and script the victory.
Brief Scores
Team Colombo 211/9 (46.3) Ashen Bandara 69, Avishka Fernando 47, Nipun Dhananjaya 27, Nisala Tharaka 20, Ravindu Fernando 3/42, Dilum Sudeera 2/36, Binura Fernando 2/37, Shiran Fernando 2/44

Result – No Result

Team Kandy 293 (50) Lahiru Udara 109, Ahan Wickramasinghe 71, Pulina Tharanga 30, Sandun Weerakkody 24, Akila Dananjaya 3/41, Mohammed Shiraz 2/45, Praveen Jayawickrama 2/53, Kavishka Anjula 2/54

Team Galle 285 (49.4) Pathum Kumara 66, Sohan De Livera 52, Suminda Lakshan 42, Lakshan Edirisinghe 39, Dhananjaya Lakshan 21, Movin Subasinghe 3/15, Ashian Daniel 3/36, Pulina Tharanga 3/43

Result – Team Kandy won by 8 runs


Batsmen
R
B
4s
6s
SR
Lasith Croospulle
c Lakshan Edirisinghe b Kavishka Anjula
0
1
0
0
0.00
Thanuka Dabare
c Pathum Kumara b Mohammad Shiraz
5
5
1
0
100.00
Sandun Weerakkody
c Lakshan Edirisinghe b Mohammad Shiraz
24
20
4
0
120.00
Lahiru Udara
c Mohammad Shiraz b Kavishka Anjula
109
108
12
0
100.93
Ahan Wickramasinghe
lbw b Praveen Jayawickrama
71
77
8
1
92.21
Movin Subasingha
lbw b Praveen Jayawickrama
6
10
0
1
60.00
Pulina Tharanga
b Akila Dananjaya
30
34
2
0
88.24
Asel Sigera
c Kavishka Anjula b Akila Dananjaya
14
16
1
0
87.50
Amshi De Silva
not out
18
19
1
0
94.74
Nipun Ransika
lbw b Akila Dananjaya
4
2
1
0
200.00
Ashian Daniel
run out (Pasindu Sooriyabandara)
4
8
0
0
50.00
| | |
| --- | --- |
| Extras | 8 (b 0 , lb 2 , nb 0, w 6, pen 0) |
| Total | 293/10 (50 Overs, RR: 5.86) |
| Bowling | O | M | R | W | Econ |
| --- | --- | --- | --- | --- | --- |
| Kavishka Anjula | 10 | 0 | 54 | 2 | 5.40 |
| Mohammad Shiraz | 7 | 0 | 45 | 2 | 6.43 |
| Praveen Jayawickrama | 10 | 0 | 53 | 2 | 5.30 |
| Dhananjaya Lakshan | 6 | 0 | 38 | 0 | 6.33 |
| Suminda Lakshan | 9 | 0 | 60 | 0 | 6.67 |
| Akila Dananjaya | 8 | 0 | 41 | 3 | 5.12 |


Batsmen
R
B
4s
6s
SR
Sohan de Livera
c Thanuka Dabare b Ashian Daniel
52
44
9
0
118.18
Mohammad Shamaaz
c Lahiru Udara b Ashian Daniel
19
34
2
0
55.88
Dhananjaya Lakshan
c Ashian Daniel b Thanuka Dabare
21
24
3
0
87.50
Pasindu Sooriyabandara
b Pulina Tharanga
13
24
0
0
54.17
Lakshan Edirisinghe
c Pulina Tharanga b Movin Subasingha
39
48
4
0
81.25
Pathum Kumara
c Pulina Tharanga b Movin Subasingha
66
68
4
1
97.06
Kavishka Anjula
st Lahiru Udara b Ashian Daniel
5
9
0
0
55.56
Suminda Lakshan
lbw b Movin Subasingha
42
41
3
0
102.44
Akila Dananjaya
not out
4
4
0
0
100.00
Mohammad Shiraz
lbw b Pulina Tharanga
1
2
0
0
50.00
Praveen Jayawickrama
b Pulina Tharanga
0
1
0
0
0.00
| | |
| --- | --- |
| Extras | 23 (b 1 , lb 4 , nb 1, w 17, pen 0) |
| Total | 285/10 (49.4 Overs, RR: 5.74) |
| Bowling | O | M | R | W | Econ |
| --- | --- | --- | --- | --- | --- |
| Nipun Ransika | 4 | 0 | 32 | 0 | 8.00 |
| Amshi De Silva | 5 | 0 | 35 | 0 | 7.00 |
| Asel Sigera | 10 | 0 | 56 | 0 | 5.60 |
| Ashian Daniel | 7 | 0 | 36 | 3 | 5.14 |
| Thanuka Dabare | 8 | 0 | 63 | 1 | 7.88 |
| Pulina Tharanga | 9.4 | 0 | 43 | 3 | 4.57 |
| Movin Subasingha | 6 | 1 | 15 | 3 | 2.50 |