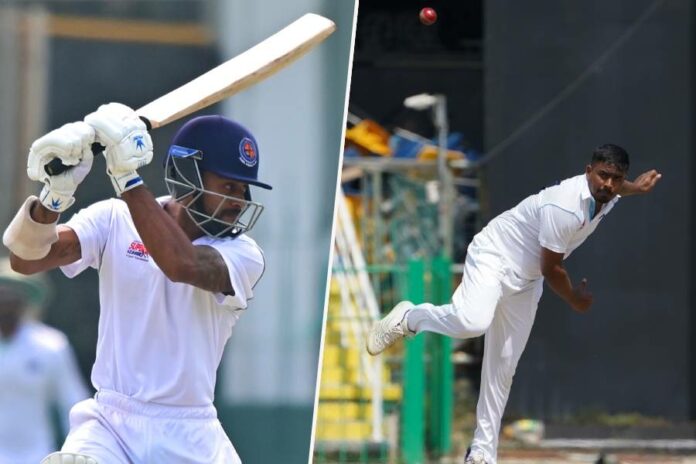 The third week's matches of National Super League 2023 kicked off today (02nd February) at Kandy and Dambulla.
Colombo vs Jaffna
Colombo Team's skipper Avishka Fernando won the toss and invited Jaffna Team to take the first lease of the wicket at Pallekele International Cricket Stadium.
The left-handed duo Navod Paranavithana and Ron Chandraguptha opened the batting for Jaffna but their stay at the crease was cut short for just 8 runs as the former was dismissed by the speedster Nuwan Pradeep for 2 runs.
Chandraguptha and No. 3 batter Kasun Abeyrathne steadied the ship for Colombo with a solid 72-run stand for the 2nd wicket. However, after the partnership is broken, Jaffna witnessed a batting collapse in the middle losing 5 wickets for 56 runs and being restricted to 136/5.
After 41.2 overs of play, the rain interrupted the match which brought early stumps on day one. Chandraguptha was Jaffna's top scorer with a knock of 68 runs while the ambidextrous spinner Tharindu Rathnayake starred with the ball for Team Colombo with a 3-wicket haul.
Dambulla vs Kandy
The other encounter between Dambulla and Kandy which was scheduled to be commenced today at Dambulla International Cricket Stadium was called off for day one due to inclement weather conditions.
199/10 (70.1) & 229/8 (61)


Batsmen
R
B
4s
6s
SR
Navod Paranavithana
c Tharindu Rathnayake b Nuwan Pradeep 
2
14
0
0
14.29
Ron Chandraguptha 
st Manoj Sarathchandra b Tharindu Rathnayake
68
95
5
0
71.58
Kasun Abeyratne
run out (Manoj Sarathchandra)
36
60
4
0
60.00
Madawa Warnapura
b Tharindu Rathnayake
13
54
1
0
24.07
Dhananjaya de Silva
c Avisha Fernando b Prabath Jayasuriya
19
42
2
0
45.24
Avishka Tharindu
b Tharindu Rathnayake
2
8
0
0
25.00
Lahiru Madushanka
c Manoj Sarathchandra b Kasun Rajitha
0
5
0
0
0.00
Ravindu Fernando 
b Nuwan Pradeep 
24
35
2
0
68.57
Kavindu Pathiratne
b Tharindu Ratnayaka
16
65
2
0
24.62
Dilum Sudeera 
c Ashen Bandara b Nuwan Pradeep 
6
42
0
0
14.29
Nipun Malinga
not out
0
3
0
0
0.00
| | |
| --- | --- |
| Extras | 13 (b 5 , lb 4 , nb 2, w 2, pen 0) |
| Total | 199/10 (70.1 Overs, RR: 2.84) |
| Bowling | O | M | R | W | Econ |
| --- | --- | --- | --- | --- | --- |
| Kasun Rajitha | 18 | 4 | 56 | 1 | 3.11 |
| Nuwan Pradeep  | 15.1 | 2 | 50 | 3 | 3.31 |
| Nisala Tharaka | 12 | 2 | 38 | 0 | 3.17 |
| Prabath Jayasuriya | 13 | 7 | 22 | 1 | 1.69 |
| Tharindu Rathnayake | 12 | 5 | 24 | 4 | 2.00 |


Batsmen
R
B
4s
6s
SR
Heshan Fernando
c Kasun Abeyratne b Lahiru Madushanka
35
83
4
0
42.17
Avisha Fernando
c Lahiru Madushanka b Dhananjaya de Silva
62
84
8
0
73.81
Nipun Ransika
c Kasun Abeyratne b Pramod Madushan
13
43
2
0
30.23
Roshane Silva
run out (Dilum Sudeera )
32
89
2
0
35.96
Ashen Bandara
c Avishka Tharindu b Navod Paranavithana
10
14
0
0
71.43
Manoj Sarathchandra
c Lahiru Madushanka b Kavindu Pathiratne
57
120
2
1
47.50
Nisala Tharaka
c Kavindu Pathiratne b Lahiru Madushanka
0
5
0
0
0.00
Prabath Jayasuriya
c Navod Paranavithana b Kavindu Pathiratne
44
75
6
0
58.67
Tharindu Rathnayake
b Lahiru Madushanka
11
33
2
0
33.33
Kasun Rajitha
c Kasun Abeyratne b Kavindu Pathiratne
7
34
0
0
20.59
Nuwan Pradeep 
not out
4
4
1
0
100.00
| | |
| --- | --- |
| Extras | 14 (b 10 , lb 2 , nb 1, w 1, pen 0) |
| Total | 289/10 (97.1 Overs, RR: 2.97) |
| Bowling | O | M | R | W | Econ |
| --- | --- | --- | --- | --- | --- |
| Pramod Madushan | 16 | 2 | 78 | 1 | 4.88 |
| Kavindu Pathiratne | 16.1 | 5 | 48 | 3 | 2.98 |
| Dhananjaya de Silva | 10 | 1 | 25 | 1 | 2.50 |
| Ravindu Fernando  | 19 | 3 | 41 | 0 | 2.16 |
| Dilum Sudeera  | 14 | 1 | 45 | 0 | 3.21 |
| Lahiru Madushanka | 16 | 2 | 32 | 3 | 2.00 |
| Navod Paranavithana | 6 | 2 | 8 | 1 | 1.33 |


Batsmen
R
B
4s
6s
SR
Navod Paranavithana
c Manoj Sarathchandra b Nuwan Pradeep 
26
36
4
0
72.22
Ron Chandraguptha 
b Kasun Rajitha
3
12
0
0
25.00
Kasun Abeyratne
c Manoj Sarathchandra b Nuwan Pradeep 
12
22
1
0
54.55
Madawa Warnapura
c Pramod Maduwantha b Nuwan Pradeep 
14
22
1
0
63.64
Dhananjaya de Silva
c Roshane Silva b Kasun Rajitha
23
26
3
0
88.46
Avishka Tharindu
lbw b Tharindu Ratnayaka
50
80
5
1
62.50
Lahiru Madushanka
b Tharindu Ratnayaka
43
68
4
1
63.24
Ravindu Fernando 
c Avisha Fernando b Prabath Jayasuriya
0
1
0
0
0.00
Kavindu Pathiratne
not out
27
41
4
1
65.85
Dilum Sudeera 
not out
17
59
0
0
28.81
| | |
| --- | --- |
| Extras | 14 (b 4 , lb 5 , nb 1, w 4, pen 0) |
| Total | 229/8 (61 Overs, RR: 3.75) |
| Bowling | O | M | R | W | Econ |
| --- | --- | --- | --- | --- | --- |
| Kasun Rajitha | 8.3 | 0 | 26 | 2 | 3.13 |
| Nisala Tharaka | 7 | 0 | 27 | 0 | 3.86 |
| Tharindu Ratnayaka | 21 | 4 | 78 | 2 | 3.71 |
| Nuwan Pradeep  | 5.3 | 0 | 32 | 3 | 6.04 |
| Prabath Jayasuriya | 19 | 3 | 57 | 1 | 3.00 |