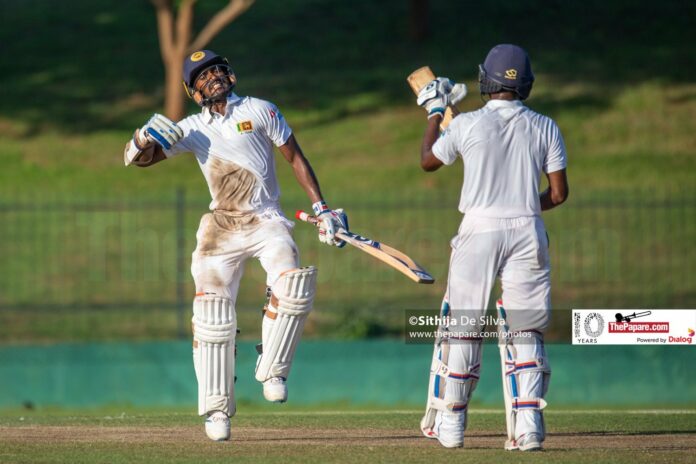 After a baffling start, Jaffna managed to show some stability in their tournament opener against Dambulla, while Galle stood comfortable against Kandy in the other clash of the week.
After being bamboozled by the intimidating pacers of Dambulla – Vishwa Fernando and Asitha Fernando – Team Jaffna have final crept back into their first game of the tournament. They shot out cheaply for 62 runs in the first innings, but managed to restrict Dambulla to a decent total of 213 runs.
Coming out in their second innings, the Jaffna openers gave them a decent start by putting up a 115-run stand for the first wicket. Seasoned campaigner Ron Chandraguptha scored 67 runs to top the batting card so far in the innings, while his opening partner, the young and exuberant Navod Paranavithana, shone with 67 runs.
At the close of play, Jaffna had just gotten into lead, having gotten 57 runs ahead of Dambulla as the scoreboard read 208 runs with 6 wickets intact.
Only Asitha of the speeding Fernandos managed to pick up a wicket in the second innings so far, while Ashan Priyanjan and Duvindu Tillakaratne both picked up a wicket apiece.
In the Kandy-Galle encounter, Galle, who comes in with a win already under their belt, stand comfortably in front as Kandy dig into their second essay with still 54 runs behind.
After posting a competitive 290 runs on the board for the first innings and picking up the first wicket of Galle in the very first over, Kandy would have thought they were well ahead in this game. However, Sangeeth Cooray and the heaps of experience he brings into the game, stood to prove otherwise. Cooray scored a brilliant century, boosting their team yet again to the steering seat of the match.
The left-hander struck an elegant 132 runs with 12 captivating hits for four and 2 handsome sixes.
He was well-supported by Lakshan Edirisinghe, who scored a valuable 70, while wicketkeeper batter Vishad Randika aided with 53 runs. Pioneer Angelo Mathews also chipped in with 44 runs. Galle ended their first innings with a steady 365 runs, putting them in a controlling position in this game.
The up-and-coming seamer Nipun Ranshika was the star with the ball for Kandy as the right-arm quick bagged 3 scalps for 85 runs. He is a bowler with menacing pace and skill.
New kid on the block Wanuja Sahan also impressed with 3 wickets to his merits, including the big fish – Angelo Mathews.
Scorecards
Galle vs Kandy
290/10 (65.5) & 198/10 (66.4)
365/10 (93.5) & 129/0 (23.3)


Batsmen
R
B
4s
6s
SR
Udayawansha Parakrama
c Ramesh Mendis b Asanka Manoj
49
81
7
0
60.49
Kasun Vidura Adikari
c Vishad Randika b Asanka Manoj
16
40
2
0
40.00
Sandun Weerakkody
c & b Ramesh Mendis
76
82
9
2
92.68
Ahan Wickramasinghe
c Angelo Mathews b Praveen Jayawickrama
62
60
2
5
103.33
Raveen Yasas
c Mohammad Shiraz b Asanka Manoj
10
28
1
0
35.71
Movin Subasingha
c Vishad Randika b Kavishka Anjula
30
41
7
0
73.17
Pulina Tharanga
run out (Sangeeth Cooray)
7
15
1
0
46.67
Wanuja Sahan
c Vishad Randika b Kavishka Anjula
12
25
0
1
48.00
Ashian Daniel
not out
3
13
0
0
23.08
Lasanda Rukmal
b Asanka Manoj
1
7
0
0
14.29
Nipun Ransika
lbw b Ramesh Mendis
12
9
0
0
133.33
| | |
| --- | --- |
| Extras | 12 (b 1 , lb 5 , nb 6, w 0, pen 0) |
| Total | 290/10 (65.5 Overs, RR: 4.41) |
| Bowling | O | M | R | W | Econ |
| --- | --- | --- | --- | --- | --- |
| Kavishka Anjula | 14 | 1 | 56 | 2 | 4.00 |
| Mohammad Shiraz | 11 | 0 | 59 | 0 | 5.36 |
| Asanka Manoj | 12 | 2 | 31 | 4 | 2.58 |
| Ramesh Mendis | 11.5 | 4 | 63 | 2 | 5.48 |
| Dhananjaya Lakshan | 3 | 0 | 19 | 0 | 6.33 |
| Praveen Jayawickrama | 14 | 1 | 56 | 1 | 4.00 |


Batsmen
R
B
4s
6s
SR
Hashan Dumindu
c Sandun Weerakkody b Nipun Ransika
0
6
0
0
0.00
Sangeeth Cooray
c Ahan Wickramasinghe b Sandun Weerakkody
132
207
12
2
63.77
Lakshan Edirisinghe
st Udayawansha Parakrama b Movin Subasingha
70
91
8
2
76.92
Angelo Mathews
c & b Wanuja Sahan
44
97
3
1
45.36
Dhananjaya Lakshan
c Raveen Yasas b Ashian Daniel
16
24
2
0
66.67
Vishad Randika
c Udayawansha Parakrama b Lasanda Rukmal
53
68
5
1
77.94
Ramesh Mendis
lbw b Nipun Ransika
10
14
1
0
71.43
Kavishka Anjula
b Nipun Ransika
0
1
0
0
0.00
Praveen Jayawickrama
c Sandun Weerakkody b Wanuja Sahan
8
23
1
0
34.78
Mohammad Shiraz
not out
15
16
3
0
93.75
Asanka Manoj
b Wanuja Sahan
2
22
0
0
9.09
| | |
| --- | --- |
| Extras | 15 (b 1 , lb 8 , nb 6, w 0, pen 0) |
| Total | 365/10 (93.5 Overs, RR: 3.89) |
| Bowling | O | M | R | W | Econ |
| --- | --- | --- | --- | --- | --- |
| Nipun Ransika | 15 | 1 | 85 | 3 | 5.67 |
| Lasanda Rukmal | 10 | 1 | 38 | 1 | 3.80 |
| Wanuja Sahan | 28.5 | 4 | 105 | 3 | 3.68 |
| Ashian Daniel | 25 | 4 | 83 | 1 | 3.32 |
| Movin Subasingha | 6 | 2 | 16 | 1 | 2.67 |
| Pulina Tharanga | 6 | 0 | 18 | 0 | 3.00 |
| Sandun Weerakkody | 3 | 1 | 11 | 1 | 3.67 |


Batsmen
R
B
4s
6s
SR
Udayawansha Parakrama
c Hashan Dumindu b Praveen Jayawickrama
6
24
0
0
25.00
Kasun Vidura Adikari
b Ramesh Mendis
28
64
3
0
43.75
Sandun Weerakkody
run out (Vishad Randika)
71
141
4
1
50.35
Ahan Wickramasinghe
lbw b Kavishka Anjula
2
4
0
0
50.00
Raveen Yasas
c Kavishka Anjula b Asanka Manoj
9
40
1
0
22.50
Movin Subasingha
b Praveen Jayawickrama
27
26
1
2
103.85
Pulina Tharanga
c Hashan Dumindu b Praveen Jayawickrama
1
19
0
0
5.26
Wanuja Sahan
c Kavishka Anjula b Mohammad Shiraz
33
44
6
0
75.00
Ashian Daniel
lbw b Mohammad Shiraz
7
33
0
0
21.21
Nipun Ransika
not out
0
5
0
0
0.00
Lasanda Rukmal
c Lakshan Edirisinghe b Mohammad Shiraz
0
1
0
0
0.00
| | |
| --- | --- |
| Extras | 14 (b 9 , lb 1 , nb 1, w 3, pen 0) |
| Total | 198/10 (66.4 Overs, RR: 2.97) |
| Bowling | O | M | R | W | Econ |
| --- | --- | --- | --- | --- | --- |
| Kavishka Anjula | 9 | 2 | 28 | 1 | 3.11 |
| Mohammad Shiraz | 9.4 | 2 | 26 | 3 | 2.77 |
| Ramesh Mendis | 24 | 4 | 52 | 1 | 2.17 |
| Praveen Jayawickrama | 11 | 4 | 20 | 3 | 1.82 |
| Asanka Manoj | 11 | 0 | 47 | 1 | 4.27 |
| Sangeeth Cooray | 2 | 0 | 15 | 0 | 7.50 |


Batsmen
R
B
4s
6s
SR
Hashan Dumindu
not out
54
69
3
3
78.26
Sangeeth Cooray
not out
75
72
8
3
104.17
| | |
| --- | --- |
| Extras | 0 (b 0 , lb 0 , nb 0, w 0, pen 0) |
| Total | 129/0 (23.3 Overs, RR: 5.49) |
| Bowling | O | M | R | W | Econ |
| --- | --- | --- | --- | --- | --- |
| Nipun Ransika | 2 | 0 | 19 | 0 | 9.50 |
| Ashian Daniel | 6.3 | 0 | 45 | 0 | 7.14 |
| Wanuja Sahan | 6 | 0 | 30 | 0 | 5.00 |
| Pulina Tharanga | 2 | 0 | 11 | 0 | 5.50 |
| Sandun Weerakkody | 4 | 0 | 21 | 0 | 5.25 |
| Movin Subasingha | 3 | 0 | 3 | 0 | 1.00 |
[/vc_column_text][/vc_column][/vc_row]
Jaffna vs Dambulla
62/10 (26.5) & 349/10 (98.5)
213/10 (53.5) & 204/5 (56.1)


Batsmen
R
B
4s
6s
SR
Navod Paranavithana
lbw b Vishwa Fernando 
4
15
1
0
26.67
Ron Chandraguptha 
c Sanoj Darshika b Asitha Fernando 
7
11
1
0
63.64
Kasun Abeyratne
lbw b Vishwa Fernando 
16
32
1
0
50.00
Sukitha Manoj
b Asitha Fernando 
0
3
0
0
0.00
Madawa Warnapura
c Minod Bhanuka b Asitha Fernando 
0
2
0
0
0.00
Lahiru Madushanka
c Minod Bhanuka b Vishwa Fernando 
10
16
2
0
62.50
Dilum Sudeera 
b Vishwa Fernando 
3
30
0
0
10.00
Ravindu Fernando 
b Duvindu Tillakaratne
13
18
0
1
72.22
Yasiru Rodrigo
c Ashan Priyanjan (l b Vishwa Fernando 
5
20
1
0
25.00
Nipun Malinga
c Sanoj Darshika b Asitha Fernando 
0
12
0
0
0.00
Eshan Malinga
not out
0
2
0
0
0.00
| | |
| --- | --- |
| Extras | 4 (b 1 , lb 1 , nb 0, w 2, pen 0) |
| Total | 62/10 (26.5 Overs, RR: 2.31) |
| Bowling | O | M | R | W | Econ |
| --- | --- | --- | --- | --- | --- |
| Asitha Fernando  | 9.5 | 2 | 24 | 4 | 2.53 |
| Vishwa Fernando  | 10 | 5 | 14 | 5 | 1.40 |
| Ranitha Liyanarachchi | 4 | 0 | 18 | 0 | 4.50 |
| Duvindu Tillakaratne | 3 | 1 | 4 | 1 | 1.33 |


Batsmen
R
B
4s
6s
SR
Nimesh Gunasinghe
c Sukitha Manoj b Nipun Malinga
10
29
2
0
34.48
Leo Fransisco
c Sukitha Manoj b Yasiru Rodrigo
2
8
0
0
25.00
Dilan Jayalath
lbw b Yasiru Rodrigo
0
4
0
0
0.00
Ashan Priyanjan (l
c Sukitha Manoj b Yasiru Rodrigo
8
15
2
0
53.33
Minod Bhanuka
lbw b Eshan Malinga
67
104
7
0
64.42
Sanoj Darshika
c Madawa Warnapura b Lahiru Madushanka
18
14
4
0
128.57
Ranitha Liyanarachchi
c Ravindu Fernando  b Dilum Sudeera 
51
73
5
3
69.86
Lakshan Sandajan
c Kasun Abeyratne b Nipun Malinga
1
23
0
0
4.35
Duvindu Tillakaratne
c Lahiru Madushanka b Eshan Malinga
8
17
1
0
47.06
Vishwa Fernando 
not out
25
34
4
0
73.53
Asitha Fernando 
st Kasun Abeyratne b Dilum Sudeera 
7
8
0
0
87.50
| | |
| --- | --- |
| Extras | 16 (b 3 , lb 1 , nb 6, w 6, pen 0) |
| Total | 213/10 (53.5 Overs, RR: 3.96) |
| Bowling | O | M | R | W | Econ |
| --- | --- | --- | --- | --- | --- |
| Nipun Malinga | 12 | 3 | 39 | 2 | 3.25 |
| Yasiru Rodrigo | 11 | 1 | 52 | 3 | 4.73 |
| Lahiru Madushanka | 8 | 1 | 33 | 1 | 4.12 |
| Eshan Malinga | 11 | 1 | 39 | 2 | 3.55 |
| Ravindu Fernando  | 5 | 0 | 28 | 0 | 5.60 |
| Dilum Sudeera  | 6.5 | 2 | 18 | 2 | 2.77 |


Batsmen
R
B
4s
6s
SR
Navod Paranavithana
lbw b Ashan Priyanjan (l
64
105
8
0
60.95
Ron Chandraguptha 
c Minod Bhanuka b Asitha Fernando 
67
76
10
0
88.16
Kasun Abeyratne
run out (Ranitha Liyanarachchi)
8
9
1
0
88.89
Sukitha Manoj
c Anuk Fernando  b Duvindu Tillakaratne
15
55
0
1
27.27
Madawa Warnapura
c Dilan Jayalath b Ashan Priyanjan (l
46
128
3
0
35.94
Lahiru Madushanka
lbw b Asitha Fernando 
18
49
1
0
36.73
Ravindu Fernando 
c Vishwa Fernando  b Duvindu Tillakaratne
64
95
6
0
67.37
Nipun Malinga
c Dilan Jayalath b Duvindu Tillakaratne
38
28
5
2
135.71
Dilum Sudeera 
not out
6
37
0
0
16.22
Yasiru Rodrigo
c Minod Bhanuka b Asitha Fernando 
5
11
0
0
45.45
Eshan Malinga
c Minod Bhanuka b Asitha Fernando 
0
2
0
0
0.00
| | |
| --- | --- |
| Extras | 18 (b 12 , lb 3 , nb 2, w 1, pen 0) |
| Total | 349/10 (98.5 Overs, RR: 3.53) |
| Bowling | O | M | R | W | Econ |
| --- | --- | --- | --- | --- | --- |
| Asitha Fernando  | 20.5 | 1 | 63 | 4 | 3.07 |
| Vishwa Fernando  | 19 | 5 | 53 | 0 | 2.79 |
| Ashan Priyanjan (l | 20 | 2 | 76 | 2 | 3.80 |
| Lakshan Sandakan | 6 | 0 | 34 | 0 | 5.67 |
| Duvindu Tillakaratne | 24 | 3 | 72 | 2 | 3.00 |
| Ranitha Liyanarachchi | 8 | 2 | 28 | 0 | 3.50 |
| Sanoj Darshika | 1 | 0 | 8 | 0 | 8.00 |


Batsmen
R
B
4s
6s
SR
Nimesh Gunasinghe
run out (Kasun Abeyratne)
11
26
1
0
42.31
Leo Fransisco
lbw b Ravindu Fernando 
15
51
2
0
29.41
Dilan Jayalath
c Nipun Malinga b Dilum Sudeera 
34
65
3
0
52.31
Sanoj Darshika
not out
60
112
4
2
53.57
Minod Bhanuka
c Yasiru Rodrigo b Ravindu Fernando 
55
61
9
0
90.16
Ashan Priyanjan
b Dilum Sudeera 
12
13
2
0
92.31
Ranitha Liyanarachchi
not out
10
12
0
1
83.33
| | |
| --- | --- |
| Extras | 7 (b 2 , lb 0 , nb 3, w 2, pen 0) |
| Total | 204/5 (56.1 Overs, RR: 3.63) |
| Bowling | O | M | R | W | Econ |
| --- | --- | --- | --- | --- | --- |
| Nipun Malinga | 5 | 0 | 16 | 0 | 3.20 |
| Yasiru Rodrigo | 2 | 0 | 3 | 0 | 1.50 |
| Ravindu Fernando  | 16.1 | 2 | 73 | 2 | 4.53 |
| Dilum Sudeera  | 17 | 4 | 56 | 2 | 3.29 |
| Madawa Warnapura | 1 | 0 | 4 | 0 | 4.00 |
| Lahiru Madushanka | 4 | 2 | 6 | 0 | 1.50 |
| Navod Paranavithana | 5 | 1 | 15 | 0 | 3.00 |
| Eshan Malinga | 6 | 0 | 29 | 0 | 4.83 |
[/vc_column_text]