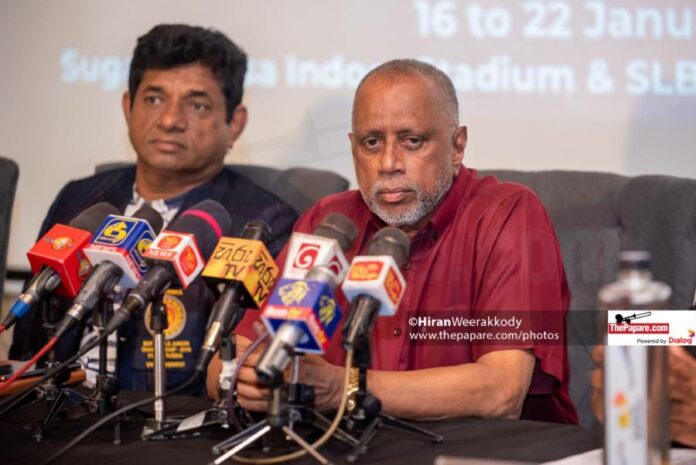 The Badminton Nationals 2022 will take center stage from 16th-22nd January at the Sugathadasa Indoor Stadium supplemented by sections at the Sri Lanka Badminton & Mercantile Badminton Association indoor courts.
The 70th National and 38th Junior National Badminton Championships were postponed from 2022 due to recurring issues in the country. A record number of entries of over 1,500 has been reached. The junior section posted over 1,300 while the open event drew 84 entries from the men & over 40 for the women.
Notable absentee will be the veteran and current champion, Niluka Karunaratne who has now retired from the local circuit remaining unchallenged over the years. His sibling Dinuka who has flown back from the UK, will now look to take over that mantle and attempt to keep the trophies in the family vault.
Taking up the challenge will be a host of young hopefuls led by Viran Nettasinghe, Dumindu Abeywickrama & last year's finalist, Rasindu Hendahewa. Senior players like Buwaneka Gunetileke & Ranthushka Karunatilleke will no doubt be in the fray.
The ladies challenge will also come about with evergreen Thilini Hendahewa & Kavidi Sirimanage keen to get the better of the young challengers in Ranithma Liyanage, Panchali Adihkari & the others.
The Organizing Committee led by Tournament Director Rohana de Silva is bringing all his international experience to bear on curating a lively event designed to transform the fortunes of Badminton in Sri Lanka. Most Ex Co-members are working as a team to support Rohana with President Rohan De Silva leading the charge. Having Rohan at the helm has been a great blessing to the sport with his very generous financial support and influence with many stakeholders put together to bring out the best in the sport.
Gaja TV has been appointed Electronic Media Sponsor. Arrangements are also made to live stream matches on SLB and SLCBA website & FB channels. Furthermore, the SLSBA is also working with the Colombo District Schools network to bring school badminton enthusiasts by special buses to witness at first hand, this topflight sports competition and encourage them to take to the sport.
Guests of Honour at the Finals & Closing Ceremony are expected to be dignitaries of the Sports Ministry with the Minister as Chief Guest. SLB President will do the honors at the Opening Ceremony. Past National Champions and Past Officials of SLB are expected to be among the distinguished guests.
Chief Referee Sanjeewa Wijesekera is in command to ensure a flawless schedule is kept in place and rules equitably applied across the board.
The Nationals sets the tone and ranking of the National Squads of the future and earmarks players who will do the honors at International Level in the future. It is therefore the premier event in the Badminton calendar and for that reason, conducted to international standards setting new benchmarks of organization in the country.