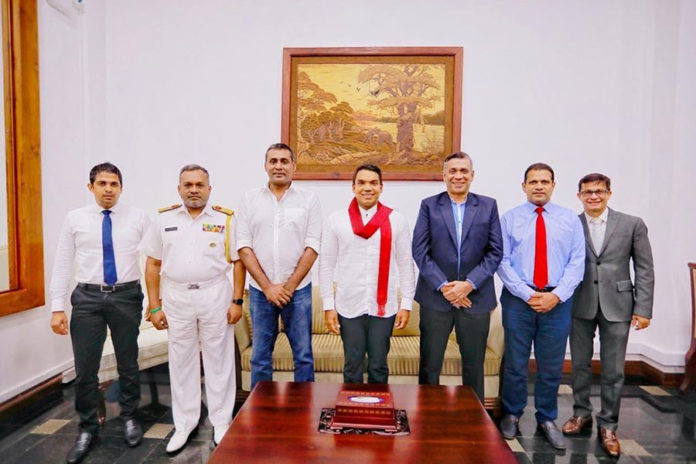 Sri Lanka Rugby looks to be in good hands after Sports Minister Namal Rajapaksa showing positive implications for the future of the sport and its development.
SLR officials met with the minister last week turned out to be a very productive meeting as the former national rugby captained turned minister is confident that the country can see its way to becoming a superpower in the Asian region.
Sri Lanka Rugby is currently facing a handicap with the ongoing pandemic. The Dialog Rugby Inter-Club 7s scheduled to take off on the 30th of October but, plans were postponed indefinitely.
SLR president Rizly Illyas hinted that it was a very productive meeting and added that "rugby in the country looks to be in good hands".
Here are seven things we know from the meeting:
1 – Sevens Tournament to get underway in 2021
The halted sevens tournament from October will be set for restart in January this year as the minister is confident that rugby can start in 2021.
The tournament will however be carried out under health and safety guidelines instead of the health authorities. The guidelines include the establishment of a bio bubble and players undergoing a mandatory seven-day quarantine.
---
2 – Nawalpitiya Grounds for High Performance
The need for high performance was stressed by SLR president Rizly Illyas and a ground for the national body. Currently, SLR has no ground or training facility under its name.
As a solution, the Nawalapitiya Jayatilake grounds can be provided to the union for them to carry out their high-performance training activities.
---
3 – Foreign players for all eight teams
Going forward, all eight teams in the Dialog Rugby League will be entitled to play overseas players in their teams. During the years when there were overseas players involved in the club sides, there were increased interests within the clubs.
 All eight clubs in the Dialog Rugby League will be able to play overseas players in the upcoming 2021 season.
---
4 – Carlton Super Sevens to be re-introduced
The IPL like franchised sevens tournament that started in 2010 brought in the biggest names of international sevens at that time. The tournament was later rebranded as the Sri Lanka Super Sevens in 2016 and 2017.
Since 2017, there has been no tournament of that nature.
The minister who played an integral part in getting the tournament alive from 2010 to 2014, has pledged his support to the national body to bring back a similar tournament in the coming years.
---
5 – Attract 2nd and 3rd generation Sri Lankans
Another key point that was discussed in the meeting was to see the possibilities of finding second or third generation players with Sri Lankan origin qualifying them to play for the country.
This will be a strategy that the minister explicitly voiced his concern.