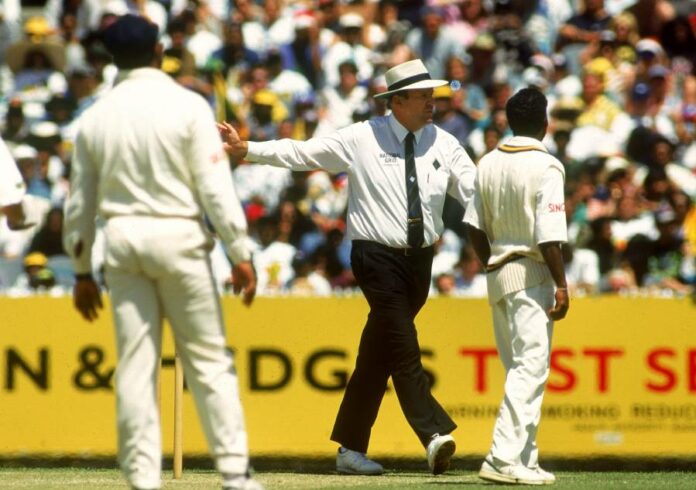 A Boxing Day game is something that you very much look forward to. It's summer in the southern hemisphere and places like Australia, South Africa and New Zealand put out a carnival for the occasion and you really enjoy the moment. 
Read More : When Murali took cricket to Jaffna
There have been some superb Boxing Day outings like the Durban drubbing in 2011. Then there are of course not so fond ones like the massacre at MCG in 2012. Of course, one of sport's darkest days was recorded on a Boxing Day. It's been 25 years since Muttiah Muralitharan was no balled for chucking.
Murali is not the first player to be called for a chucking. From Ernie Jones to Charlie Griffith, several players have been no-balled for throwing. But Murali's was nothing less than a public humiliation. The attendance that day at the MCG was 55,000 fans. According to the game's laws, an umpire can call a bowler for throwing. But the occasion that Darrel Hair chose to do so raised many eyebrows.  
Hair had officiated in an ODI involving Sri Lanka and Australia in Sydney on the 21st of December that year and he didn't find fault with the bowler's action on that occasion. But four days later, he was of the view that Murali chucked and took him to task by no-balling him repeatedly. It did not make sense. 
The Sri Lankans were speechless. Skipper Arjuna Ranatunga initially thought that Murali was being no balled for overstepping. But after being informed that he had been called for chucking, Arjuna's reaction is that of someone who has suffered a major setback. He had seen tougher days on the field. Pity the 23-year-old Muralitharan on his first tour of Australia. Mentally, it must have been draining.
Read : Wisden crowns Murali as the cricketer of the century
Hair wrote a book after the incident – Decision Maker. It does not give a satisfactory answer to why he didn't call the bowler for chucking in Sydney and opted to do so at the MCG four days later on the greatest day of Australia's sporting calendar. Was it a publicity stunt? 
Conspiracy theorists have claimed that the no-balling incident was something that was devised by Australian cricket officials to derail Sri Lanka's campaign down under. That theory, however, doesn't hold any water. Cricket Australia has been a major benefactor of our cricket. According to Ana Punchihewa, the Board President at that time, SLC could not afford a foreign coach. Dav Whatmore was going to cost them US$ 100,000 annually and it was Cricket Australia who presented a generous grant to hire the services of Whatmore. 
Other than that, Australia supported Sri Lanka's bid for Test status in 1981 and has helped improve our cricket in many other ways. 
Steve Waugh, who made an unbeaten hundred in the game, in his autobiography 'Opening Up' concedes that the incident should never have taken place and applauds Murali's greatness. 
Murali was no-balled on two other occasions on that tour by umpires Tony McQuillan and Ross Emerson. The incompetence of umpires was exposed when Murali was no-balled when he delivered a leg-break. Australia is a fair sporting destination and this was the time that the general public of that country admitted this was unfair. 
Murali was left with a dilemma. At one point he wanted to become a leg-spinner. He wasn't sure how effective he would be and then he even contemplated quitting the game and returning to his father's confectionary business in Kandy. Sanity prevailed and science proved his innocence. 
Daryl Foster, who was Aravinda de Silva's coach at Kent was working with the University of Western Australia as a human movement lecturer and under his guidance, Murali underwent extensive testing in Perth. Foster went onto prove that Murali had a deformity from birth and that he could not bend his arm beyond a certain point. He developed the theory and argued the case successfully that it was an 'optical illusion' that the bowler threw the cricket ball. 
To his credit, Murali overcame many obstacles in life and went onto become the most successful bowler in the history of the game. As for Darrel Hair, controversy followed him and he had an inglorious exit from the game. 
True that the incident was hard on Murali, but in the end, it was a blessing in disguise. It basically toughened up the players. The three months the Sri Lankan team spent in Australia made them into a solid unit that cared deeply for each other and they got the self-belief that Australia can be beaten. 
It stood them in good stead at the ICC Cricket World Cup that followed soon. Sri Lanka and India played the first semi-final and Arjuna Ranatunga's side became the first team to qualify for the finals. The captain was asked which team he preferred in the finals. The easier option was West Indies. But Arjuna said that he wanted the Aussies. 'Bring on the Aussies,' were his words. Loud and clear. The rest as they say, is history.