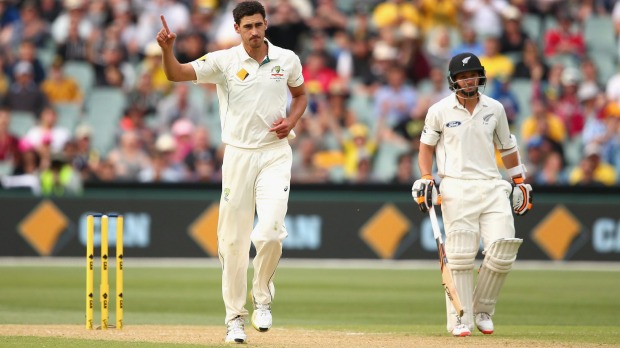 Mitchell Starc is facing a lengthy period on the sidelines due to a stress fracture in his right foot but not before marking the start of cricket's brave new era by leading Australia's assault on New Zealand's batsmen.
Australia are in the driver's seat after a dramatic first day of the day/night Test in which their bowlers made a mess of the Kiwis and 47,441 fans voted with their feet in favour of the new concept.
The Black Caps hit back capturing two wickets under under lights with the pink ball but Australia, after dismissing the visitors for 202, are eyeing a sizeable first innings lead. They will resume on Saturday afternoon on 2-54.
Much responsibility rests on the shoulders of captain Steve Smith, who opted for survival in the unfamiliar conditions on Friday night, after Australia lost openers David Warner and Joe Burns cheaply.
Australia's bowlers marked the historic occasion by turning in their best performance of the series, but it was marred by an injury setback to Starc, who bowled only nine overs for figures of 3-24 before leaving the field.
Scans confirmed Starc has an early stage fracture in his right foot. He will not bowl again this Test but will bat.
The injury means his Test summer is almost certainly over and there must also be doubt over his availability for the limited overs series against India and the tour of New Zealand.
Starc claimed the key wickets of Kane Williamson and Brendon McCullum but despite being able to bowl consistently in the 140s was clearly not at 100 per cent.
"He's not overly comfortable when that front foot plants down," former Australian Test captain Mark Taylor said on Channel Nine's broadcast.
"It would not be easy for any fast bowler, particularly a big tall man like Mitchell Starc.
"The weight and force that goes through that front ankle, firstly when you bang it down to bowl and then when you actually try to get your balance in that second follow through step."
Starc has bone spurs which cause inflammation in his right ankle – an injury which Cricket Australia revealed in September could require surgery to repair.
Such a step would spell a lengthy stint on the sidelines for Starc, who has come of age this year and was this week earmarked by Steve Smith as his new pace spearhead after the retirement of Mitchell Johnson.
The Black Caps would have wished Starc had succumbed much earlier than 48 overs into their innings, for they were already in disarray.
Starc's injury issues were the sour point in an otherwise ideal start by Australia's attack, which has lost their two senior quicks in the past six months. It forced Australia to send massage therapist and assistant team manager Grant Baldwin to field in the final session.
This may have been the first time the combination of Starc, Josh Hazlewood, Peter Siddle and Nathan Lyon have played together but it did not show in the way they performed.
The Black Caps did not have the gumption or ability to survive on a wicket, which while layered with extra grass to protect the pink ball was far from a green monster.
Only opener Tom Latham made it to 50 for the Kiwis, who never recovered after losing three wickets in as many overs shortly after the first break.
Although there was enough in the pitch to encourage the bowlers, patience and discipline was still required to succeed with the ball.
This was best demonstrated by Siddle and Starc, who proved to New Zealand that their star batsman Williamson could be bored out.
Williamson's wicket did not fall to Siddle but the Victorian deserved considerable credit for his role in the Kiwi No.3′ s demise.
The Black Caps batting ace had breezed to 19 at a run a ball but then hit the roadblock planted by Siddle who, while no longer bowling at the high speeds of yesteryear, still retains immaculate control.
Held scoreless for 15 balls on the trot, Williamson then failed to dig out Starc's trademark yorker and was trapped plumb in front for 22, ending his run of first-innings tons this series.
Williamson's departure was a game changer, robbing the Kiwis of the man who they have built their innings around this series.
His stability was sorely missed in the middle session when the Kiwis lost Tom Latham, Ross Taylor and McCullum in three consecutive overs.