Artistic Gymnastics is looking brighter now that the Milka Gehani De Silva of Sri Lanka is edging closer to an Olympic Qualification in Tokyo.
18-year-old Milka, showing a lot of promise this year in the leadup to the Tokyo Olympics, currently trains in Japan under an IOC funded scholarship. 
Milka is no stranger to Junior and Senior International competitions. She held the Junior National title from the ages of 8 – 11 and went on to represent the country at the Junior Commonwealth Games in 2016 and finished 6th. She came back to win the National titles in 2017 and 2018 while finishing in the Top 8 rankers at the Asian Championships 2018 in Indonesia. The Youth Olympic Games in 2018 was quite special in Milka's books as she set an area record in Buenos Aires.
In a feature published by the Olympic Committee of Panati Nayak, India's top contender in Artistic Gymnastics, Milka was portrayed as the first reserve from the Asian quota to qualify. 
"Nayak, thus, became the second reserve – behind Elpitiya Badalge Dona Milka Geh of Sri Lanka – to secure the quota from Asia after the 9th Senior Asian Championships, slated to run from May 29-June 1 in Hangzhou, was called off due to Covid-19 pandemic" was stated in the feature on Nayak. 
If the IOC decides to take the results from the World Championships as their selection criteria, Milka Gehani has a high probability of officially receiving a spot. 
If this should happen, Milka will be the second Sri Lankan athlete to qualify for the Olympics, with Mathilda Karlsson already receiving her spot in the equestrian sport.
As of the 6th of May 2021, neither the Sri Lanka National Gymnastics Federation or the National Olympic Committee have received any official confirmation from the IOC regarding Milka's entry.
Secretary General of the National Gymnastics Federation, Kapila Jeewantha stated "Since the Asian Championships are cancelled this year due to the Pandemic, Milka may be entitled to be selected by her World Championship results. 
Meanwhile, the NOC released the below statement earlier today (6) regarding the matter.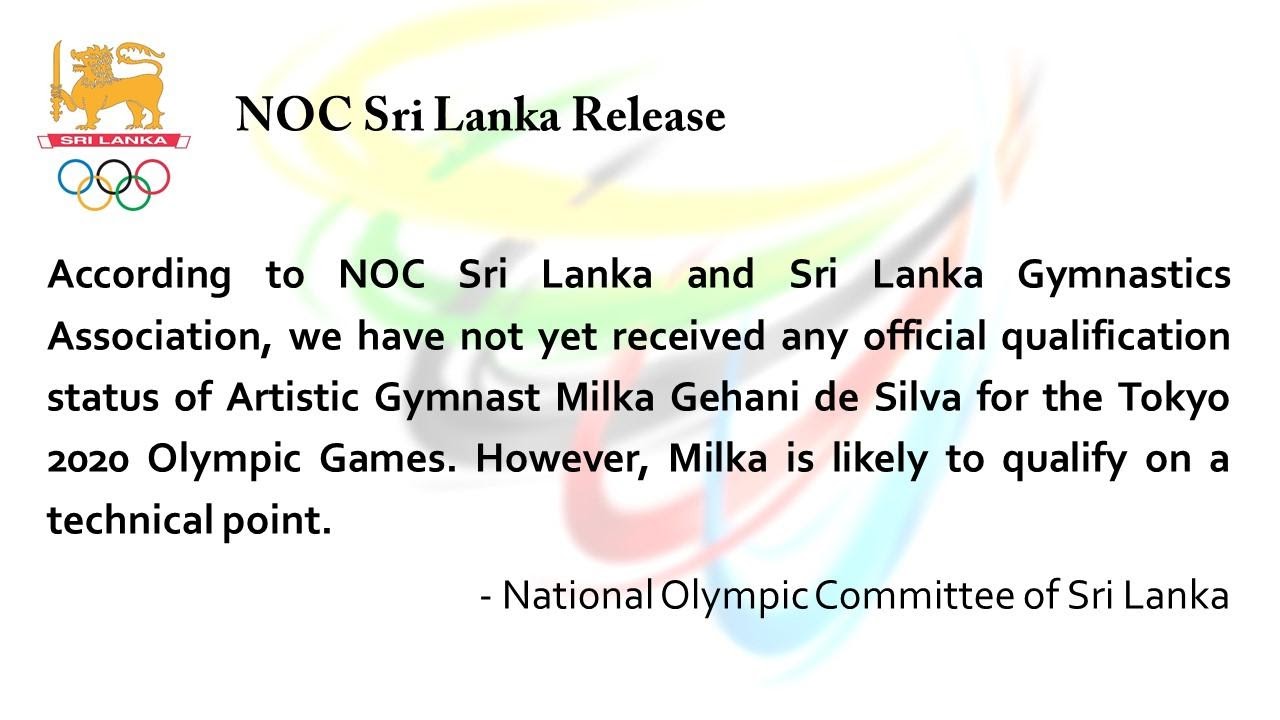 ThePapare.com will report accurate news regarding Milka's qualification in the days to come, so keep it logged!