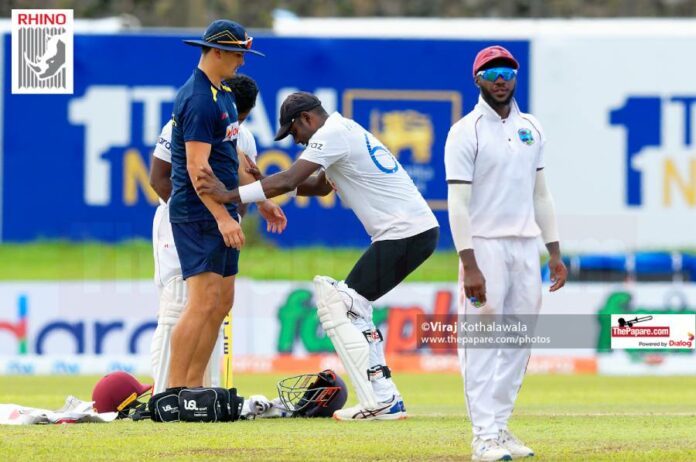 Former skipper Angelo Mathews suffered a grade 2 hamstring tear in the 1st session on day 2 of Sri Lanka's 2nd Test against the West Indies in Galle.
The right-hander pulled up in pain while running a quick single midway through Sri Lanka's 1st innings and was forced off the field as a result. He returned at the fall of the 8th Sri Lankan wicket and unable to run, took the long handle against the West Indies' spinners. His onslaught didn't last long, however, as he managed to add just 18 more runs before being the last man dismissed in Sri Lanka's innings.
Mathews will bat during Sri Lanka's 2nd innings in the ongoing Test against West Indies if required.
"Angelo [Mathews] has a grade 2 hamstring tear. He's most probably out of the LPL also since this type of injury requires 4-6 weeks of rehabilitation work." Professor Arjuna De Silva, Head of SLC Medical Committee.
The hamstring tear is yet another blow to Mathews' injury-hit career, with the veteran having suffered a number of quad, calf and hamstring injuries during his 13 years in International cricket.
Having been left out of Sri Lanka's white-ball squads, this is Mathews' first taste of International Cricket since May 2021, when he was part of the side that played Bangladesh in a 2-Test series.
Mathews was also named as Captain of the Colombo Stars LPL franchise but will most likely miss the tournament which is scheduled to begin on the 5th of December.