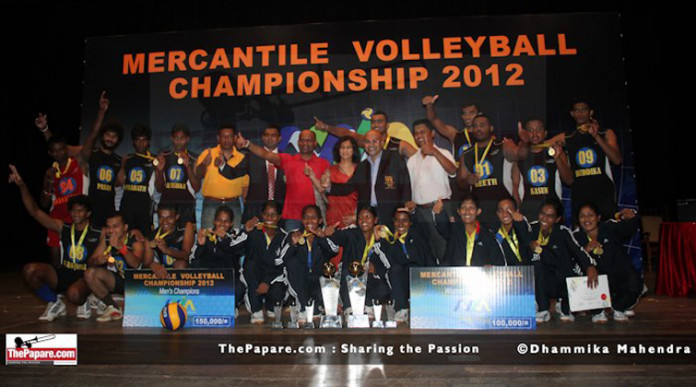 The Mercantile Volleyball Championship 2012, organized by the Mercantile Volleyball Association, was held on 16th of December 2012 at the Youth Services Indoor Stadium Maharagama.
Accordingly Men's and Women's finals and the 3rd place play-off matches were worked off  with the support of many sponsors. The two leading garment conglomerates MAS and Brandix were set up for a head to head battle after a long tournament, the preliminaries of which were concluded previously.
MAS Active Contourline Kandy and Brandix Intimate Apparel entered the finals of the men's Volleyball championship. MAS Active Coutourline Pallekelle beat Brandix Intimate Apparel.
Score line –
Winner– MAS Active Countourline Kandy – 25, 19,28,20,15
Runner Up – Brandix Intimate Apparel Welisara – 21,25,26,25,10
G. K. Rupasinghe who played for the MAS won the Best Setter (Trophy)  and Best Attacker was won by S Champika Brandix Intimate Welisara.  Best player – Gayan Wettasinghe – MAS Active Counterline
In the women's final, MAS Casualine Mawathagama beat Brandix Casualwear Rideegama. Brandix Casualwear carried away the girls runners up trophy.
Score line –
Winner– MAS Causalline Mawathagama –  25 ,25, 25
Runner up – Brandix Casualwear – Rideegama – 20,22,13
S.A Sandhamalee of MAS Casualine won the Best Setter while K P S Nimanthika of MAS won the best attacker. Best player  – Renuka Nilmini – MAS Casualline Mawathagama
By beating Brandix Textured Jersey (Awissawella)  Sumithra Sports Club of Nittambuwa won the 3rd place play-offs of the men's match, While Brandix Intimates Apparel Welisara won the women's 3rd place match beating MAS Linea Aqua of Hanwella.
The championship which was held after a lapse of 6 years after a new committee revamped the event this year.  The event was organized to promote mercantile Volleyball and the sport in general in Sri Lanka.  It was also contended that it was an opportunity to create jobs for the Volleyball players thus rendering a great service to society.
The prizes for the winners were given by Mr. Dian Gomez MD MAS Intimate and Director MAS Holdings, Mr. Dhananjaya Rajapakse CEO, Brandix Casualwear, Mr. Lalith Piyum Perera and others. The organizers indicated that the championship will be continued next year engaging many more teams and opening opportunities for the volleyball players.  The sponsors DSI, Dialog, Scan Products, Red bull and Lanka Tiles did yeoman service coming forward as sponsors of this event.