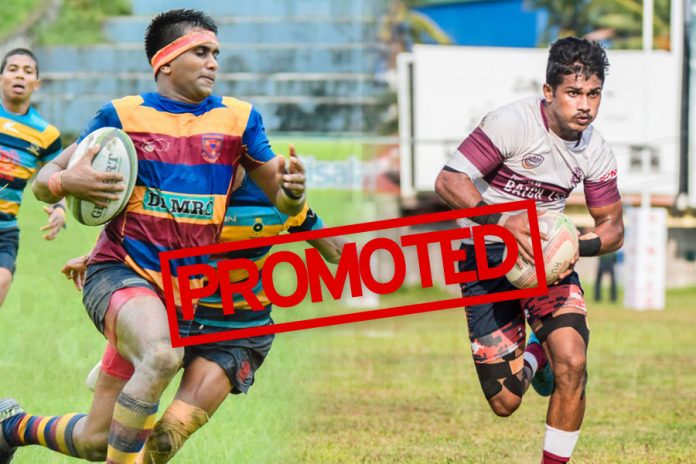 A new chapter will unfold in the rugby annals of Maliyadeva College as they earn promotion to the Singer Schools Rugby League top division for the first time while last year's relegated Science College will also get their ticket to compete with the best.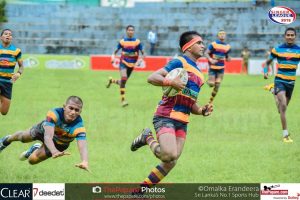 The Plate championship that kicked off in the second round of the Singer Schools Rugby League had eight teams competing for 4 promotion positions. With S. Thomas' securing the Plate championship with an unbeaten streak and St. Anthony's winning their final game, there remained two more.
The game between Maliyadeva and Science was the encounter that decided their  promotions and with the team from Kurunegala winning the encounter 29-19, they finish their 2018 run at third place claiming the 3rd promotion position.
ThePapare Match Centre – Maliyadeva College v Science College 
Despite the loss, Science College will also qualify for the 'A' Division with the team finishing fourth and claiming the final spot.
The final Plate points table is as follows: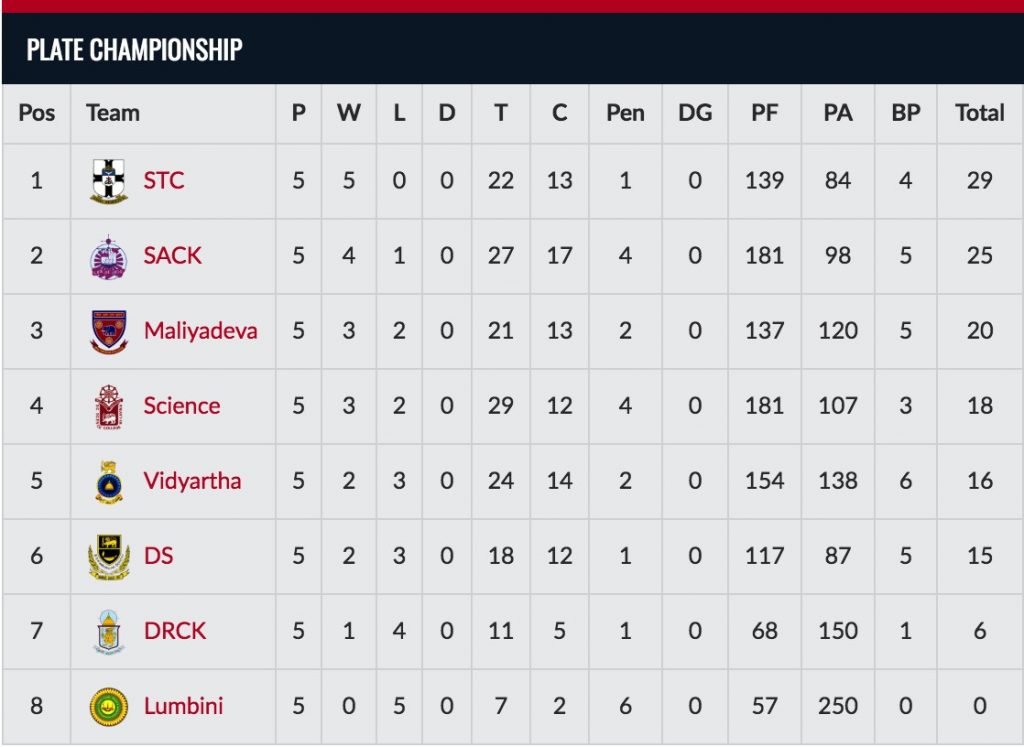 This means it will be the first occasion that a school from Kurunegala makes it to the Singer Schools Rugby League 'A' Division after St. Anne's College made it through in 1995 under veteran coach Sanath Martis.
Last year's Premier trophy winners, Maliyadeva College has been an emerging force in the schools rugby arena this season. Playing the first round in Division IIB, the team finished unbeaten ahead of Lumbini and Thurstan.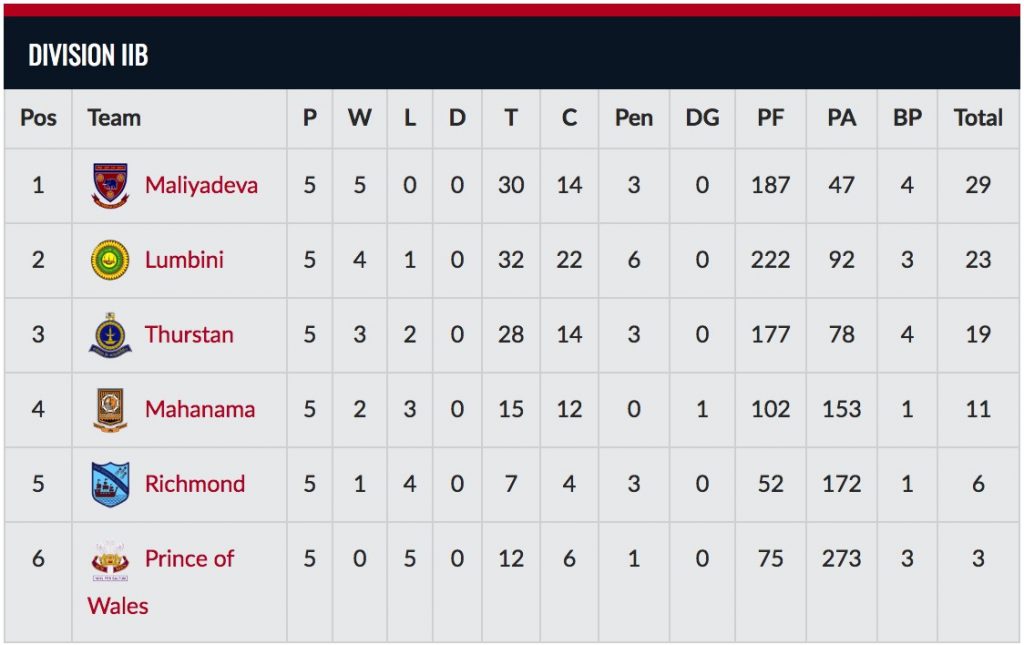 Fighting for a place in 'A' division rugby, Maliyadeva lost only to S. Thomas' and St. Anthony's in the second round making their route to the 'A' Division a tough task. But, the team under coach Ananda Kasthuriarachchi successfully made it through with their win in the final week.
This will be a special victory for the rugby fraternity in Kurunegala as 'A' Division rugby will be back to the district after a lapse of two decades.
Science College who were relegated last season, made their top tier hopes continue to live after getting their promotion ticket. The team led by Hashan Madumadawa were undefeated and were tagged as favourites to clinch the Plate title but with their defeat against D. S. Senanayake, matters took a different turn.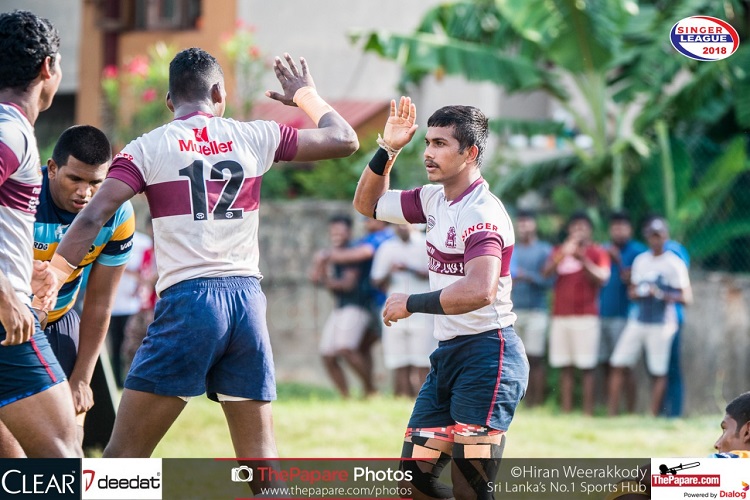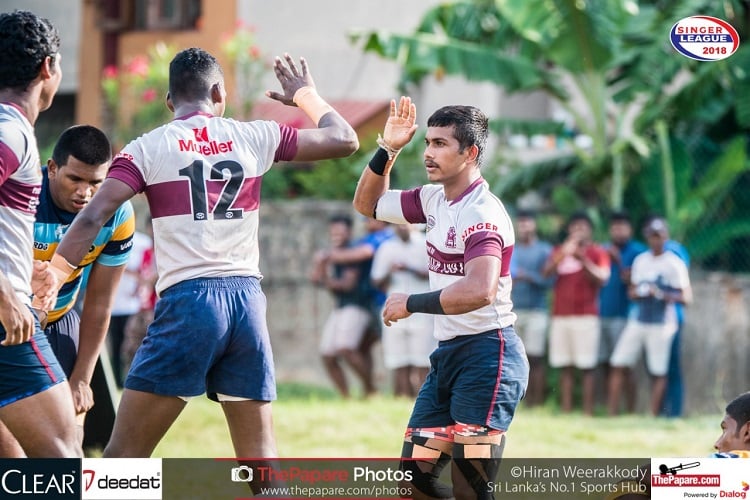 The loss to Maliyadeva did not take a toll on the lads from Mount Lavinia as they will still qualify and will play in the 'A' Division. They first gained promotion in 2011 and spent 7 seasons before they were demoted. In 2015, the team led by Lasindu Ishan also won the Milo President's trophy defeating Isipathana College.
As Royal College retained their Schools Rugby crown concluding this year's Singer Schools Rugby League action, next year's season is set to be a thrilling contest will the inclusion of Science and Maliyadeva.