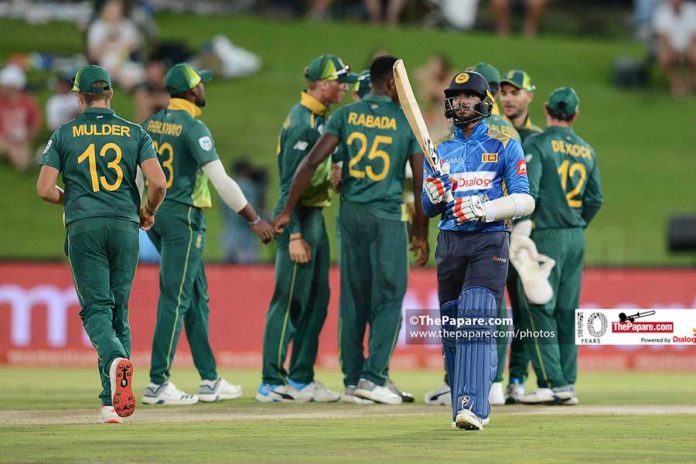 After a heavy 113-run defeat to hand South Africa a 2-0 advantage in the five match ODI series here at Centurion, Sri Lanka skipper Lasith Malinga blamed his batsmen for not grabbing opportunities. The bowlers had come up with a super effort to bowl out South Africa for 251 but the batsmen were not up to the challenge as there were too many soft dismissals.
"In the first ten overs we gave away too many boundary balls. But we bounced back after the 15th over. We did well to reduce them to 250. But I have a problem. You represent the national team after playing domestic cricket and having shown that you are good enough to play at the top level.  This is not something god given. We have to work hard to get here. I am not sure whether people realize the value of playing for the national team," a critical Malinga said.
"You don't get opportunities every day. You have to make the most of the opportunities. I don't see people making use of opportunities. Good if they grab them," Malinga added.
"Getting a start is not scoring 30 runs. Getting a 50 is a good start and then you have to push on. If someone is happy scoring 30s, I don't agree. I think there are batters up to seven who are capable of scoring hundreds and taking the team to victory.'
"I feel the bowlers did a good job to reduce them to 251. The batsmen have to realize that is a gettable total. I don't feel that the batters understood their role."
It was the first time Sri Lanka had bowled out a team since September last year. Since then they had played nine games without bowling a side out and lost all but one. "This is a South African side that is quite tough to beat, particularly at home. But we still have three games to prove what we are capable of. We are still trying to do our best. Very important the next match for us to stay in the series."
"With J.P. Duminy and Hashim Amla rested, South Africa have three experienced players in Francois Du Plessis,  Quinton De Kock and David Miller. If we get them cheaply, then we can keep them below 300. We were good with the ball today."
Kagiso Rabada was on the money again picking up three wickets and in the process completed 100 ODI wickets. Malinga said that Rabada was among the top three bowlers in the world. "If someone picks the top five bowlers in the world he is right up there. He has both variation and control. Control is the most important thing. He is among the top three for sure."
The teams will now travel to the Eastern Cape where the third and fourth ODIs will be played. The third game will be in Durban and the fourth in Port Elizabeth, venues where Sri Lanka created history earlier on the tour. Then for the first time on the tour, they will travel to the Western Cape where Cape Town will host the final game.