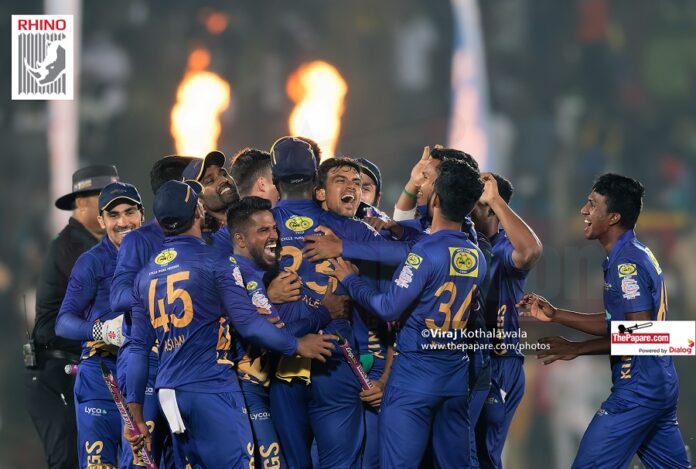 The second edition of Lanka Premier League concluded with the finals taking place deep down south early this week as the defending champions Jaffna retained the title.
The final was a closely contested encounter and Galle finished runner-up. The tournament has been a fine platform for a whole lot of young players as it had an international flavour and Sri Lanka Cricket is richer by US$ 1.9 million. The five year deal with Innovative Production Group (IPG) will see SLC getting richer by US$ 10 million, a welcome addition to the coffers in these uncertain times.
LPL started amidst a lot of uncertainties at the height of the pandemic last year. Having overcome several issues in the inaugural season, the second edition was a huge success with a packed house witnessing the grand finale.
Apart from helping SLC get richer, LPL has provided a platform for many domestic cricketers, coaches and stakeholders of the sport to earn a decent living, given the spectators an opportunity to witness some fine contests and overall lifted the standard of the game in the country.
League cricket worldwide has struggled to survive and barring IPL and maybe the Big Bash, others are struggling to make ends meet while some tournaments are defunct. In that sense, the progress LPL has made in such a short span is quite remarkable.
This year has been even more impressive as for the first time we had a local franchise owner in business tycoon Ashok Pathirage, whose Softlogic Holdings owned Colombo Stars. This augurs well moving forward as other business entities in Sri Lanka could follow suit owning franchises and the possibilities are LPL is looking to be a product that will go beyond five teams. Ideally, we will have six teams by next season and by season five; there will be eight teams competing which means more opportunities for players and standard of our cricket will go through the roof. More teams will result in more duration for the tournament which in turn will see larger television viewership and that will bring in more money.
If there is a platform for franchise owners to break even in the first couple of seasons, you will find more interest shown by business entities and given Colombo Stars success; you suspect that more local owners will come around next season.
We could have done without all the drama with the team ownership of some franchises being pulled out by the event management company. The tournament that was conducted so well could have been better off without this controversy.
Jaffna looked to be the most organized team in the tournament. Having invested heavily on a formidable team and a solid coaching unit they had all bases covered. You wondered whether they would miss their South African duo of Duanne Olivier and Kyle Abbott but they had enough resources in all three departments to pose challenges to opponents.
Galle Gladiators were the only team to challenge them having defeated them in the group stage not just once but twice and then winning Qualifier 1. Somehow, Galle had found a chink in the armour of Jaffna but they faulted in the final hurdle. Jaffna were so strong and they were not going to lose four games in a row to the same team.
LPL was also an opportunity to unearth new talents. Last year we got to know about Maheesh Theekshana after he was a surprise choice in the Jaffna franchise while this year Nuwan Thushara was a sensation. His slingy action causes problems for batters and if he works on his accuracy and pace, he could be quite an handful. He was the seventh highest wicket taker in the competition and only three other Sri Lankans got more wickets than him which suggests that he should be roped in fto the senior side, at least as a backup.
Janith Liyanage featured only in four games for Dambulla but scored two half-centuries in those games as he staked claims for better opportunities moving forward.
LPL was not all about the young; it was an opportunity for the older ones to make an impact as well. Among the seniors one who stole the show was Sekkuge Prasanna, whose brutal hitting off Lahiru Kumara saw Colombo Stars snatching victory from the jaws of defeat. Maybe he still has a role to play in Sri Lankan colours moving forward. Dinesh Chandimal finished the league stage as the leading run scorer and proved that he has much to offer despite being in poor form in Sri Lankan colours this year.
All in all kudos to all those who were involved in conducting this event in ensuring that we had a superb event with little distraction. This year alone we have had two league tournaments being postponed due to the outbreak of the pandemic and that includes the IPL. The authorities over here have done well to ensure smooth sailing and LPL's stocks are ever growing.