Piotr Zielinski netted against run of play after 39 minutes

Wojciech Szczesny produced wonderful double save to preserve advantage

Robert Lewandowski claimed first World Cup goal to wrap up points
Poland 2-0 Saudi Arabia | Group C | Match Review
Goals: Zielinski (39), Lewandowski (82)
Midfielder Piotr Zielinski netted in the opening half and an emotional game and Robert Lewandowski scored his first World Cup goal to settle an absorbing, see-sawing encounter at Education City Stadium – and enable Poland to leapfrog surprise package Saudi Arabia in an intriguing Group C table.
Zielinski struck against the run of play on 39 minutes and Wojciech Szczesny brilliantly denied the Saudis a prompt equaliser when the keeper repelled a penalty from Salem Al-Dawsari, before producing a wonderful stop to deny Mohammed Al-Burayk on the follow up. Lewandowski capitalised on a defensive lapse to roll in Poland's second goal with eight minutes remaining. The 34-year-old was visibly moved after adding a World Cup strike to an enviable list of club and individual honours.
Szczesny tipped over Mohamed Kanno's rising drive as Herve Renard's team picked up where they left off in their astonishing victory over Argentina on Tuesday. But Zielinski briefly silenced the Saudi din when he struck Poland's first goal of the tournament. Matty Cash sprang on to a return pass down the right to square for Lewandowski. He couldn't create an opening to shoot but had the presence of mind to turn back a pass for Napoli's Zielinski, who finished into the roof of the net.
Saudi Arabia were awarded a penalty late in the opening half when a VAR check detected Krystian Bielik's nibble at the calves of Saleh Al-Shehri. Al-Dawsari supplied the gorgeous strike to defeat Argentina but, here, his contact was tame, allowing Szczesny to save. Al-Burayk was incredulous when the goalkeeper denied his rebound effort.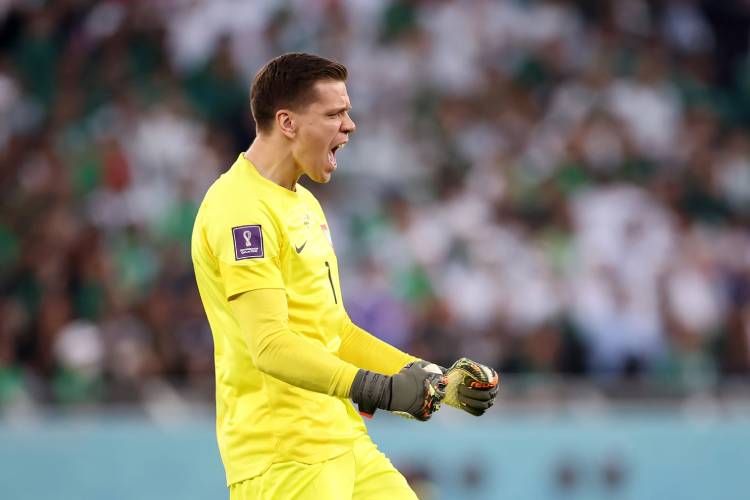 Szczesny celebrated a block to deny Al-Dawsari 10 minutes after the restart and Feras Al-Brikan and Al-Shehri both thrashed off target from good positions. It wasn't all one-way traffic, however, and shortly after Arkadiusz Milik headed flush against the bar, Lewandowski struck the upright with an untidy effort.
The Barcelona forward wouldn't be frustrated for long. Abdulelah Al-Malki's heavy touch invited Lewandowski to run through and finish and he gratefully accepted. It was his 77th goal for Poland but first from five World Cup matches and, perhaps, the only one to move Lewandowski to tears. Saudi Arabia goalkeeper Mohammed Al-Owais stayed tall to deny Lewandowski a second but for jubilant Poland and their star striker, the job was done.
Saudi Arabia's magnificent supporters raised the already sky-high decibel levels when their team was awarded a penalty shortly after conceding to Zielinski.
Imagine the reaction, then, had the Saudis drawn level so soon after falling behind. Instead it was Poland celebrating following a tremendous double save from Wojciech Szczesny, The 32-year-old goalkeeper doesn't, perhaps, enjoy a standing commensurate with the calibre of a player who won two FA Cups for Arsenal and is a three-times Serie A champion at current club Juventus.
Back-to-back #FIFAWorldCup clean sheets! 🙌🇵🇱 pic.twitter.com/iMQvDmuGsw

— FIFA World Cup (@FIFAWorldCup) November 26, 2022
And here was a reminder of why Szczesny has operated at the elite end of the game for more than a decade and remains his national team No1. The initial penalty save from Al-Dawsari was relatively straight forward, once Szczesny chose to dive right.
Instead of savouring the moment, Szczesny was alert to the ongoing danger, scrambling to his feet to brilliantly touch over a screaming follow up from Al-Burayk. Szczesny unquestionably entered his contender for save of the tournament with that one. Moreover, in recording his second straight clean sheet, the keeper ensured Poland claimed three points and moved within touching distance of reaching the last 16 for the first time since Mexico 1986.
#TheBest scores! 🇵🇱#FIFAWorldCup | #Qatar2022 pic.twitter.com/vP2VQ1aRlq

— FIFA World Cup (@FIFAWorldCup) November 26, 2022
Robert Lewandowski scored the 2,600th goal in FIFA World Cup™ history.
Quotes
Robert Lewandowski: "The older I get, the more emotional I get. I'm aware when it comes to the World Cup, it might be my last World Cup. When you play for the national squad, you have to focus on the results, but some per cent of my identity also wanted me to have good statistics. I always wanted to score at the World Cup, and this dream came true."
Saudi Arabia coach Herve Renard: We are still alive, so we'll play until the last second of our World Cup. If that's next time or another time, we won't give up. I hope [the Saudi fans] won't give up.
"When you are fans, you need to support your team when it's a fantastic day. But you also need to support your team to make history in the third game. I would like to see one more time a green stadium."
Player of the Match
Robert Lewandowski
Never let your guard down when a striker like Robert Lewandowski is lurking… 💥

After scoring his first #FIFAWorldCup goal and assisting another, @lewy_official is your @Budweiser Player of the Match!🏆

🇵🇱 #POLKSA 🇸🇦 #POTM #YoursToTake #BudweiserWorldCup #BringHomeTheBud pic.twitter.com/amPx1VIwX9

— FIFA World Cup (@FIFAWorldCup) November 26, 2022