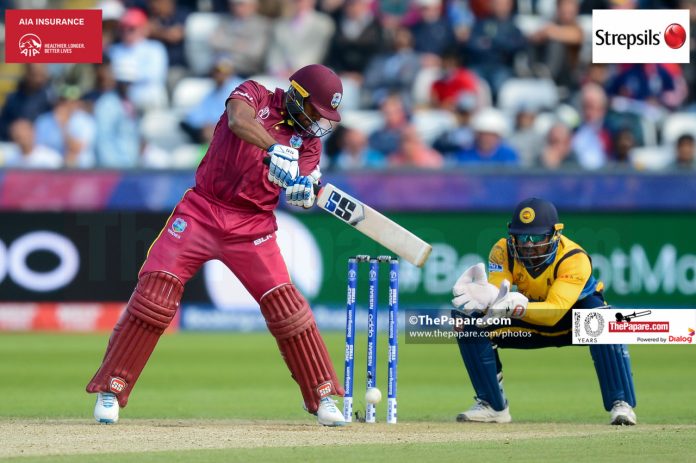 So the West Indies are in town and tickets for the five match series are selling like hot cakes. The Colombo folks are not so happy that they aren't getting a day nighter at RPS which is under construction. So they are making arrangements travel to down south or the hill capital over a weekend to get a glimpse of this easy going, fun loving, adoring ambassadors of our great game.
Our fans have always loved West Indies. Ask Kumar Sangakkara. He says that growing up when Sri Lanka was playing West Indies, his heart was deeply divided whether to support his country or his favourite cricket team. Not just Sanga. If there's one team we don't mind losing to, that's got to be West Indies.
There's some charm about the way they play their cricket and rarely do we see them harming the spirit of cricket.
How many of you wanted to bat like Sir Viv Richards or Brian Charles Lara. The swagger was easy to copy but not the timing of those booming cover drives or forceful pulls. As youngsters, so many of us wanted to bowl like Curtly Ambrose or Malcolm Marshall. Sure, we copied the style and action but the speed guns let us down badly.
Down our lane there lived a boy who was mad about cricket. We called him Chanderapaul. That wasn't his name. But every time we played backyard cricket, when his chance came to bat, he would put down a bail and take his guard by smashing the bail to the ground in typical Shivnarine Chanderpaul style. To this date, most of us don't know his name. For us, he is Chanderpaul.
This tour is going to present us some Cottrells as well. Fast bowler Sheldon Cottrell, who is a policeman in Jamaica, is going to catch our youth's imagination with his trademark salute every time he claims a wicket.
Fierce competitors on the field, the West Indies were quick to appreciate a good shot or a landmark. Sidath Wettimuny told our Legends interview as to how during his Lord's epic in 1984, Viv Richards, who was a spectator that day came to the dressing room to congratulate him on those exquisite cover drives. Sir Viv may have been over the moon that Sidath's exploits came against the old enemy England.
Our fans' love affair with the West Indies runs back to several decades. Sir Gary Sobers reckoned that the greatest batsman he had played against was our own Mahadevan Sathasivam. Sir Gary and Sir Frank Worrell even visited Sathasivam in Welikada prison when he was serving time.
Our fans were not so fortunate to witness West Indies in Test cricket in their peak in our own cities. The first tour West Indies made to the island was in 1993. This was 12 years after we had gained Test status. Our fans never saw Richards or Gordon Greenidge in action. Sri Lanka's first visit to the Caribbean was in 1997. That is 16 years after receiving Test status. The tour was scheduled only after the team became World Champions in one-day cricket.
The West Indies board was too keen to play the big boys of cricket and our board wasn't able to afford to pay the massive guarantee fees that the West Indies demanded.
We were fortunate however to see the best of Lara. What batting it was by the maestro in the famous 2001 series? Lara compiled 688 runs in three Tests averaging 114 and scored a double hundred and two centuries.  He missed out on a hundred in the Asgiriya Test match where he got a shocker when on 78. Lara's battle with Muttiah Muralitharan was a class act. He would seem to be having little clue playing Murali for the first half hour or so. But then he would dominate the off-spinner and as the game progressed Murali would look so ordinary as Lara piled up bulk of his runs with the sweep shot.
It was actually Lara fighting a lone battle against Sri Lanka. The rest of the batsmen all put together in six innings managed just six half-centuries among them. No wonder Sri Lanka went onto whitewash Windies 3-0.
Lara's exploits were keenly looked forward to as a tri-nation ODI tournament was played after the Test series. However, the master batsman had to return to the Caribbean early after colliding with Marvan Atapattu attempting a quick single that resulted in dislocation of his shoulder. We have seen some superb batting displays in Sri Lanka over the years by the likes of Mohammad Azharrudin, Martin Crowe, Graham Thorpe and Adam Gilchrist. But Lara was something else.
The Windies have broken our hearts too as the World T-20 final in Colombo in 2012 slipped from our hands in dramatic style. Despite some brutal hitting by Marlon Samuels, Sri Lanka managed to restrict the Windies to 137. The batting collapsed chasing the modest target and 35,000 adoring fans went home that night thinking it was a bad dream.