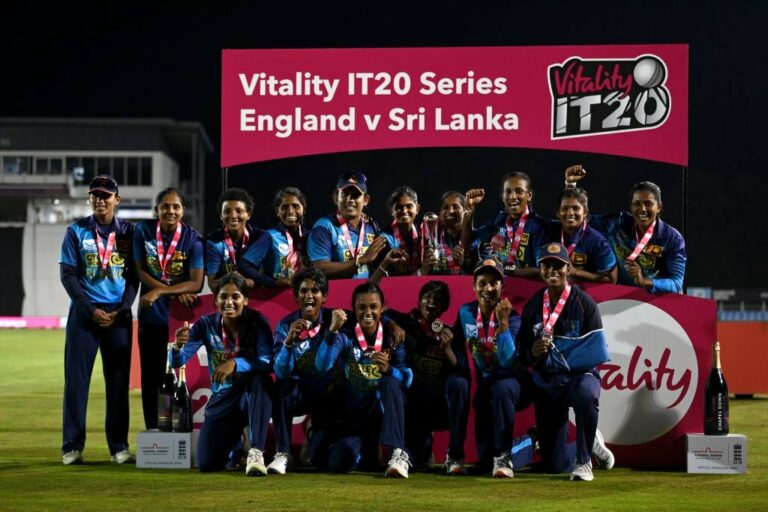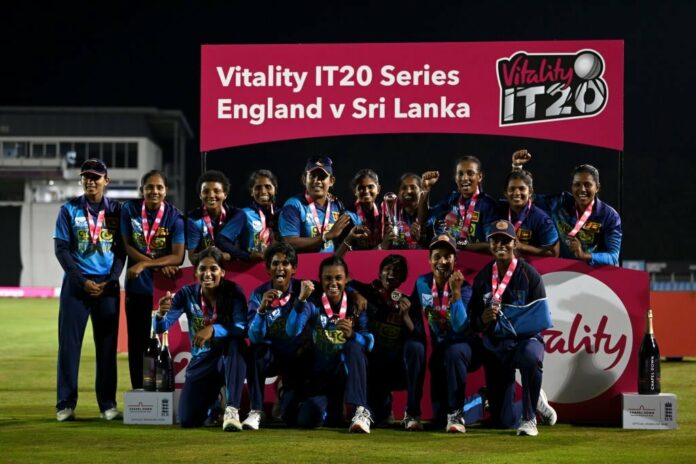 This year has been an outstanding one for women's cricket in Sri Lanka. Chamari Atapattu's team created history by beating New Zealand in Galle two months ago and this week achieved the unimaginable by recording a come from behind series win over England in their own backyard.
Skipper Chamari Atapattu has been a godsend to the game winning matches singlehandedly. But this team also comprises some very promising young girls who could go onto have a major impact in the game in years to come.
We witnessed a major landmark in women's cricket this year globally. Australia, like in most instances in cricket, have been the trendsetters offering same match fees as the men's team for women. Since then, New Zealand, England, South Africa and India have followed suit making the game professional. In all these countries, women earn as much as men when it comes to match fees and the next step will be offering same retainers.
The ICC appreciated the initiative by announcing that women's World Cups will have the same price money as men's events.
The interest for women's cricket in the last five years or so have gone through the roof and although Sri Lanka has catered to those interests quite well, rest of the world have moved on at a fast pace investing heavily on women's cricket.
It was a good move by SLC to offer annual retainers for players and increase their match fees. The board is also set to announce a winning bonus of US$ 25,000 after the team's exploits in England. A dedicated coaching staff under the very capable Rumesh Ratnayake has been a fine initiative as well.
Beyond the national cricket team, SLC has done well to invite former players as Match Referees and umpires and these very efficient ladies are being recognized by the ICC as well.
We are nowhere near offering women the same match fees as men sadly. It's an idea that authorities don't want to even discuss but a significant raise of match fees will be a welcome incentive for the players, especially after back to back series victories over two strong teams.
Not just raising match fees or price money, but so much more can be done to back women's cricket.
There's no doubt that cricket remains by far the most popular sport in boys' schools but when you take into account the girls' schools, their preferred sports are – netball, basketball, swimming and even hockey. Cricket comes nowhere near, sadly.
One of the issues is that most girls' schools do not have grounds of their own. Then, cricket equipment and a coaching staff will cost a school a fortune. There needs to be an initiative and support to introduce the game at more schools. If SLC funds to introduce the sport to ten schools every year, more and more players will come through. Then the next step obviously is to introduce a schools cricket tournament for girls. The Schools Cricket Association has done yeomen service to the sport, but they have not done much to encourage the sport in girls' schools.
While there are heaps of academies for boys around the country, not many academies cater to girls and this is another area that we need to look at.
At last SLC has announced a competitive domestic tournament with all major clubs like SSC, NCC, Tamil Union et al having their women's teams and this is a great initiative indeed.
England, Australia and now India have franchise cricket tournaments for women and you see the amount players coming through from these countries thanks to these well-structured and televised tournaments.
Introducing more bilateral series not only for the women's team but for the under-19 side is another area that needs to be addressed. Hosting more teams will give opportunities rather than sticking to the ICC endorsed events. This certainly is an area where we have been left behind compared to other countries.
The national cricket team's achievements this year are quite unique indeed beating stronger teams and we need to keep investing more and provide better opportunities to become a force in world cricket.
The good thing is that despite lack of a competitive cricket structure, we have managed to unearth some fine talents. Just imagine if we introduce some structure and coaching at young levels the amount of talents that will come through.
Gwen Herath, bless her, was the pioneer of women's cricket and she did so much to develop the sport on her own at a time there was little interest or structure for women's cricket. All her hard work is paying off and SLC will do well to name the new domestic tournament that has been mooted in honour of the great lady. She indeed is an unsung hero of our cricket.