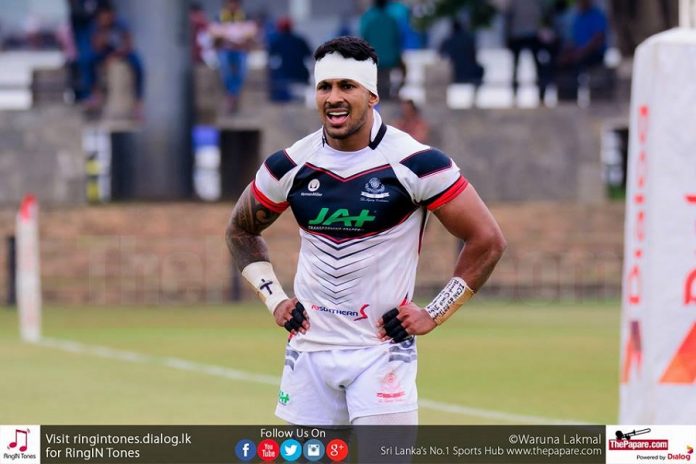 Following the incident that took place in the CH & FC vs Havelock SC game, CH & FC's playmaker Lee Keegal has been handed over a 1-match ban and is forced to sit out of the fifth week of the Dialog Rugby League.
Three favourites won and Kandy still remain unbeaten however will a wounded CR team…
The verdict comes after the disciplinary hearing took place yesterday (30th) following the citing reports submitted by the respective Citing Match Officials(CMO). With the verdict given, the Sri Lanka national represent, Lee Keegal will have to miss out on this week's fixture involving Police SC.
The offense for which Keegal was scrutinized is for the high tackle on Hirantha Perera of Havelock Sports Club during the 43rd minute of play. The tackle on Perera was not taken to note by the referee but it was later cited. In the same match, Keegal was earlier penalized and also spent ten minutes in the sin-bin.
The 26-year-old has been the driving force of the team from the beginning of their new chapter this season. Playing at the important position of center for the side, he was the force behind their first win this season when the team defeated CR & FC in the 3rd week.
His absence will be clearly felt this upcoming week when CH &FC are on the look-out for their second win this season when they face Police Sports Club at Police Park.
News from the CH & FC team is that former Wesleyite Avantha Lee is set to start for the CH & FC club this week in the center position. Avantha has been in the side and has made his appearance coming in from the bench as a substitute but this will be the schoolboy's first start in professional rugby.