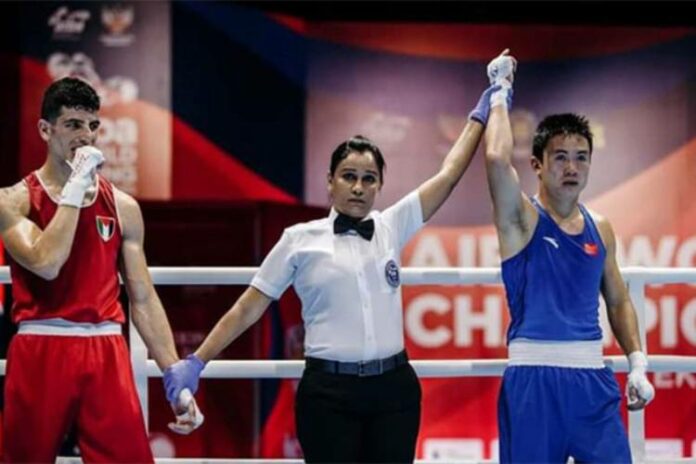 Thambu Nelka Shiromala of Sri Lanka Police is set to make history as the first female sports official from Sri Lanka to be selected as a referee in an Olympic event. She will serve as technical official (referee and judge) in the boxing events in this year's Tokyo Olympics.
Boxing has been in the annals of Sri Lanka Sport for a very long time. We even had 4 boxers in our maiden Olympic appearance in 1948. However, it was only in 2000 that boxing was introduced as a women's sport in Sri Lanka. This is where Nelka's love for the sport started as she was eager to follow the footstep of her father, Thambu Sampath. Thamubu was the boxing coach of the Sri Lanka Navy, a former national champion in boxing and proud father of four daughters.
Nelka joined the Sri Lanka Police in 1997 and took up the boxing gloves on 2001 under the guidance of her father. It should be noted that Nelka herself was the first ever Women's Novices Boxing Champion in Sri Lanka in 2001 and was runners up for 5 consecutive years. Thereafter she took up refereeing in 2009 and has progressed over the years in the ring. She made her international debut in 2011 at the Indonesian President's Cup and became the first Sri Lankan Sportswoman to achieve this feat as a match official.
She went into set more records in the sport such as becoming the first female to earn a 3 star rating in South Asia and the first female to officiate a sport in the Commonwealth Games, which was held in 2018. She was even awarded as the best boxing referee in Asia in the year 2017. However, her biggest achievement is yet to be come as she will walk into the boxing ring in Tokyo in a few days as the first ever female from Sri Lanka to officiate an Olympic sport.
Officiating a sport requires a lot of skill and temperament. The entire world is watching, cheering for their players but she will have the control of how the match goes and decide the winner who played by the rules.  In a sport like boxing that gets physically very intense and referees have to ensure player safety. Her journey as a sportswoman and match official is inspirational and this is the biggest stage for her as an official.
We wish her the best of success as she carries the legacy of her father, who most unfortunately passed away last month as he would have been extremely proud to see her officiate the sport he once loved and encouraged his daughter to participate in.
As always, follow ThePapare.com as we bring you the latest news straight from Tokyo.