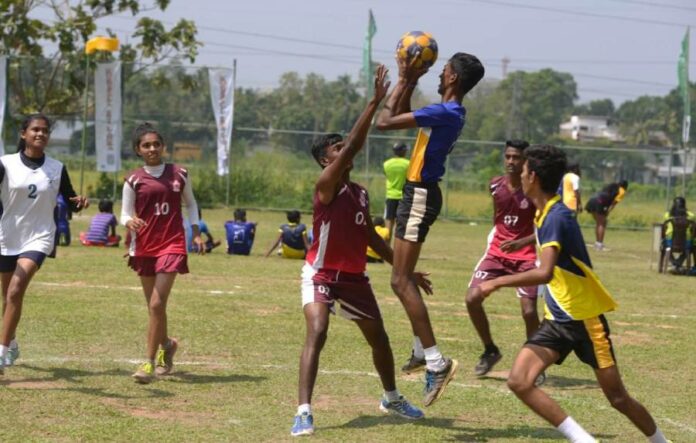 Korfball, the world's first mixed-gender sport, which originated in the Netherlands 120 years ago has made huge strides in Sri Lanka over the last decade. Currently, there are over 70 countries playing this game around the world.
International Korfball Federation (IKF) was officially recognized by the International Olympic Committee (IOC) in 1993 and is affiliated with the Association of Recognized International Sports Federations (ARISF), the International World Games Association (IWGA), and the Global Association of International Sports Federations (GAISF).
Korfball Sri Lanka (KSL) which is the governing body of the Korfball sport in Sri Lanka, was established in 2015. In the same year, KSL received its membership in the International Korfball Federation (IKF) as the 68th member country in the World.
This game offers happiness and fun, gender balance, and healthy well-being to the world.
Korfball can be played indoors, outdoors as well as on beaches. The required space is 40mx20m at the international level. Only 8 players are allowed for a team (four each male & female) to play indoor or outdoor games and 4 players per team for beach korfball games. Each player should be able to defend attack, shoot and support his or her teammates. Roadmap of the Development of Korfball in Sri Lanka
2013 – Korfball was introduced to Sri Lanka by former Physiotherapist of U23 National Korfball team in Netherlands, Ms. Jose Van Nunspeet.
2015 – Korfball Sri Lanka (KSL) was founded as the governing body in Sri Lanka.
2015 – KSL was recognized by the International Korfball Federation (IKF) as its 68th affiliated member in the World, at the General Council in Antwerpen, Belgium.
2016 – KSL organized its first ever Schools and National Korfball Championships.
2016 – Participated in the first ever international tournament, "Asian Korfball Championship" in Jaipur, India.
2016 – Sri Lanka was ranked 51st in the world, based on IKF world ranking.
2017- Conducted first ever beach Korfball championship in Negombo.
2017 – Sri Lanka was ranked 44th in the world, based on IKF ranking.
2018 – Participated in a tournament in Taiwan for four different age categories.
2018 – Sri Lanka ranked 30th in the world, based on IKF ranking.
2019 – Mr. Pushpakumara Madurapperuma, the first Sri Lankan, participated for a level III Coaching Course in the Netherlands. In the same year he was appointed as an Executive of the IKF Asia and as a member of the Asian Korfball Development Committee.
2020/2021 – Started a project to appoint KSL co-ordinators in each district.
2021 – The first-ever district Coaching & Refereeing course held at the Trincomalee Campus – Ground for over 50 participants.
2021 – Mr. Amila Dilshan Perera got selected as an international jury member of IKF Jury panel for the year 2021/2022.
2022 – Tamara Seimeinuk – Poland National Team Captain conducted a two-day coaching course in December in Gampaha.