Intro
Coming into the league Kobe Bryant wanted to win multiple championships, and that's exactly what he did. "Not one, not two, not three, but five" as he is famously known to have put it. NBA Experts say that the guy most comparable to Michael Jordan (who is considered to be the greatest of all time) has been Kobe Bryant. To do what he has done, at the level at which he has done it; you just can't take anything away from him. What makes Kobe stand head and shoulders above most other greats is how good he is in making game winning shots. He has an uncanny ability to absorb the pressure off his team onto his shoulders and just force them to the finish line. It is almost as if he exists for those moments. One NBA expert famously described Kobe as a "Man with Ice water running through his veins" to describe his performances in under pressure, last second, game winning moments.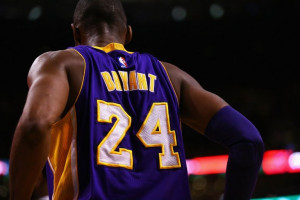 As Stephen A. Smith, a well-known NBA commentator and journalist Stephen A. Smith has put it "He's the best player in the game, it's just that simple. There's nothing that Kobe Bryant can't do. He will defend your best player; he will shoot from the perimeter, he will get all in yo mug; he will do whatever it takes. He is the most complete Basketball player in the game today – bar none. He has an assassin's mentality. I said this week when the trade went down and I will repeat it again. Who's starving more for an NBA World championship than Kobe Bryant? There is no one. This guy is highly motivated, that's what separates Kobe from the pack. More than Kobe Bryant there is no one."  These words about Kobe were immortalized in the form of Rapper Lil Wayne's song 'Kobe Bryant'. You would have definitely listened to that song if you're a Kobe fan, and I am afraid I cannot do a better job summarizing the legend known as Kobe Bryant!
---
Kobe before the NBA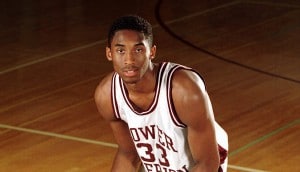 Kobe Bean Bryant was born on the 23rd of August, 1978 in Philadelphia, Pennsylvania to Joe Bryant and Pam Bryant. Kobe's father was playing Basketball in the NBA at the time of his birth and got bounced from team to team. He represented teams like the Golden State Warriors, Philadelphia 76ers and Houston Rockets. In 1982 when Joe Bryant got traded to the Rockets and Kobe and his family had to pack their bags to go to Houston, Kobe was beginning to understand what the NBA was and started following it with ardent interest.  Magic Johnson was his favourite player and the Los Angeles Lakers became his favourite NBA team.
When Kobe was 6 his father ended his NBA career and started playing in the Italian league and so took his family including Kobe along with him to Italy. Stuck in a foreign country and unable to speak the native language, the Bryant family grew closer to each other, and the strength of his relations with his family was very evident throughout his NBA career with the exception of a few instances. Kobe displayed both passion and skills at sports from a young age, growing up in Italy with 2 highly athletic sisters, Shaya and Sharia Bryant. He had played both basketball and football growing up. The Football crazy Italians tried to persuade Kobe to take up the sport, citing that he could become a great goal keeper thanks to his size and leaping ability. In Italy, Kobe's dad rose to become a star player and since he was a kid Kobe would accompany his father to afternoon practice sessions and would rarely miss any games. As for any kid, growing up his father was a huge inspiration to young Kobe and he would mimic his moves. At the half time of matches Kobe would sometimes entertain the fans by shooting some hoops.  As one Basketball analyst put it 'Kobe grew up eating, sleeping and breathing basketball'.
While he was in Italy Kobe managed to keep tabs on the NBA thanks to tapes of recorded games sent by his grandparents. The scouting services used to send his father tapes of games too. Watching those games along with his Dad was a great learning curve for Kobe as he was able to get the insights of a professional basketball player throughout the matches. The Bryants spent the 1991-1992 European seasons in France after Joe was traded to a new team. This proved to be very difficult for both Kobe and his sisters as they had to travel 2 hours every day to attend an International school in Switzerland. All of this foreign exposure, although it was a struggle at the start, turned out to be a blessing for him as it is very well known that he is able to speak multiple languages including English, Spanish and Italian. This would later help an older Kobe Bryant to get closer to the International players in the Lakers roster in my opinion. Kobe Bryant has once famously said "Our team is like the United Nations".
---
Return to US and High School career
The family returned to Philly, USA in 1991 and Kobe enrolled at the Lower Merion high school. But the task of fitting into society was not all that easy for Kobe especially since he has spent a major part of his childhood in Italy and had some troubles speaking English as fluently as his classmates at the start and that too with accents which were very different to how English was spoken in Italy. But he was a smart kid and before long Kobe became a very popular.
He proved to be a solid player during pick-up games in his neighbourhood where he was able to hold his own even against older players. In the 1994-1995 High school season he averaged 31 points, 10 rebounds and 5 assists and was named 'Pennsylvania player of the year'. As a senior, Kobe's sparkling play put Lower Merion on the High-school Basketball map as they posted a 32-3 record and captured their 1st state title in 42 years. He led his High school basketball team to the State championship 4 years in a row. He was regarded as the best High school basketball player during that time
All of these basketball accolades at such a young age including breaking Wilt Chamberlain's Pennsylvanian school boy record with a four-year points tally of 2,883 meant everybody from foreign Basketball leagues to Colleges wanted Kobe playing for them. An Italian team wanted Kobe and Duke, North Carolina, Villanova and Michigan were amongst the top Colleges that wanted to recruit him.
But Kobe Bryant had other plans. Chicago School boy Kevin Garnett had moved straight from High school to the NBA and this made the 17 year old Kobe seriously consider moving straight into Pro-Basketball skipping College!
To find out where Kobe's life took him next, what he achieved in the NBA and to know what the Sri Lankan basketball fraternity thinks about Kobe, join us next week on ' Swishing the Nets'  Until then keep balling!