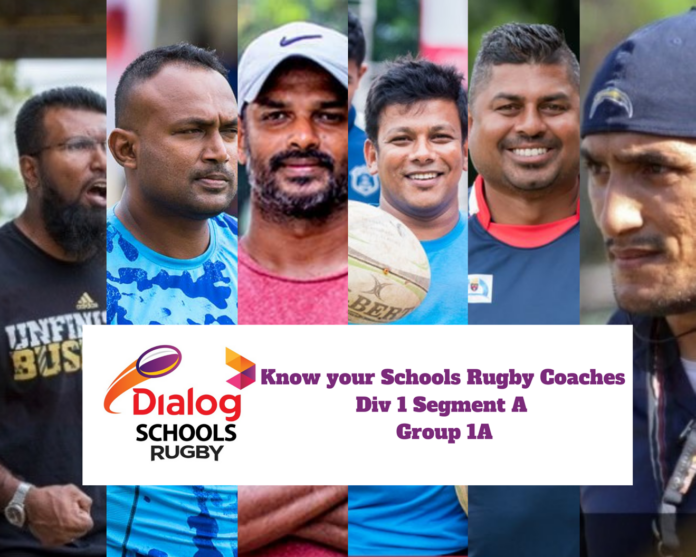 With the 2022 edition of Dialog Schools Rugby League just days away, here's a look at the Men who will be in charge of Division 1 Segment A – Group 1A
Dushantha Lewke – Royal College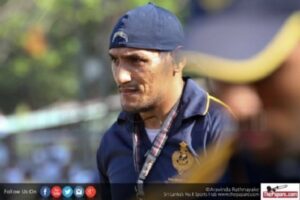 The defending champions of the league will once again be coached by Dushantha Lewke. An illustrious old boy of Royal, Lewke, has achieved many milestones in his playing career as a loose forward for school, club and country but winning the schools rugby league in his maiden season as head coach of Royal in 2018 and retaining it at the end of the 2019 season will no doubt be held up as one of his biggest achievements. Lewke will be marshalling a young outfit this year and will strive hard to repeat his antics of 2018 & 2019 seasons. Lewke will be assisted by Vishwanithra Jayasinghe as the backs coach while will function as the strength and conditioning coach.
Nilufer Ibrahim – St Joseph's College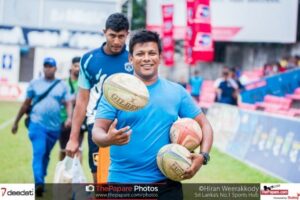 Three-time league winning coach Nilufer Ibrahim who was the man behind re vitalizing Joes Rugby guiding them to their maiden President's trophy title, is back at Darley Road after a brief hiatus. Nilufer an experienced coach in the schools and club arena having previously coached Kingswood, Trinity, Isipathana in the school's circuit and Navy, Army , CR&FC and Hambanthota Sharks in the club arena will have his work cut out with a fairly young outfit at St Joseph's and will look to get the ball rolling as the season progresses. Nilufer will be assisted by Dulanjana Wijesinghe who will be in charge of the forwards with Naveendra Dayan as the strength and conditioning coach.
Shamly Nawaz – S.Thomas' College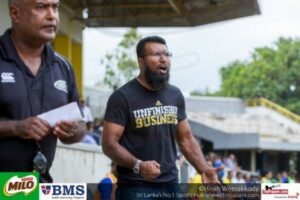 Shamly Nawaz will continue at 'The school by the sea' in 2022 having taken up the spot in 2018. Shamly had a massively successful stint at Zahira College, Maradana where he managed to advance Zahira to A division and compete in the top flight. Shamly's influence was there for all to see when the Thomians dished out fast paced running rugby in the Dialog Schools Rugby Sevens in December last year where S. Thomas' emerged runners up in the Western Province competition. Dilan Soyza will function as the strength and conditioning coach of the Thomian outfit.
Kavinda Jayasena – Trinity College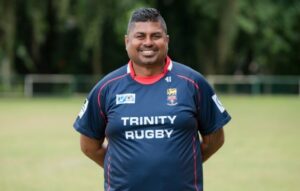 Trinity Rugby Lion Kavinda Jayasena will be the man in charge of the Trinity College this year. Having served as an understudy to All Back Rodney So'oialo, Kavinda took up reigns at the Trinity with Rodney's departure to Malaysia. Kavinda's first tournament as the man in charge was a memorable one as he a managed to guide the Trinitians to a sevens title at the Dialog Schools Rugby Sevens – Central province competition. With a host of senior players leaving the ranks the previous year, Kavinda will have to marshal a fairly young outfit as Trinity competes for the elusive league title. Pradeep Basnayake will be in charge of the forwards while Thusitha De Silva manages the backs for the Trinitians.
Buddika Thalagampola – Kingswood College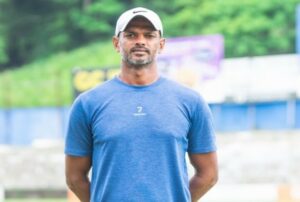 Isipathanian, Buddika Thalagampola has been handed the reigns at Kingswood College in his maiden season as a Head coach. Thalagampola an effective lock in his playing days functioned as a forwards coach with Trinity College and Isipathana before taking charge of the forwards at the champion Kandy SC outfit. Thalagampala will have his work cutout as he strives to make Kingswood a feared outfit in the schools arena as they once were and return the institution that pioneered the schools game in the country to its former glory.
Sumedha Malawana – St Anthony's College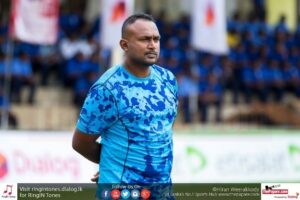 Former Vidyartha College, Navy SC and National fifteens player, Sumedha Malawana continues as the head coach of St. Anthony's college having taken up the responsibility in 2019. Having coached D.S Senanayake College, Malawana returned to his Alma mater, Vidyartha as the head coach and was instrumental in making Vidyartha a force to be reckoned with in both sevens and fifteens. The Antonian side has not been performing up to the expectations in the past couple of years and Malawana will be expected to deliver results in what could be a crucial season for the Katugasthota side.