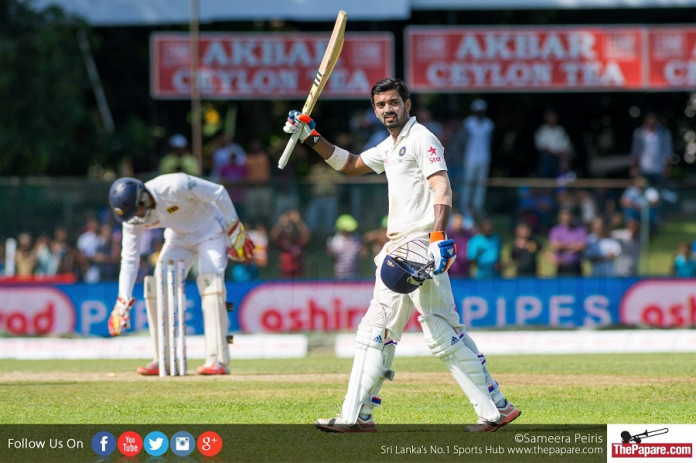 KL Rahul – India's number one choice for the opener's slot in all forms of the game is hopeful that he will make a comeback into the national team during India's proposed tour of Sri Lanka, in August this year.
The Karnataka batsman is currently recuperating from the shoulder surgery – which forced him to miss the 2017 edition of the Indian Premier League (IPL), for his Bangalore-based franchise, Royal Challengers. Subsequently, he was also ruled out of India's defence of the Champions Trophy due to start on June 1.
Rahul suffered the injury during India's home series against Australia but hung on gamely and finished the series as the side's most consistent batsman, with 393 runs at a fine average of 65.50. The 25-year old opener then underwent the surgery in London – and has since then been out of action in all formats of the game.
Rahul is now hopeful of making a comeback in August – for the proposed full tour of Sri Lanka. "It's been just a month that I had this surgery. It will take some more time, maybe two months to recover and attain the required fitness to get back to international cricket. So aiming for sometime in August for comeback, probably can make a comeback for the Sri Lanka series," the 25-year-old said during an interaction on Tuesday (May 16).
"So far it (the injury and the period after that) has been challenging not just physically but also mentally and emotionally. To be at home and not do anything is frustrating. It is challenging for me," the right-handed batsman added.
Rahul's injury kept him out of the IPL and his absence was dearly felt by RCB – who nosedived to their worst ever performance in the history of the tournament – finishing last in the eight-team league. Rahul, who was one of RCB's high points during their 2016 campaign, was saddened at the turn of events but added that it could well turn out to be a 'learning curve' for the franchise. "Even for the players who played this year, it was disappointing for them. It is a sport, every team has good and bad years," he said.
The Indian opener has a history with injuries and he reconciled to the fact that he wouldn't be able to feature in the upcoming Champions Trophy – which would have been his first-ever ICC tournament. "Missing tournaments due to injury is a part and parcel of the game for a player," Rahul said.
"Of course I miss playing cricket, being part of the IPL, it is the biggest tournament in India and the Champions Trophy would have been the first world (ICC) tournament that I would have played. It could have been a big moment in my career, I was looking forward to playing in the Champions Trophy. It is little bit frustrating. I will take care of my recovery and come back stronger," the Karnataka batsman reckoned.
The recently concluded series against Australia turned out to be a breakthrough moment for the young batsman, especially coming against a team that boasted of a strong bowling attack. Terming the series as 'challenging', Rahul said the 2-1 series victory helped the Indian team learn quite a few lessons. "By far the toughest attack we have faced at home in the last one year," Rahul noted.
"They came well-prepared and were a strong unit. We were challenged a lot. We hadn't lost a Test match in two years, so we learnt how to pick up from 0-1 down to beat the team 2-1. Can't say we had lot of home advantage," he concluded.