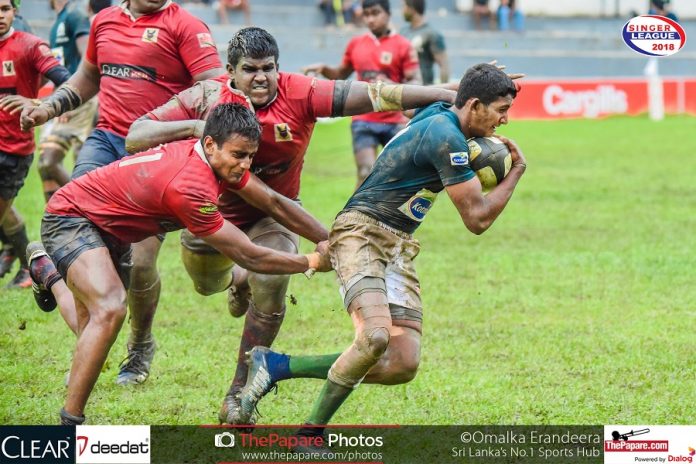 Isipathana College won their first match in the second round of the Singer Schools Rugby League 2018 encounter against Kingswood College earlier this evening. Isipathana were given an almighty scare by Kingswood before securing a hard-fought 10-5 win at Nittawela Rugby stadium, under some torrid weather conditions with the skies opening up seconds before kick-off.

It was a stop-start affair with plenty of handling errors by both teams, a lot of time squandered through scrum resets and line-outs. However, Kingswood dominated the scrums, considering the wealth of the front-row talent at their disposal the fact never came as a surprise. Both teams started in decent form as two evenly matched sides went face-to-face in a must win game to remain in the top four of the standings.
After some early exchanges of possession by both teams, Manilka Rubeyru put Isipathana 3-0 ahead with a penalty, a minute to the quarter-hour mark, after the Kingswood defence was caught coming out of the blocks too soon trying to negate Rubeyru who was lethal with his runs in the exchanges. (IC 03-00 KCK)
The home team toiled for a response and were finally rewarded for their persistence on attack getting themselves on the scoreboard on the brink of the half-time whistle. Having been awarded a penalty near the halfway line, scrum-half Hirushan Sampath cleared their lines resulting in a line-out, following which they worked the ball out to the right down the line, finding Ruchira Ekanayake in the far corner who finished in style to score their first try, stepping inside one defender and handing off another, dragging two over the line before twisting himself to ground the ball. (IC 03-05 KCK)
The missed conversion by Hirushan Sampath saw Kingswood lead into half-time with a solitary try and just a penalty for Isipathana.
Half Time; Isipathana 03 (1P) – 05 (1T) Kingswood
In the second half errors marred the muddy contest, handling was at very poor standards while neither of the kickers managed to find touch nor get their territorial game intact to add to all the knock-ons by both teams at crucial moments.
However, in the dying minutes of the match Kingswood ball carriers made a couple of back to back mistakes, this sparked Pathana into a response as they immediately upped the ante, taking the ball to the width of the field and stretching the defence before Manilka Rubeyru straightened the attacked and scrum half released the substitute winger Ashan Gunasekara into space as he weaved his way to coast in the left-hand corner after great combination interchange play between the centers. Ruberyu's excellent conversion under tremendous pressure from the left corner flag made sure Isipathana got home after being battered and dominated by the Kingswoodians for the whole of the second-half. (IC 10-05 KCK)
In a neutral fan's point of view, Isipathana was very lucky to have come through with the victory as it was a total domination of possession and territory by the Kingswoodians but all credit to Rubeyru and his men for holding their nerve while keeping their composure to sustain piles of pressure in the dying minutes. The final mistake was made by the Kingswood wingers leading to the long whistle by referee Dinka Peiris
Isipathana – Manilka Rubeyru (1P 1C), Ashan Gunasekara (1T)

Kingswood – Ruchira Ekanayake (1T)