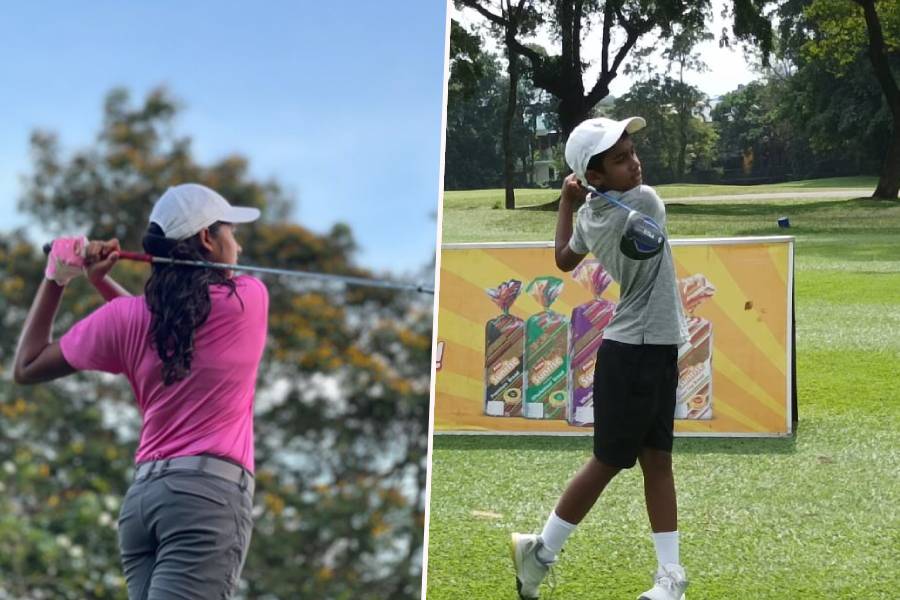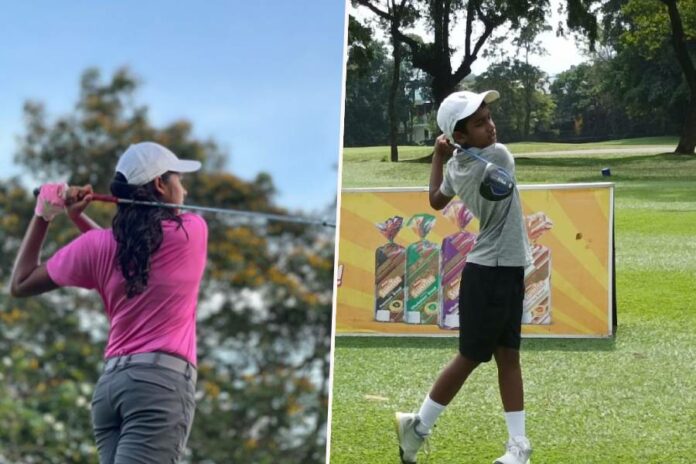 The second round of the Prima Sunrise Bread-sponsored Sri Lanka Junior Open Golf Championship 2022 concluded with Kaya Daluwatte leading the Girls Gold & Silver division by 18 strokes over Dhevinka Kanag-Iswaran, who finished in second place with a score of 156.
Sherin Mithara Balasooriya was a further 4 strokes back on 160.
K. Dhanushan increased his lead in the Boys Gold category Open to six strokes with a well-placed shot. Compiles a Par score of 71.
With the Championship title up for grabs in the third round, Yannik Kumara's 72 put him in second place just two strokes ahead of Nirekh Tejwani in third.
In the 12 to 14+ Age Group category, Reshan Algama continued to lead the Silver Division field by shooting consistently 2 over par for a two-round total of 141.
The race for second place is significantly tighter between Thejas Rathis Kanth and the Aunradhapura teenager Adithya Weerasinghe, who is only three strokes behind Thajas.
Minehli Herat and Richard Magala, among others, returned steady scores in the second round as debutants in the Copper division in the 9 & under age group category.
Competitive golf has sparked a great deal of excitement among young golfers. Yvan Rathis Kanth is in second place with an 80 after two rounds, followed by Danik Daluwatte in third place with a 93. Revaan Amarasinghe retained his lead in the Copper Division by six strokes with a 41 in the nine holes. A thrilling close finish in this Copper division's championship round is guaranteed.
Kaitlyn Norton overtook L.G. Anuja Methsara of the Anuradhapura Academy as the leader in the Bronze Division 10 -11+ Age group category Boys & Girls "mixed." With Saqeeb Zuhair shooting an 85 in Round 2 to tie for second place with day one leader Anuja Methsara in the Bronze class, Saqeeb Zuhair, who was one stroke behind Kaitlyn after Round 1, has established a seven-stroke advantage. Given how evenly matched the competitors are, the last round in this category will undoubtedly produce an exciting close finish.
The final round was been played on December 22nd, 2022, and will be followed by a prize presentation at the RCGC Café on December 8th, presented by the tournament's kind sponsor PRIMA SUNRISEBREAD.
Gold Division 15-18+ Age Group Boys Open – Black Markers
Gold & Silver Division Combined Girls Open – Red Markers
| | | | |
| --- | --- | --- | --- |
| Boys Open | 1st Round Gross | 2nd Round Gross | Total |
| K. Dhanushan | 73 | 71 | 144 |
| Yannik Kumara | 78 | 72 | 150 |
| Nirekh Tejwani | 78 | 74 | 152 |
| Girls Open |   |   |   |
| Kaya Daluwatte | 71 | 67 | 138 |
| Dhevinka Kanag- Iswaran | 76 | 80 | 156 |
| Sherin Balasooriya | 82 | 78 | 160 |
 

Silver Division 12 – 14+ Age Group Boys & Girls Combined

 

 

 

1st Round

Gross

2nd Round

Gross

Total

 

Reshan Algama
68
73
141
Thejas Rathis Kanth
76
75
151
H.D.Adithya Weerasinghe (A'pura)
77
77
154
Jacob Norton
81
79
160
Keshav Algama
79
83
162
Bronze Division 10 – 11+ Age Group Boys & Girls Combined
Boys/Girls – RED Markers

 

 
 
1st Round
2nd Round
Total
 
 
Gross
Gross
 
1
Kaitlyn Norton
90
90
180
2
L.G. Anuja Methsara – (A'pura)
89
98
187
3
Saqeeb Zuhar
102
85
187
4
Aaradhi Samaratne
95
98
193
5
Yehansa Senanayake
97
96
193
Copper Division 09 & Under Age Group [9 Holes]
Boys/ Girls Yellow Markers
| | | | | |
| --- | --- | --- | --- | --- |
|   |   | 1st Round | 2nd Round | Total |
|   |   | Gross | Gross |   |
| 1 | Revaan Amarasinghe | 39 | 41 | 80 |
| 2 | Yuvan Rathis Kanth | 45 | 41 | 86 |
| 3 | Danik Daluwatte | 45 | 48 | 93 |
| 4 | Mihneli Herat | 67 | 67 | 134 |
| 5 | Richard Magala | 67 | 68 | 135 |