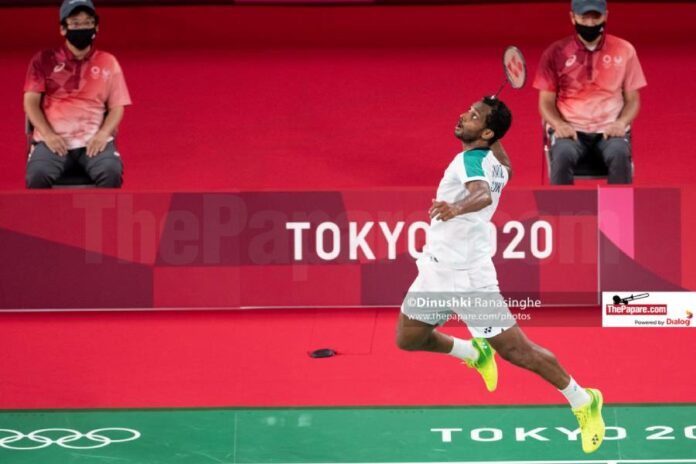 Niluka Karunaratne lost his 2nd Group F fixture to Nhat Nyugen of Ireland 21/16, 21/14, exiting Tokyo 2020 at the end of the 1st round.
Karunaratne, ranked 117 in the World, started strongly against the Irishman (Rank – 54), showcasing some characteristic fire in the first set. He went down 5/1 but rallied strongly to cut back Nyugen's lead to 1 at 5/4. The pair matched each other shot for shot and at one time in the 1st set the scores read 16-14, before Nyugen pulled away to win the set 21/16.
The 2nd set was far less competitive, as Nyugen pulled way to a 13/4 lead. Karunaratne rallied again, outscoring the Irishman 10-8 in the next phase of the set, but it came too late as Nyugen sealed the set 21/14 to win in straight sets.
Karunaratne, a three-time Olympian, speaking exclusively to ThePapare.com expressed that he would be looking to retire sometime next year, making Tokyo 2020 his last Olympic appearance. The shuttler has reached unprecedented heights in the Sport for Sri Lanka, rising to Rank 34 in the World back in 2013 and winning 17 Nationals Championships. His swansong is expected to the World Championships in 2022.
Earlier in the day, Judoka Chamara Dharmawardhana's time on the mat was short as Aiden-Alexandre Houssein of Djibouti managed to complete a quick win after executing an Ippon*. 
It was an inevitable result, as Dharmawardhana ranked 307 in the world, coming up against Houssein who is ranked 51.
The two-time Olympian competed in the Men's 73kg category.
*An Ippon is the equivalent of a knockout punch in boxing. It earns a judoka 10 points. After an Ippon is scored, the match is over.