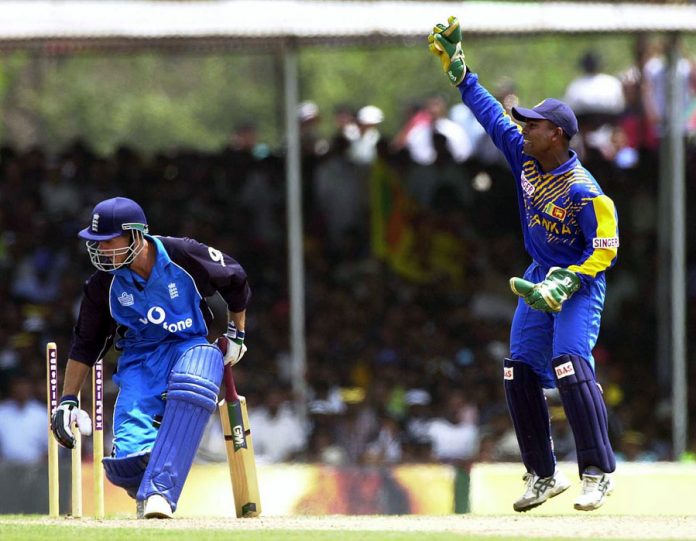 During his interview in our 'Legends' segment that can be now viewed online, former wicketkeeper Romesh Kaluwitharana gave some superb advice to wicketkeepers on how to best use the Decision Review System, better known as DRS. 
The use of television technology extensively to overturn umpiring decisions may have been not available during his playing days but as someone who has coached the sport for over ten years, Kalu showed his in-depth knowledge on the game when discussing the subject. 
Kalu said that a wicketkeeper is someone who is similar to the play maker in basketball. Hailing from Moratuwa, Kalu is well aware of the finer points of the world's second fastest game. Much like the play maker, the wicketkeeper sees the action all the time and it is he who notices the pluses and minuses of the opposing batsmen. The wicketkeeper, like the ball controller in basketball, maintains the tempo of the game. 
When it comes to DRS, while Kalu felt that things like positioning and concentration are important, he also went a step further when he said that wicketkeepers should practice how to make best use of DRS. 
>>Video – ජනතාවගේ ආදරය දිනාගත් Little කළු – රොමේෂ් කළුවිතාරණ<<
Last year, England dealt Sri Lankan cricket a severe blow, whitewashing the hosts 3-0. That defeat was a bitter pill to swallow. Despite such a heavy margin, the games were closely contested.  One main reason why Sri Lanka suffered such an embarrassing defeat was that they messed up their reviews, big time. 
To start with, it has to be remembered that the reviews are there to rectify howlers. Sri Lanka forgot this golden rule and as the game dragged on when there were obvious mistakes they could not review as they had run out of reviews having used them way too early in the innings. 
At one point, Sri Lanka even used up both their reviews before their main bowler Rangana Herath came into the attack. That gives you a glimpse of how badly they used reviews. England, on the other hand, were pretty smart. They used their reviews sparingly and used them to overturn some crucial decisions. 
Wicketkeeper Niroshan Dickwella was the main culprit, prompting the captains to opt for reviews earlier in England's innings. Neither Dinesh Chandimal nor Suranga Lakmal, who took over the captaincy for the last two Tests did anything to address the issue and both were quite content to go with the flow. It was a clear case of both men lacking control over the happenings in the middle. Neither did Head Coach Chandika Hathurusingha appear to be taking stock of things, asking Dickwella to calm down. 
Since making a return to the side after being axed, Dickwella has been more cautious, decisive and less impulsive in passing on his input to the captain on reviews. Dimuth Karunaratne has put up a better show in choosing reviews although a lot needs to be done in this area. He has a tendency to waste reviews when he is batting. 
Reviews while batting can prove to be costly. The World Cup final two months back showed us that. Martin Guptill blew New Zealand's review at Lord's after being given out and then when Ross Taylor received a howler, he didn't have a review to overturn the decision. 
Such a shame that Sri Lankans are making blunders with their review as they used to be  masters in using them when it was first introduced in 2008.
India were in town more than a decade ago in what was Ajantha Mendis' debut series and Sri Lanka skipper Mahela Jayawardene used his reviews expertly and earned the plaudits of all and sundry. His counterpart Anil Kumble could hardly get any reviews right. Sri Lanka's series win over the strong Indian side was due to the superb bowling efforts of Mendis and Murali but skipper Jayawardene played a big role as well using the reviews superbly.
>>To review or not to review; Sri Lanka's dilemma<<
Dickwella will do well to get someone to edit all appeals that were made during the Ashes by both Jonny Bairstow and Tim Paine and then decide which one he is going to review to see whether how many correct decisions that he can arrive at.
Dickwella obviously will learn. He is smart enough to learn. Even the great Kumar Sangakkara wasn't covering himself in glory in his early days. His wicket keeping was sloppy while there's nothing much to crow about his batting. But he was gracious enough to learn from some of the finest in the game. Ian Healy came to his aid earlier on, passing some valuable tips on glove work during a tour of Zimbabwe in 2004. 
With Prasanna Jayawardene drafted in by Sri Lanka Cricket to help wicketkeepers, Dickwella can pick his brains. But the smart part has to come from him. He can change the fortunes of this team by helping his skipper arrive at the right decisions.