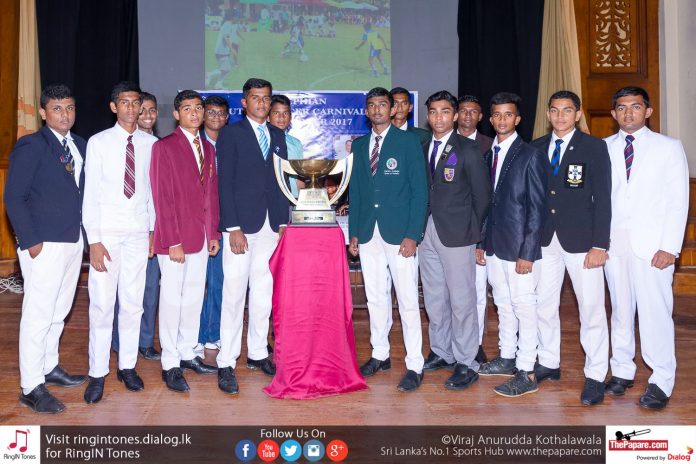 For the ninth successive year, the Soccer Advisory Committee of St. Joseph's College has organized the "Josephian Futsal Soccer Carnival" which will take place at the St. Joseph's College grounds on 28th October.
This soccer extravaganza has now turned out to be a very eagerly anticipated calendar event among schools. It is also one of the largest sporting events in the country with more than 2500 students expected to participate in the tournament.
The organizers have expanded the tournament into a truly national sporting event with more than 50 schools from all nine provinces participating this year. There will be schools from the West, (St.Joseph's College, St.Peter's College, S.Thomas' College, Royal College etc.) North, (St. Patrick's College Jaffna, St. Henry's College Ilavalai, Hindu College Manipay etc.) South, (St.Aloysious' College Galle, Devananda College etc.) East & North Central, (St. Joseph's College Trincomalee, Anuradhapura Central College, Royal College Polonnnaruwa etc.) Central Region, (Trinity College, Kingswood College, St. Anthony's College Katugasthota etc.) as well as International Schools (Elizabeth Moir, CIS, British School, Lyceum International, Gateway College etc.)
Football has wider reach in schools than other sports and the organizers hope to tap into this potential and give the young talent a stage to showcase their skills.
Futsal is an intense shorter version of the game of Football which is now popular the world over. The game encourages close control, dribbling and passing skills of players which would benefit them when they play the longer version of the game.
The tournament will be held for all age groups starting from the Under 9s to all the way up to the Under 19s with a mammoth 2700 players expected to participate. Cup, Shield, Plate, Bowl and Saucer trophies will be awarded in the Under 13, 15, 17 & 19 age groups.
All the participants in the Under 9, 10 & 11 age groups will receive medals with the organizers taking this step to encourage the kids to play the sport as the main focus of this endeavour is the grass root level search for talent.
The main sponsor of the event is Honourable Harin Fernando, Minister of Telecommunications and Digital Infrastructure, an Old Josephian and keen supporter of sporting events at St. Joseph's College. He will be the Chief Guest for the opening ceremony of the event. Ceylon Biscuits Limited is the gold sponsor of the event with ACL cables being the silver sponsor.