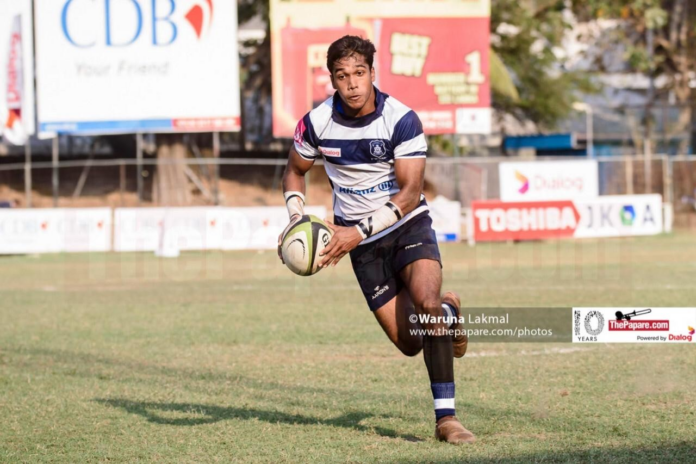 St. Joseph's College, Colombo has given the responsibility of leading the 1st XV Rugby team to the fourth year colourman Teran Karunanayake, for the 2022 Schools Rugby season.
Karunanayake, who prefers the center position, is also a very reliable winger who can have a greater impact on the game and be quite the menace for the opposition. He gets his speed from being a college athlete, and his main events are 200 Meters and 400 Meters. He is also the most experienced campaigner from the Josephian outfit for the upcoming season. The boys from Darley Road will be highly relying on the Captain who could make the difference for them in the upcoming season.
Speaking to ThePapare.com about his new role, he mentioned, ''It is an honor to be standing here as the 1st XV Rugby Captain for the year 2022, representing both, my team and my college. The most important goal for us this season is to not only win every game, but also to give our best on the field and not have any regrets. By doing so, we could be proud of ourselves regardless of the outcome. Captaining my team will present many challenges, but I wouldn't be here if it weren't for my teammates. I would not be a Captain to represent anyone if I did not have a team. A true Captain would not inspire his teammates by proving how great he is, but rather by showing how great they are. Looking forward for an excellent season. "
Karunanayake will be assisted by Rahel Jayawardana, who will be the Vice Captain for the upcoming season. Jayawardana will be playing in the wing as his preferred position. He was also a college senior prefect.
''I was elated to find out that I had been appointed the Vice Captain and to know that the hard work had finally paid off. Growing up with the common goal of playing Rugby for our school, I couldn't have asked for a better person to be the captain than my best friend. We have been playing from the under 10 age group and we have had a super understanding on the field and off the field as well,'' Jayawardene said exclusively to ThePapare.com.
The main target for the Saints will be to win their maiden League Title and to create history.
The St. Joseph's College coaching unit is as below.
Head Coach – Nilfer Ibrahim
Forwards Coach – Dulanjana Wijesinghe
Trainer- Navindra Dayan