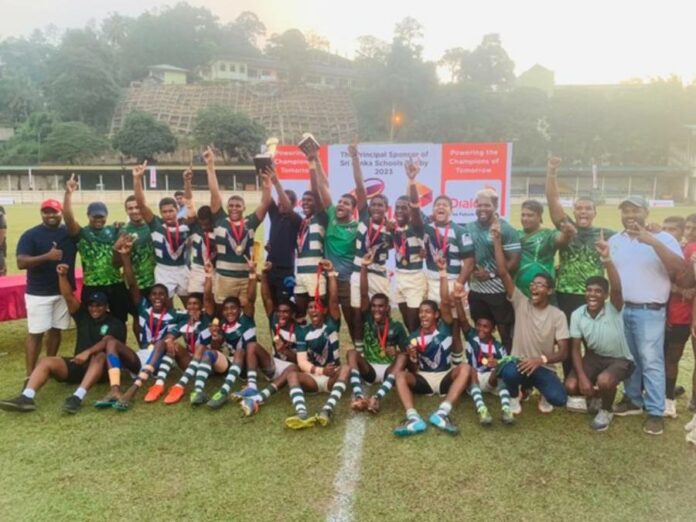 The 'Green Machine' of Isipathana College rumbled through in dominant fashion to be crowned Cup Champions at the first competition of the 2023 Schools' Rugby calendar.
Isipathana dominated their opponents Royal College, scoring three unanswered tries in the Cup Final, ending the tournament as unbeaten champions. Royal College defeated hometown favorites, Vidyartha College in a thrilling game that spilled into extra time – sudden death in the semis while Isipathana College beat St. Peter's College, who looked like the outfit that might go all the way, after a very close battle in their semi-final.
Skipper of the Isipathana College outfit, Zumri Ibrahim was adjudged the Player of the Tournament for his all-round ability in attack, and defense as well as brilliant leadership in marshaling the team to Cup Championship glory.
One of the most improved sides in the shorter format of the game, D.S Senanayake College, who will feature in the top division this season, clinched the Plate Championship defeating St. Joseph's College in the final. D.S showcased why they belong in the top tier of the league and will be a force to be reckoned with during the upcoming season.
The Bowl final turned out to be a vibrant affair with two schools from the host city, St. Anthony's College & Kingswood College making the finals. Chasing more than the trophy on offer with hometown bragging rights at stake, both teams played out of their skins with the scores being deadlocked at the full-time whistle. With sudden death coming into play, Kingswood College managed to find their way to the whitewash to finish as winners in the bowl segment.
Mahanama College showcased clear supremacy in the Shield segment becoming Champions with a dominant win over Ananda College.
SLSRFA All Island Under 18 Sevens – Day 02 Results
Shield Quarter Finals 
QF1 – Prince of Wales College 07 – 29 Lalaith Athulathmudali College
QF2 – Ananda College 10 – 07 C.W.W Kannangara College
QF3 – Mahanama College 24 – 05 St.Sylvester's College
QF4 –  Piliyandala Central College 17 – 00 Rahula College
Bowl Quarter Finals
QF1 – St. Anthony's College 33 – 00 Carey College
QF2 – Wesley College 22 – 05 Trinity College
QF3 – Kingswood College 26 – 10 Zahira College
QF4 – Thurstan College 00 – 10 Dharamaraja College
Cup/Plate Quarter Finals 
QF1 – Isipathana College 28 – 12 Science College
QF2 – D.S Senanayake College 07 – 29 St. Peter's College
QF3 – St. Joseph's College 12 – 19 Vidyartha College
QF4 – S. Thomas' College 10 – 12 Royal College
Shield Semi-Finals 
SF1 – Ananda College 25 – 17 Lalith Athulatrhmudali College
SF2 – Mahanama College 17 – Piliyandala Central College
Bowl Semi-Finals 
SF1 – Wesley College 07- 12 St. Anthony's College
SF2 – Kingswood College 15 – 14 Dhramaraja College
Plate Semi-Finals 
SF1 – Science College 07 – 21 D.S Senanayake College
SF2 – St. Joseph's College 24 – 00 S. Thomas' College
Cup Semi-Finals 
SF1 – Isipathana College 19 – 12 St. Peter's College
SF2 – Vidyartha College 09 – Royal College
Shield Final 
Ananda College 00 – 27 Mahanama College
Bowl Final 
St. Anthony's College 07 – 12 Kingswood College
Plate Final
D.S Senanayake College 19 – 17 St. Joseph's College
Cup Final
Isipathana College 21 – 00 Royal College