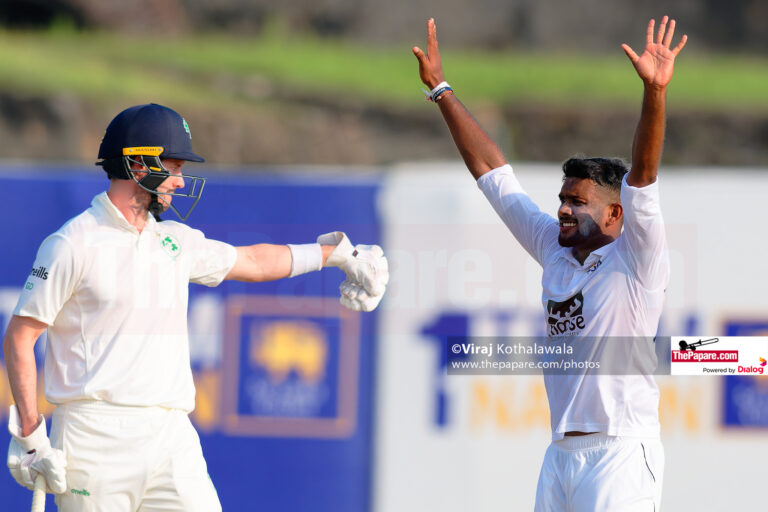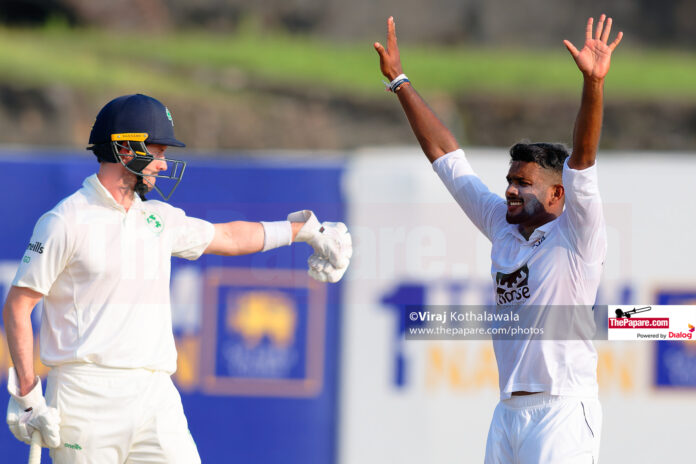 Last week Ramesh Mendis became the joint fastest Sri Lankan to 50-Test wickets by matches, equaling the record set by Dilruwan Perera in 11 Tests. One day into the 2nd Test against Ireland and the conversation around him has taken a different turn.
Andrew Balbirnie and Paul Stirling were the main beneficiaries of his loose bowling today, to Prabath Jayasuriya's detriment as the left-armer struggled to build pressure on the other end with Mendis going for runs.
When asked if his inconsistency is a concern following the 1st day's play, Spin bowling coach Piyal Wijethunga said, "He couldn't hold down a line. He's missing his lines and lengths consistently. So, yes."
There's no doubt that the off-spinner has had a prolific run in Tests, having played all his Tests in spin-friendly conditions, 10 in Sri Lanka (this is his 10th at home) and 2 in Bangladesh. You can't fault his record; he's currently sitting on 52 wickets in 22 innings at an average of 28.96 and an economy around the 3rpo mark. He has 3-wicket hauls and 1 10-wicket haul to his name.
Yet, if you watched him during the last 12 months, it's tough to bring to mind a long spell where he was able to consistently get things right with his line and length. Having debuted in 2021, the off spinner showed a lot of promise in his 2nd series, against Bangladesh and then in the following series against the West Indies, picking up 23 wickets in 6 innings.
His height and high release point set him apart from most Sri Lankan spinners so despite inconsistency early on, he was persisted with, the promise of better days to come the main selling point for those backing him.
However, 2 years down the line, the inconsistencies persist and despite him continuing to pick up wickets, his inability to hold up one end has been a huge problem for Sri Lanka skipper Dimuth Karunaratne as he's often had to turn to part-time off-spinner Dhananjaya de Silva to step in when Mendis has leaked runs.
The reason for his lack of consistency, as pointed out by Wijethunga are a few 'errors in his technique', which have been identified a few months ago.
"There are a few errors in Ramesh Mendis' technique. We've been trying to rectify those issues over the past few months."
However, it seems like the management may be running out of patience with the 27-year-old, with the changes not happening as quickly as expected from his end. On this, Wijethunga said, "Some players pick things up pretty quickly, some take some time. It's taking Ramesh a lot of time but I think now he's had enough time to make those changes. In International Cricket, you can't survive if you keep leaking runs."
Mendis' 12 games have come across 2 years, Sri Lanka's schedule is no doubt a huge obstacle in providing him enough opportunities to get into his rhythm, however, with the nature of the schedule, the management also aren't at the liberty to give out extended runs to players who aren't able to perform their role in the side.
Mendis has a record to his name which suggests that there is definitely some talent there, but unless he gets his act together in this game, we may see Sri Lanka Cricket move on to one of the many spinners waiting in the wings come the Pakistan series in a couple of months.