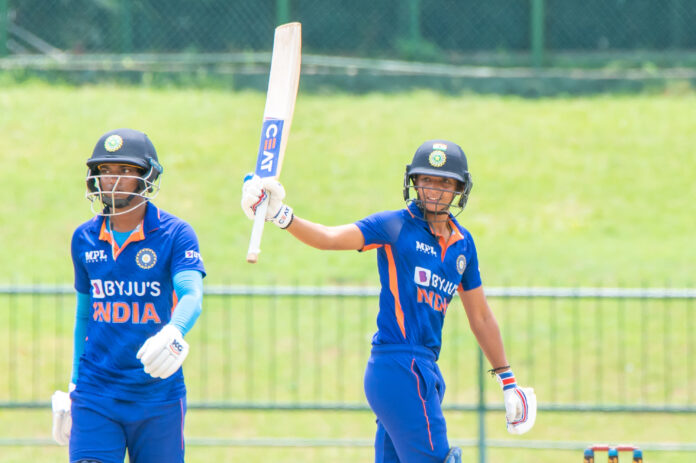 Harmanpreet Kaur and Pooja Vastrakar's 97-run partnership saw India through to an imposing score of 255 after being put into bat by Sri Lankan Skipper Chamari Athapaththu.
India were tottering on 124/6 in the 27th over when the pair came together, thanks to some quick wickets by the Sri Lankan spinners. Vastrakar was given a life on 4, when she was dropped by Nilakshi de Silva in the deep off the bowling of Kaveesha Dilhari, while Kaur also survived a missed stumping when she was on 54. The pair made the most of the opportunities given the Sri Lankan fielders, both hitting half-centuries as India went from 124/6 to 221/7 in the 18 overs they batted together.
For Sri Lanka, Rashmi de Silva, brought into this game at the expense of pacie Achini Kulasooriya, picked up 2 wickets in her 1st over to start the rut in the Indian innings, before Kaur took a liking to ger leg spin and sent the Sri Lankan fielders on a leather hunt.
De Silva and Ama Kanchana going for runs meant that Athapaththu had to step in and she did a wonderful job to peg things back, finishing with 2 wickets alongside Inoka Ranaweera.
Chasing a stiff target of 256 to get that consolation win under their belts, Sri Lanka lost youngster Vishmi Gunaratne early once again before Athapaththu cut loose. The Sri Lankan skipper's 44 came off 41 deliveries and included 8 fours.
It was her counter-part Kaur to ultimately brought an end to what was looking like an ominous knock, having the southpaw caught at long on by Vastrakar. As we have seen so many times before, with the dismissal of Athapaththu, the Sri Lankan batters went into a shell.
Hasini Perera looked good, as did Harshitha Samarawickrama and Nilakshi de Silva, but Sri Lanka never looked in it as India kept picking up wickets at regular intervals, bowling the hosts out for 216.
With the win, India move up to the top of the ICC Women's Championship alongside South Africa, who also have 3 wins in 3 games.


Batsmen
R
B
4s
6s
SR
Shafali Verma
lbw b Nilakshi de Silva
49
50
4
0
98.00
Smriti Mandhana
c Anushka Sanjeewani b Kavisha Dilhari
6
20
0
0
30.00
Yastika Bhatia
c Ama Kanchana b Inoka Ranaweera
30
38
5
0
78.95
Harleen Deol
st Anushka Sanjeewani b Nilakshi de Silva
1
3
0
0
33.33
Deepti Sharma
c Hasini Perera b Oshadi Ranasinghe
4
11
0
0
36.36
Harmanpreet Kaur
c Oshadi Ranasinghe b Chamari Athapaththu
75
88
7
2
85.23
Richa Ghosh
c Chamari Athapaththu b Inoka Ranaweera
2
9
0
0
22.22
Pooja Vastrakar
not out
56
65
0
3
86.15
Meghna Singh
b Chamari Athapaththu
8
13
1
0
61.54
Renuka Singh
b Ama Kanchana
2
3
0
0
66.67
Rajeshwari Gayakwad
not out
3
2
0
0
150.00
| | |
| --- | --- |
| Extras | 19 (b 0 , lb 0 , nb 2, w 17, pen 0) |
| Total | 255/9 (50 Overs, RR: 5.1) |
| Bowling | O | M | R | W | Econ |
| --- | --- | --- | --- | --- | --- |
| Ama Kanchana | 9 | 0 | 60 | 0 | 6.67 |
| Oshadi Ranasinghe | 9 | 0 | 42 | 1 | 4.67 |
| Kavisha Dilhari | 8 | 0 | 30 | 1 | 3.75 |
| Inoka Ranaweera | 10 | 0 | 22 | 2 | 2.20 |
| Rashmi de Silva | 6 | 0 | 53 | 2 | 8.83 |
| Chamari Athapaththu | 8 | 0 | 45 | 2 | 5.62 |


Batsmen
R
B
4s
6s
SR
Vishmi Gunaratne
c Rajeshwari Gayakwad b Meghna Singh
3
10
0
0
30.00
Chamari Athapaththu
c Harmanpreet Kaur b Pooja Vastrakar
44
41
8
0
107.32
Hasini Perera
b Rajeshwari Gayakwad
39
57
3
0
68.42
Kavisha Dilhari
st Rajeshwari Gayakwad b Yastika Bhatia
12
28
0
0
42.86
Harshitha Samarawickrama
b Harleen Deol
22
28
1
0
78.57
Nilakshi de Silva
not out
48
59
2
1
81.36
Anushka Sanjeewani
b Pooja Vastrakar
1
4
0
0
25.00
Ama Kanchana
st Rajeshwari Gayakwad b Yastika Bhatia
2
5
0
0
40.00
Oshadi Ranasinghe
c Pooja Vastrakar b Yastika Bhatia
1
5
0
0
20.00
Rashmi de Silva
b Meghna Singh
18
24
4
0
75.00
Inoka Ranaweera
b Deepti Sharma
10
24
1
0
41.67
| | |
| --- | --- |
| Extras | 16 (b 0 , lb 7 , nb 0, w 9, pen 0) |
| Total | 216/10 (48 Overs, RR: 4.5) |
| Bowling | O | M | R | W | Econ |
| --- | --- | --- | --- | --- | --- |
| Renuka Singh | 8 | 0 | 33 | 0 | 4.12 |
| Meghna Singh | 7 | 0 | 32 | 2 | 4.57 |
| Deepti Sharma | 9 | 0 | 47 | 1 | 5.22 |
| Rajeshwari Gayakwad | 10 | 0 | 36 | 3 | 3.60 |
| Harmanpreet Kaur | 5 | 0 | 21 | 1 | 4.20 |
| Pooja Vastrakar | 7 | 0 | 33 | 2 | 4.71 |
| Harleen Deol | 2 | 1 | 7 | 1 | 3.50 |