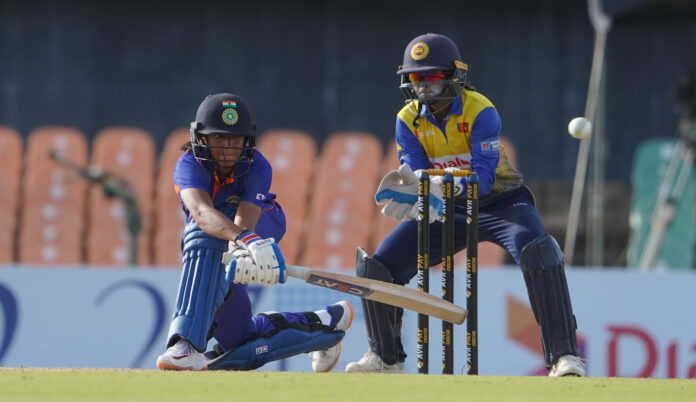 Harmanpreet Kaur put in a calm all-round performance to script a comfortable 5-wicket win for India as the visitors took the 3-match series 2-0 with a game to spare.
Kaur's 1/12 with the ball was perhaps even more crucial than her 32-ball 31, as she helped the visitors dry up the runs just as Sri Lanka were ready to launch after an 87-run opening stand between openers Chamari Athapaththu and Vishmi Gunaratne; she also saw to the end of 16-year-old Gunaratne's innings.
After winning the toss and choosing to bat first, Sri Lanka got the perfect platform to launch from courtesy the opening pair, who put on a record partnership for the 1st wicket for the hosts.
Gunaratne was streaky to begin with, but as soon as she found the middle of the bat with a boundary in the 3rd over, she was off. Athapaththu is rarely outscored by opening partners these days, but that's exactly what happened today; the youngster racing to 33 off 34 before her partner finally caught up.
As it has so often before, Athapaththu's wicket in the 14th over started the rut for Sri Lanka as they went from 87/0 to 106/2 to 117/6 and eventually 125/7 in their allotted overs.
Kaur had mentioned at the end of the 1st game that India would look to capitalize on the Powerplay and so they did courtesy cameos by Shafali Verma and Sabbhineni Meghana. Meghana, who was out for a duck in the previous game smashed 4 fours to race to 17 off 7, while Verma bludgeoned two past the bowler before being caught at mid-off off the bowling of Oshadi Ranasinghe.
Sri Lanka's spinners kept the home side in the game with some tight bowling, but a 38-run partnership between Kaur and Smriti Mandhana and some sloppy fielding saw India inch towards victory.
Kaur ensured that she stayed till end to take India home and give them a 2-0 unassailable lead in the series.
The third and final T20I will be played at the same venue on the 27th of June, before the tour moves to Pallekelle for the ICC Women's Championship ODIs.


Batsmen
R
B
4s
6s
SR
Vishmi Gunaratne
c & b Harmanpreet Kaur
45
50
6
0
90.00
Chamari Athapaththu
c Radha Yadav b Pooja Vastrakar
43
41
7
1
104.88
Harshitha Samarawickrama
c Shafali Verma b Deepti Sharma
9
13
0
0
69.23
Kavisha Dilhari
c Smriti Mandhana b Renuka Singh
2
5
0
0
40.00
Nilakshi de Silva
lbw b Deepti Sharma
1
2
0
0
50.00
Hasini Perera
run out ()
0
0
0
0
0.00
Oshadi Ranasinghe
c Yastika Bhatia b Radha Yadav
5
3
1
0
166.67
Anushka Sanjeewani
not out
8
5
0
0
160.00
Sugandika Kumari
not out
1
1
0
0
100.00
| | |
| --- | --- |
| Extras | 11 (b 4 , lb 2 , nb 0, w 5, pen 0) |
| Total | 125/7 (20 Overs, RR: 6.25) |
| Bowling | O | M | R | W | Econ |
| --- | --- | --- | --- | --- | --- |
| Renuka Singh | 4 | 0 | 26 | 1 | 6.50 |
| Deepti Sharma | 4 | 0 | 34 | 2 | 8.50 |
| Simran Bahadur | 2 | 0 | 14 | 0 | 7.00 |
| Radha Yadav | 3 | 0 | 15 | 1 | 5.00 |
| Pooja Vastrakar | 4 | 0 | 18 | 1 | 4.50 |
| Harmanpreet Kaur | 3 | 0 | 12 | 1 | 4.00 |


Batsmen
R
B
4s
6s
SR
Smriti Mandhana
st Anushka Sanjeewani b Inoka Ranaweera
39
34
8
0
114.71
Shafali Verma
c Kavisha Dilhari b Oshadi Ranasinghe
17
10
2
1
170.00
sabbhineni meghana
st Anushka Sanjeewani b Inoka Ranaweera
17
10
4
0
170.00
Harmanpreet Kaur
not out
31
32
2
0
96.88
Jemimah Rodrigues
c Hasini Perera b Inoka Ranaweera
3
6
0
0
50.00
Yastika Bhatia
st Anushka Sanjeewani b Oshadi Ranasinghe
13
18
0
0
72.22
Deepti Sharma
not out
5
5
0
0
100.00
| | |
| --- | --- |
| Extras | 2 (b 0 , lb 1 , nb 0, w 1, pen 0) |
| Total | 127/5 (19.1 Overs, RR: 6.63) |
| Bowling | O | M | R | W | Econ |
| --- | --- | --- | --- | --- | --- |
| Udeshika Prabodhani | 2 | 0 | 22 | 0 | 11.00 |
| Oshadi Ranasinghe | 4 | 0 | 32 | 2 | 8.00 |
| Sugandika Kumari | 4 | 0 | 20 | 1 | 5.00 |
| Inoka Ranaweera | 4 | 0 | 18 | 2 | 4.50 |
| Kavisha Dilhari | 3.1 | 0 | 17 | 0 | 5.48 |
| Chamari Athapaththu | 2 | 0 | 17 | 0 | 8.50 |