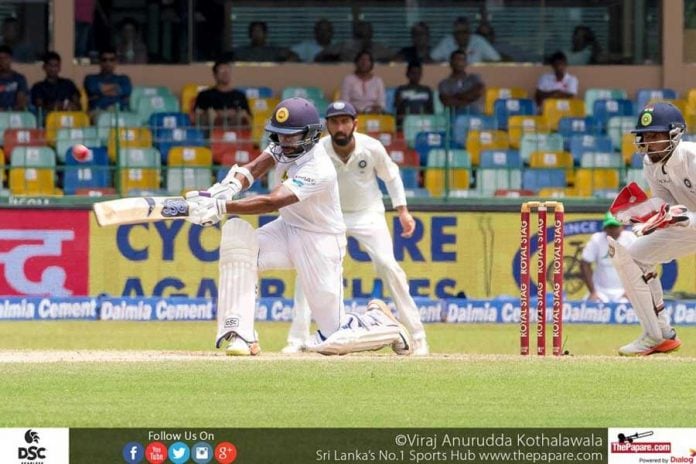 India A registered a comprehensive innings victory over touring Sri Lanka A in the 1st test match between the two sides which concluded today at Belgaum Cricket Stadium in India. Left handed batsman Niroshan Dickwella's magnificent century with the bat and leg spinner Rahul Chahar's match bag of 8 wickets with the ball were the key highlights of the day.
Sri Lanka A was 83 runs for 4 wickets in 28 overs at the close of play on day two. The overnight batsmen Ashan Priyanjan and Niroshan Dickwella resumed the innings for day three and added another 78 runs before the former was dismissed for 49 runs as the 5th wicket.
Sri Lanka 'A' batsmen stutter after India 'A' made 622
Priyanjan's knock came off 87 balls at a strike rate of 56.32 with 8 fours and 1 six. The all-rounder Chamika Karunarathne was trapped in front by leg spinner Rahul Chahar for just 1 run. Sri Lanka continued to lose wickets at regular intervals and eventually was bowled out for 232 runs in 63.4 overs.
National cap, Dickwella fought alone at one end and managed to stroke a magnificent century. His knock of 103 runs off 113 balls came at an impressive strike rate of 91.15 including 15 fours. Leg spinner Rahul Chahar was the pick of the bowlers for India A team as he grabbed 4 scalps for 78 runs in 17.4 overs.
After been asked to follow on, Sri Lanka A did not get a good start again in the second innings as they lost 3 wickets for just 4 runs in 4.1 overs. The skipper Ashan Priyanjan again tried to rescue the Sri Lankan innings this time with Sadeera Samarawickrama building a 88-run partnership for the 4th wicket.
Samarawickrama made 48 runs off 92 balls including 6 fours while the skipper Priyanjan stroked 39 runs off 69 balls with 7 fours. After their dismissals, Sri Lankans could not build any significant partnerships in the middle as they were bundled out for 185 runs in 52.3 overs.
Niroshan Dickwella, the centurion in the first innings made 27 runs off 39 balls at a strike rate of 69.23 with 4 fours while the all-rounder Chamika Karunarathne made 20 runs off 20 balls with 3 fours. Leg spinner Rahul Chahar who starred with the ball in the first innings, picked up another 4-wicket haul in the second innings for 45 runs in 13.3 overs.
In addition right arm seamers Sandeep Warrier, Ankit Rajpoot and off spinner Jayant Yadav picked up 2 wickets each for India A team.
With this win, India A leads the 2 match test series 1-0 and will play the second match against Sri Lanka A on May 31 at Hubli Cricket Stadium. Stay logged onto ThePapare.com to get the latest updates, scores, reports and photos on all the matches of Sri Lanka A tour of India.
>>> More Sri Lankan Cricket News <<<
232/10 (63.4) & 185/10 (52.3)


Batsmen
R
B
4s
6s
SR
PK Panchal
c Niroshan Dickwella b Vishwa Fernando
160
261
9
2
61.30
AR Easwaran
lbw b Akila Dananjaya
233
321
22
3
72.59
Jayant Yadav
c Niroshan Dickwella b Vishwa Fernando
8
18
1
0
44.44
Anmolpreet Singh
not out
116
165
11
0
70.30
Ricky Bhui
b Lakshan Sandakan
1
3
0
0
33.33
Siddhesh Lad
c Niroshan Dickwella b Lahiru Kumara
76
89
6
1
85.39
| | |
| --- | --- |
| Extras | 28 (b 8 , lb 12 , nb 5, w 3, pen 0) |
| Total | 622/5 (141 Overs, RR: 4.41) |
| Fall of Wickets | 1-390 (44.4) Jayant Yadav, 2-352 (83.1) PK Panchal, 3-466 (109.6) AR Easwaran, 4-469 (110.5) Ricky Bhui, 5-622 (141.6) Siddhesh Lad, |
| Bowling | O | M | R | W | Econ |
| --- | --- | --- | --- | --- | --- |
| Vishwa Fernando | 20.1 | 0 | 83 | 2 | 4.13 |
| Lahiru Kumara | 21 | 2 | 81 | 0 | 3.86 |
| Akila Dananjaya | 29 | 0 | 136 | 1 | 4.69 |
| Chamika Karunaratne | 18.5 | 1 | 62 | 0 | 3.35 |
| Lakshan Sandakan | 28 | 0 | 145 | 1 | 5.18 |
| Ashan Priyanjan | 12 | 1 | 48 | 0 | 4.00 |
| Bhanuka Rajapaksa | 10 | 0 | 27 | 0 | 2.70 |
| Sangeeth Cooray | 2 | 0 | 15 | 0 | 7.50 |


Batsmen
R
B
4s
6s
SR
Sangeeth Cooray
b Sandeep Warrier
0
6
0
0
0.00
Pathum Nissanka
c AR Easwaran b Shivam Dube
6
38
1
0
15.79
Sadeera Samarawickrama
b Sandeep Warrier
31
56
5
0
55.36
Bhanuka Rajapaksa
c PK Panchal b Shivam Dube
0
1
0
0
0.00
Ashan Priyanjan
c Ricky Bhui b Jayant Yadav
49
87
8
2
56.32
Niroshan Dickwella
c Ankit Rajpoot b PK Panchal
103
113
13
0
91.15
Chamika Karunaratne
b Rahul Chahar
1
11
0
0
9.09
Akila Dananjaya
c KS Bharat b Rahul Chahar
16
28
2
1
57.14
Lakshan Sandakan
lbw b Jayant Yadav
13
37
0
0
35.14
Vishwa Fernando
not out
2
6
0
0
33.33
Lahiru Kumara
c Ricky Bhui b Rahul Chahar
0
5
0
0
0.00
| | |
| --- | --- |
| Extras | 11 (b 0 , lb 5 , nb 6, w 0, pen 0) |
| Total | 232/10 (63.4 Overs, RR: 3.64) |
| Fall of Wickets | 1-1 (1.3) Sangeeth Cooray, 2-18 (11.4) Pathum Nissanka, 3-18 (11.5) Bhanuka Rajapaksa, 4-50 (20.1) Sadeera Samarawickrama, 5-161 (42.4) Ashan Priyanjan, 6-170 (45.4) Chamika Karunaratne, 7-203 (51.6) Akila Dananjaya, 8-229 (61.1) Niroshan Dickwella, 9-231 (62.2) Lakshan Sandakan, 10-232 (63.4) Lahiru Kumara, |
| Bowling | O | M | R | W | Econ |
| --- | --- | --- | --- | --- | --- |
| Ankit Rajpoot | 11 | 4 | 13 | 0 | 1.18 |
| Sandeep Warrier | 12 | 2 | 50 | 2 | 4.17 |
| Shivam Dube | 6 | 1 | 19 | 2 | 3.17 |
| Rahul Chahar | 17.4 | 1 | 78 | 4 | 4.48 |
| Jayant Yadav | 17 | 2 | 67 | 2 | 3.94 |


Batsmen
R
B
4s
6s
SR
Sangeeth Cooray
c Ricky Bhui b Sandeep Warrier
1
6
0
0
16.67
Pathum Nissanka
c KS Bharat b Ankit Rajpoot
0
2
0
0
0.00
Sadeera Samarawickrama
c Ricky Bhui b Rahul Chahar
48
92
6
0
52.17
Bhanuka Rajapaksa
b Ankit Rajpoot
1
9
0
0
11.11
Ashan Priyanjan
st KS Bharat b Rahul Chahar
39
69
7
0
56.52
Niroshan Dickwella
c KS Bharat b Sandeep Warrier
27
39
0
0
69.23
Chamika Karunaratne
c Jayant Yadav b Rahul Chahar
20
20
0
0
100.00
Akila Dananjaya
st KS Bharat b Jayant Yadav
10
19
0
0
52.63
Lakshan Sandakan
not out
10
30
0
0
33.33
Vishwa Fernando
st KS Bharat b Jayant Yadav
10
18
0
0
55.56
Lahiru Kumara
b Rahul Chahar
8
10
0
0
80.00
| | |
| --- | --- |
| Extras | 11 (b 4 , lb 6 , nb 0, w 1, pen 0) |
| Total | 185/10 (52.3 Overs, RR: 3.52) |
| Fall of Wickets | 1-1 (0.5) Pathum Nissanka, 2-3 (1.3) Sangeeth Cooray, 3-4 (4) Bhanuka Rajapaksa, 4-92 (28.4) Ashan Priyanjan, 5-99 (30.4) Sadeera Samarawickrama, 6-133 (36.1) Chamika Karunaratne, 7-153 (41.4) Akila Dananjaya, 8-153 (42.6) Niroshan Dickwella, 9-166 (47.6) Vishwa Fernando, 10-185 (52.3) Lahiru Kumara, |
| Bowling | O | M | R | W | Econ |
| --- | --- | --- | --- | --- | --- |
| Ankit Rajpoot | 5.2 | 1 | 11 | 2 | 2.12 |
| Sandeep Warrier | 10.4 | 4 | 26 | 2 | 2.50 |
| Shivam Dube | 7 | 0 | 27 | 0 | 3.86 |
| PK Panchal | 1 | 0 | 8 | 0 | 8.00 |
| Rahul Chahar | 13.3 | 2 | 45 | 4 | 3.38 |
| Jayant Yadav | 15 | 0 | 58 | 2 | 3.87 |