With the simple dream of representing Sri Lanka at the highest level as every player in this small country dreams, Damitha Silva from Maliyadeva College, Kurunegala has been a revelation for his school, province and country in the recent past.
The canny left-arm spin bowling all-rounder took 28 wickets in five matches and contributed with the bat scoring 277 runs in the recently concluded SLC Super 19 Provincial Tournament 2016 in which he was adjudged 'Player of the Tournament' after leading his team, North Western Province to championship glory, "There weren't many big names in our side, we planned very well to get the best out of everyone, so for that we worked hard at practices and finally, played as one unit to win the trophy."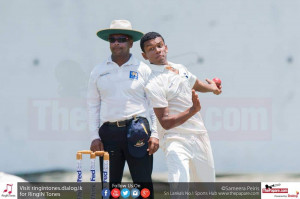 Silva started his cricketing career at the age of 8 and developed a liking to the sport by bowling to his elder brother who was playing U13 cricket at that time, "I always went to watch my brother's matches and bowled to him at the nets where Deerasuriya coach spotted me and asked me to come for practices. He produced four national cricketers from our school, Rangana Herath, Eric Upashantha, Jeevantha Kulathunga and Ranjith Madurusinghe, "

After playing for a half dozen years in the age category of under 13, one of the biggest turnarounds in Silva's career came when he was 15 years old as he transformed himself into a left-arm spinner from being a left-arm chinaman bowler.
"I was the second highest scorer with 727 runs and the fourth highest wicket-taker with 35 wickets in my last season in the under 13 category"

He toured Malaysia with the Sri Lanka schools' under 15 team for the 9th Tuanku Jaa'far Trophy Under-15 cricket tournament in 2013. Sri Lanka clinched the prestigious trophy beating South Africa in the final. "I scored 40 runs batting down the order and took 3 wickets in the final to help our country win the tournament. It was a memorable day in my life." Silva said.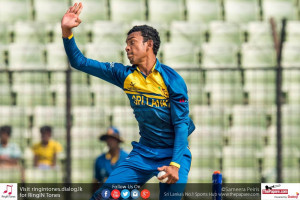 After being named the Player of Tournament in the U17 Inter-Provincial Tournament in 2014, Silva's favourite cricketing experience so far in his life was when he played at the R. Premadasa International Stadium against the England under 17s with the Sri Lanka under 17 team. He captured five wickets in three youth ODIs, catching the eye of the selectors and since then, Silva has been a part of each Sri Lanka U19 team up to now after making his debut against the Australia U19s in September 2014 at the tender age of 16.

Silva will captain his school 1st XI team in the upcoming 2016/17 season but has already played four big matches taking 22 wickets in total, which is the highest by any Maliyadeva College player in the history of the 'Battle of the Rocks' series.

Silva was just 17 years old when he was selected for the ICC Youth World Cup in Bangladesh 2016 where Sri Lanka finished in 4th place, "I took 8 wickets in the tournament. The conditions were very tough when we toured Bangladesh as it was very chilly, we had to adjust quickly but it was a memorable experience." Silva stated.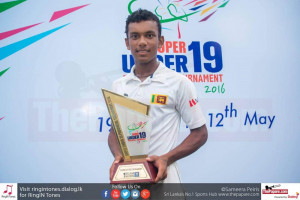 The talented left-arm spinning all-rounder has reached greater heights than the under 19 level as he represented the Sri Lanka Ports Authority Cricket Club in the Under 23 Inter-Club Division One Tournament 2015, "I got the opportunity to play only 3 games due to national duty, I took 10 wickets and scored around 120 runs."

Hailing from the city of Kurunegala, Silva had to face many obstacles particularly on the financial front. Finding accommodation during the early times of his national career was tough but later on Sri Lanka Cricket (SLC) came up with a solution for him to be accommodated at Kithu Sevana.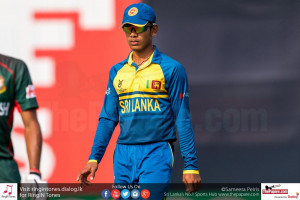 Even though the spin legend, Rangana Herath is from the same school, city and province, Silva does not idolize his bowling style; wanting to establish himself as a unique cricketer. His favourite left-arm spinner is Xavier Doherty from Australia but he keeps in contact with Herath too, "He gives me a lot of bowling tips, whenever possible. I have trained with him quite a few times and the most important instruction he has given me is about how to handle pressure during matches." Silva mentioned.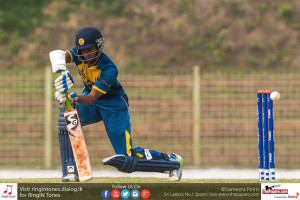 With so many left-arm spinners waiting in the wings to be the successor of Herath, Silva believes, being a capable all-rounder, would come in handy in the future, "There are not many proper left-arm spin bowling all-rounders currently. I need to work very hard on my batting. Currently, I concentrate a lot on my bowling but whenever I'm free, I do batting drills, play shots, do skipping. I am hoping to contribute to the Sri Lanka U19 team with both bat and ball in the upcoming South Africa and England series." Silva reiterated on his short-term and long-term goals.
Silva does possess the arm-delivery apart from the orthodox left arm spin, but tends to reserve it for special occasions. "I love when a batsman tries to step out and attack me, it gives me the opportunity to take wickets. I use the bowling crease a lot to vary the line and length and take the batsman by surprise." Silva spoke on his bowling style.

As with every other budding cricketer, Silva dreams of representing Sri Lanka but he expressed that Test cricket the ultimate goal, "I want to be a quality Test player, I'm pretty sure that if I perform well in Tests, I can excel in 50-Overs and T20s as well."

Apart from Cricket, Silva loves playing Rugby and whenever he's free, he loves reading books too, "I love playing rugby even though I have not played for my College. I did athletics and Karate as well. I was placed 4th in the U14 Javelin Throw in the Junior National Athletic Championships and 6th in the John Tarbet Athletic Meet when I was younger.
My father is involved in masonry work and my mom is a housewife. They have been a big pillar of strength for me in my career, I will always be grateful to them. Whenever I'm out of money, my elder brother helps me, a special thanks to him too. I have to thank my first coach, Rohan Dheerasooriya and all other coaches, Thusitha Herath, Damith Gunathilake, Indika Dharmawardene, Ajith Ekanayake, Roger Wijesuriya, Niroshan Bandarathilake, Roy Dias, Avishka Gunawardene and all others who have helped me along the way.
Silva will most certainly have a big role to play in the near future for Sri Lanka and if his age group records are anything to go by, he will surely be a force to reckon with.